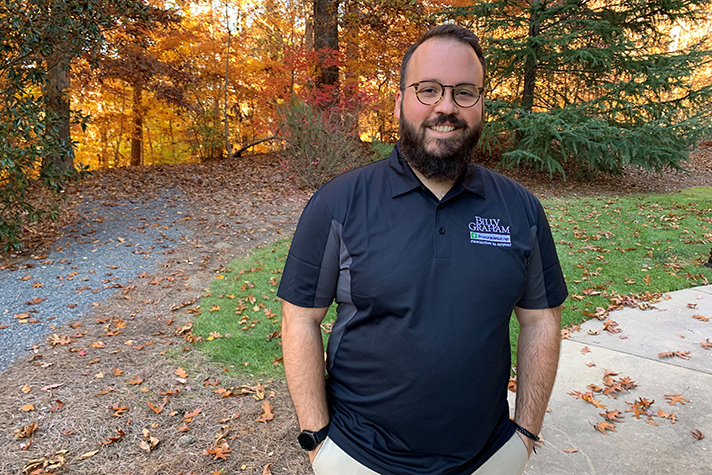 When is the last time you searched for something online? Or clicked a link that sounded interesting?
Whatever device you're using, the internet typically provides the fastest response, and it's the go-to place for people who might be afraid to seek answers elsewhere, including spiritual answers.
That's why the Billy Graham Evangelistic Association's (BGEA's) internet evangelism ministry exists—in multiple languages. The ministry has shared the Gospel with millions around the globe, helping meet their spiritual needs with the hope of Jesus Christ.
When BGEA launched its online evangelism ministry in English in 2011, the focus was on its evangelistic site PeaceWithGod.net that explains the Gospel in four simple steps. Shortly after, the Portuguese version launched with PazComDeus.net.
Ten years ago—on December 6, 2011—the first Portuguese visitor landed on that website.
By the middle of 2012, the online ministry launched in Spanish, and today there are five more languages: Arabic, Chinese, Russian, Korean and American Sign Language.
>>It began a decade ago with three people and a white board. Read more about the early days of BGEA's internet evangelism ministry, Search for Jesus.
Tito Chaves serves as Portuguese language manager and met with other language managers at the Billy Graham Evangelistic Association (BGEA) headquarters in November. It was his first trip to the United States and the first time gathering with some of his colleagues across the globe.
"We are leaving this place feeling that we are a team," he said from Charlotte-based BGEA a few days before flying home.
They each have the same goal: to further the kingdom of God in a culturally relevant way.
Top 10 Countries
This online ministry reaches the following countries in Portuguese:
Portugal
Brazil
Mozambique
Angola
Switzerland
France
United States
United Kingdom
Cape Verde
Luxembourg
Chaves is in his early 30s and married with three children. Though his background is graphic design, he's followed God's calling into ministry—first helping with a 2018 Franklin Graham Festival in Lisbon, Portugal, then reaching his country in a broader sense online. He's been part of the internet evangelism team for two years.
"Our culture, it's very sorrow based," he said, referencing a Portuguese music style called "fado," meaning "fate" or "destiny."
For people in Portugal, he said, "everything is hard. We are experts telling you how difficult life is."
That translates to religion, which tends to focus on suffering, said Chaves. The idea is that if you aren't suffering enough, he explained, you must be doing something wrong. It's almost a competition of who has endured more trials; people thrive on suffering.
"People don't understand the joy and the hope you have in Jesus," he said. On the outside, people can still have fun and seem happy, but at their core, they are burdened.
Chaves and four others make up the internet evangelism team in Portugal, joined by 30 trained volunteers who can reach people in their own language through online chat, email, discipleship courses and social media.
One volunteer, 76, has helped lead at least 16 people to Christ this year.
Together, staff and volunteers let others know "there is no need to suffer anymore." They share the hope of Christ and, with the help of an online church locator, point people to Bible-based churches in their area.
Chaves shared just two stories of people impacted by the ministry: Cristina and Chris.
Cristina rededicated her life to Christ through PazComDeus.net in 2015, and at the time, her teenage daughter was sick. For the next three months, a trained email volunteer was in touch with Cristina, helping her grow in her faith and connecting her with a nearby church. The following year, the Portuguese team received news that Cristina, her husband and teen daughter had been baptized and were attending that same church together.
More recently, a young man named Chris sent a message on the ministry's Facebook page, saying he suffered from anxiety. He was pessimistic about the future, but felt life shouldn't be that way.
Another trained coach shared the Gospel with him, specifically sharing the story in Mark 2 where Jesus heals a paralytic. Chris responded that if Jesus can do something like that, He must be able to help him, too.
Chris decided to follow Jesus and signed up for one of the ministry's free online discipleship courses.
Witnessing these stories up close, Chaves said, has drawn him closer "to the aching heart of God."
Other experiences—like seeing so many hopeless people living in shanty towns across Rio de Janeiro, Brazil—have left Chaves with "a weight and a bigger sense of urgency to help bring hope to them."
The online mission field is one way to do that.