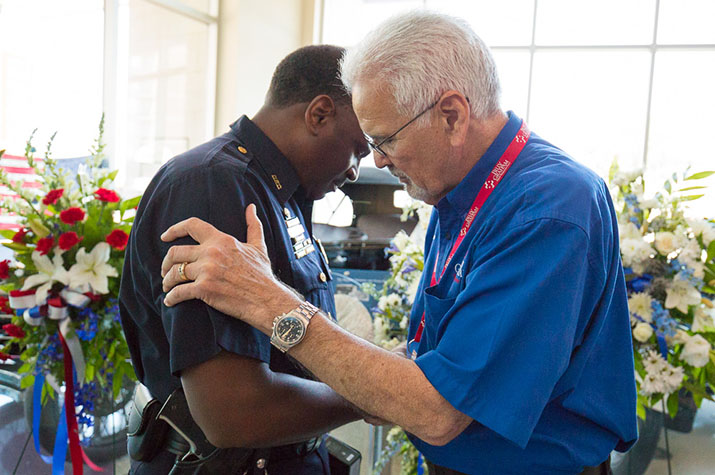 Crisis-trained chaplains with the Billy Graham Rapid Response Team deployed to Dallas within hours of the July 7 shooting that claimed the lives of five police officers. Chaplains are also ministering in Baton Rouge, Louisiana, after the shooting death of Alton Sterling and the civil unrest that followed. Please continue to keep these communities and the entire nation in your prayers.
Standing in the lobby of the Dallas Police Department, Sgt. Warren Mitchell was happy to share his story.
He always dreamed of being "big-city police" in Dallas as a boy growing up in nearby Bossier City, Louisiana. He even remembers passing handwritten notes about it with a friend in high school. For him, it was the perfect fit. The Dallas Cowboys were his team; the northern Texas metropolis was a short three-hour drive from home; and there was something that he just loved about that Dallas police badge.
So he applied. He showed up to the interview in 1987 sporting a Miami Vice style coat, pink shirt and long locks. Immediately, he learned "police work is not what you see on TV" and was turned away. The heartbroken 21-year-old was told he would have to wait a year to reapply.
Why did God let this happen to him? Mitchell couldn't understand and he opened the next 365 days exploring that question while applying to other police departments. He started going back to church like he was raised to do. Over time, Mitchell discovered that believing in God and having a connection with Him wasn't enough. He needed to accept Jesus as his Lord and Savior.
"I got saved, baptized and it seemed like my whole life changed around," Mitchell said. "By that time, after being rejected at so many different departments, a year went by and I came back to Dallas. I tested, and it's been going up ever since.
"I really think God wanted to cover me before allowing me to have this position on the police department," he added, glancing over at the floral arrangements near him in the lobby. The flowers were gifted to the department in memory of the five officers who died in the tragic shooting. Mitchell had worked with two of the officers at some point during his 28-year career.
That day, Thursday, July 7, was a hard day. Maybe the hardest of his career. And looking back, he is thankful he had that year in 1987 to shake off his Miami Vice immaturity and truly connect with God.
Faith has been the driving force for Mitchell, who hasn't had a complaint filed against him since he first started wearing the badge he loves so. It has guided his personal conduct and it also has helped carry him through everything from seeing a dead body for the first time to the recent tragic event in downtown Dallas.
"You know, some things are just unimaginable, and I can't see now how I would have survived without praying and knowing God is covering me, and reading and learning the teachings of Jesus Christ because I use it every day," said Mitchell, who also credited his church for its ongoing support and prayer. Last Sunday, he said, the pastor called him up to the front for prayer.
That support from his church and from the community has been invaluable to Mitchell. On Tuesday, he received another boost when he greeted Billy Graham Rapid Response Team chaplains to accept Bibles for the families of the fallen officers and those hospitalized by the shooting.
Chaplain Leo Grabowski asked Mitchell to present the Bibles to the families as well as the wounded officers "to let them know how much they're loved and appreciated."
Mitchell was honored by the gift and further touched when Grabowski presented Mitchell with his own personal copy. This Bible, Mitchell said, will go in his office where he can draw inspiration from it daily.
"This will definitely help me in my spiritual growth, not only for myself but for my unit," Mitchell said. "This blessing couldn't have come at a better time."
Are you a law enforcement officer or know someone who is? Learn more about the Billy Graham Rapid Response Team's 3rd annual National Law Enforcement Retreat in October.