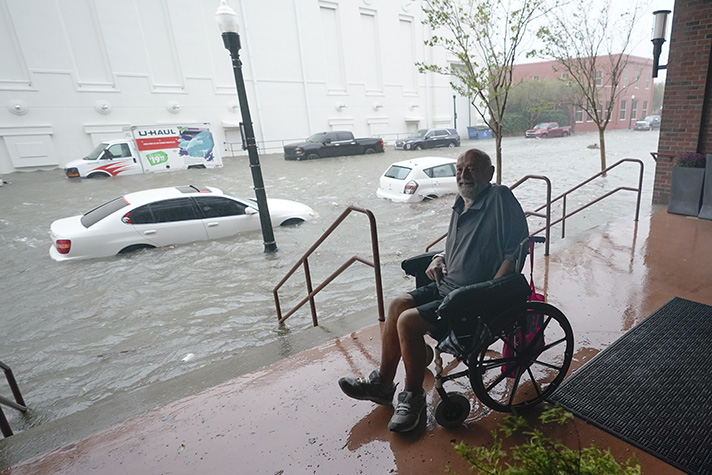 After Hurricane Sally devastated multiple regions of the Deep South, the Billy Graham Rapid Response Team (RRT) has deployed to Foley, Alabama, to offer comfort and share God's hope with the recovering community. At least two people in Alabama and Georgia lost their lives due to the storm.
"As we see the reports of the devastation from Hurricane Sally, we are heartbroken for all of those who suffered loss," said RRT's Assistant Director Josh Holland.
On September 16, Sally made landfall as a Category 2 storm near Gulf Shores, Alabama. The powerful storm moved sluggishly, dumping several feet of rain and turning many roads into rivers. Video coverage showed people kayaking along the streets, overturned campers, homes sitting in more than a foot of water, and downed trees.
Sharon Folsom, a RRT chaplain coordinator that lives only 20 miles north of Foley, is leading a team of crisis-trained chaplains. She helped assess the damage in the coastal region, where Southern charm and beautiful scenery usually draw tourists year-round. While the destruction hits close to home for Folsom, it also serves as a reminder of her recent deployment to Lake Charles, Louisiana, following Hurricane Laura.
Similar to the four deployment sites still set up from Hurricane Laura damage in Louisiana, the chaplains in Foley are visiting homeowners that are receiving repairs from Samaritan's Purse. The two organizations are stationed at the First Baptist Church of Foley, where the RRT's Mobile Ministry Center (MMC) is serving as a small sanctuary for the community.
"Our crisis-trained chaplains know that many times people are dealing with a crisis even before the storm," said Holland, who talked about Sally recently on Facebook.
"Along with the effects of the COVID-19 pandemic, this hurricane just compounds their struggle. Our chaplains are already there to listen to people's stories and to provide emotional and spiritual care to those who need it."
Additional Billy Graham chaplains are also serving in Oregon and California (wildfires) and Iowa (derecho).
"What a year 2020 has been," Holland said. "In the midst of [the pandemic, racial tension and disaster], God is waking up His Church. People who never have been interested in having a spiritual conversation are now open to it."
Please join Holland in prayer:
Lord Jesus, we pray for Your mercy, Your grace. We pray You would surround all of those living in Alabama, Mississippi [and] Florida that have been impacted by Hurricane Sally. Many have lost property. Many are wondering how in the world they're ever going to dig out of this.
Lord, I pray that even in their pain, You would invade them with Your peace that surpasses understanding and … they would know the love of God. I pray that Christians impacted would be strengthened, and I pray that people who don't know You would come to know Jesus Christ through this storm in their lives. 
God, I pray You would use Rapid Response Team chaplains [including] those all over the country right now … to let people know how much You love them. Even though You don't always divert a storm, You will minister in the midst of a storm to draw people to Yourself. Romans 8:28 is true … You do work all things together for the good of those that love You that are called according to Your purpose. So I pray that for anybody impacted by any storm right now. 
We all know somebody who might be going through a storm. Show us how to minister to them today, whatever that storm may be. I pray in Jesus' Name. Amen. 
Can you trust God during life's storms? Know Him today.