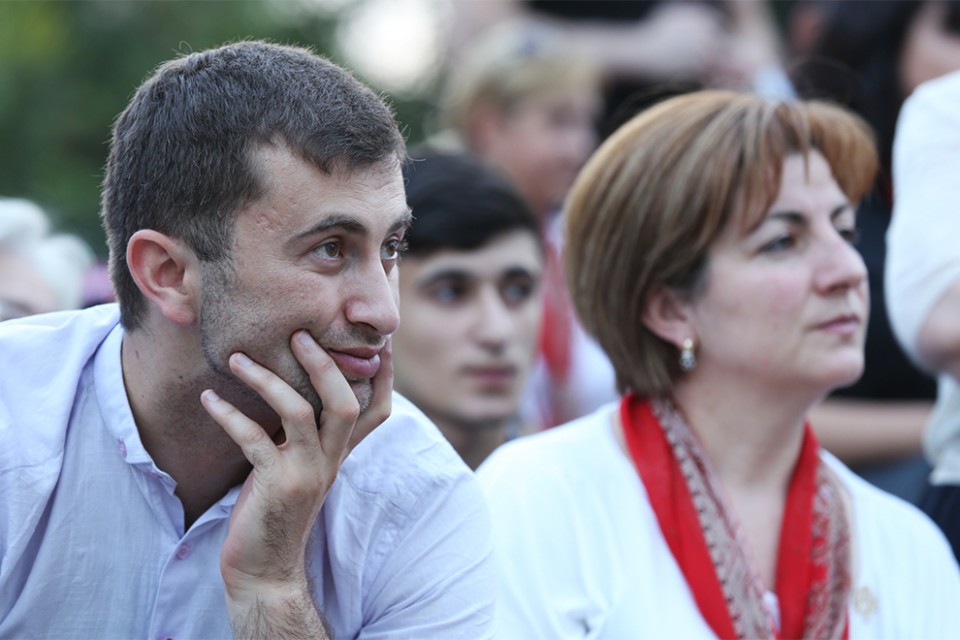 Believers in the country of Georgia have learned to expect the unexpected.
But even still, there were some who couldn't quite get over what happened on Friday night in the courtyard of the country's largest evangelical church.
This was a place of last resort for the Festival of Hope in Tbilisi. Its original home, the Sports Palace and its 9,000-plus seating capacity suffered a fire early Tuesday morning, rendering it unusable for the June 6-8 Franklin Graham outreach.
Turning over every stone, the Festival committee decided on the Evangelical Faith Church—4 miles north of the Sports Palace—and its sizeable yet unconventional courtyard.
Hundreds sat in folding chairs, hundreds more stood, elbow-to-elbow, many hanging onto well-placed trees for a glimpse at the Festival's international music lineup and evangelist Franklin Graham.
"This will be unlike anything we've ever done," Franklin Graham said earlier in the day.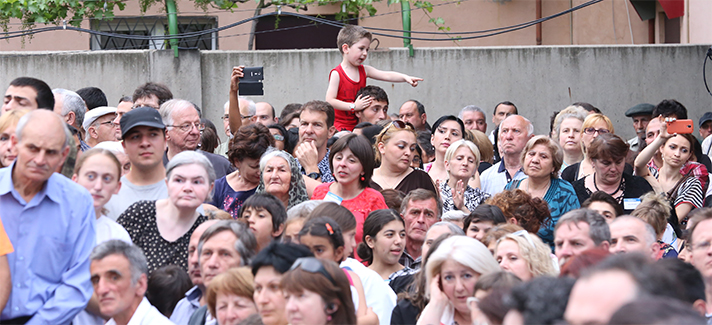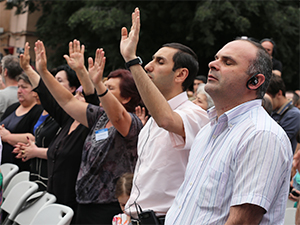 Overflow crowds packed into the church auditorium and just outside the courtyard to watch a special closed-circuit feed to jumbo screens in both locations.  Many peered out windows overlooking the courtyard, craning their necks, taking videos and still shots with their phones.
And despite all the chaos, the message could not have been clearer to more than 5,000 Georgians in attendance.
"If you don't remember anything I say tonight," Franklin Graham repeated several times. "Remember that God loves you."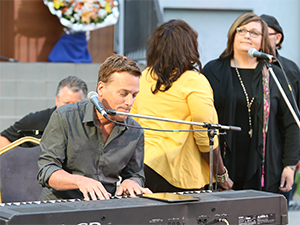 Soso Qerdikoshvili knows that truth. A Festival counselor and firm believer in Jesus Christ, Soso, 29, was among those who came Friday a bit disappointed, although not completely surprised about the venue change.
But what he encountered in the courtyard nearly shocked him. It wasn't the crowd size or the high quality of music that made his eyebrows rise.
It was the look in the eyes of a fellow Georgian, 27-year-old Thomas, who had rarely gone to church growing up but on this night decided he wanted to accept Jesus into his life.
"Any time a non-believer listens to you it surprises you," Soso said. "He was listening to me very intently. Absolutely every word."
With crowds as packed as they were, having room for an invitation was scratched and a new plan was born—those who wished to respond to Franklin Graham's Gospel message were simply asked to stand and raise their hands. And a counselor would find them.
Counselors quickly found the hands in the air, began explaining what a new life in Christ is and distributing follow-up materials, and suddenly the chaos turned organized. Hundreds made life-changing decisions on Friday night.
Soso was the first to find Thomas, who shared he had just made a profession of faith minutes earlier and wanted to understand more.
"I didn't expect such a reaction [from a new believer]," Soso said.
Thomas had been invited to the Festival by his grandmother, a believer who attends a local Baptist church. Thomas came and heard a life-changing message from Franklin Graham out of Luke 19 on Zacchaeus—the man who wanted a glimpse of Jesus-—and it struck a chord.
"You have a choice tonight," Franklin Graham said. "You can either accept Him by faith or reject Him.
"What's standing between you and God tonight?"
With the help of a Georgian interpreter, Franklin Graham led those serious about starting a relationship with God, in a prayer of repentance. Thomas was all in.
"I knew the Holy Spirit would be working," Soso said. "But after looking into [Thomas'] eyes, I was convinced."
The Festival of Hope continues at 7 p.m. on Saturday and Sunday in Tbilisi, Georgia, with an additional meeting added at noon on Sunday. For updates, follow the BGEA on Facebook and Twitter.