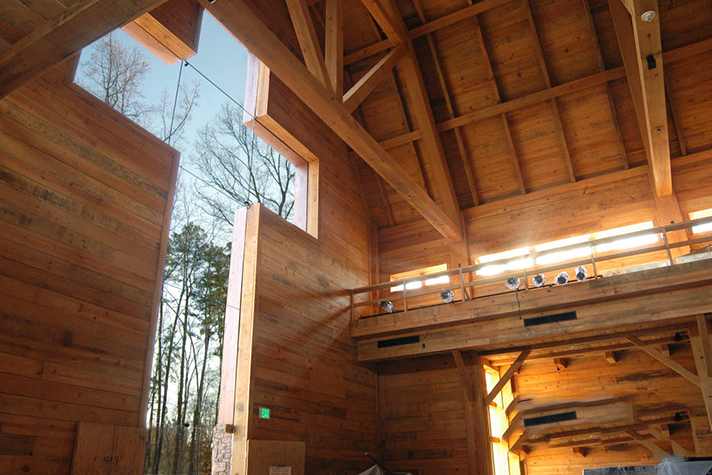 Seeking refreshment and inspiration, two friends traveled from New York City to visit the Billy Graham Library this summer in Charlotte, North Carolina.
Back home, the women live near each other—just across the Hudson River. Yet for two months they quarantined at home, while thousands in their city succumbed to COVID-19.
They needed a change of scenery, so they headed south.
On the campus of the Billy Graham Library, the women descended a series of brick steps to the gravesites of Billy and Ruth Graham, where they paid their respects. Before leaving they chatted with a Billy Graham Rapid Response Team chaplain. One of the women shared a snapshot of life at home in New York—how chaos between family members was upsetting. During their conversation, the women cried and prayed together. Afterward, the weary visitors were thankful for the peace and presence of the Holy Spirit they'd experienced.
While the Library isn't as busy in 2020, one thing is for sure—the volunteers continue to radiate the love of Jesus Christ to everyone they encounter.
After all, there's one thing the pandemic can't touch. And that's sharing the Gospel.
"What has not changed is the impact of an encounter with God," said Scott Holmquist, executive director of the Billy Graham Library.  "We continue to see God's transformational work in individual lives."
Be encouraged by these stories from summer visitors.
A 'Wake-Up Call'
Kyle* was a new Christian who had discovered Billy Graham's ministry. He wanted to know more, so he visited the Billy Graham Library from New Jersey. He was so inspired by The Journey of Faith tour that he went through four times in one day. The tour retraces Billy Graham's journey from a farm boy to becoming an international ambassador for Christ. During his visit, Kyle said, "I thought I lived a good Christian lifestyle until I saw how Billy Graham lived his life and how humble a man he was." Kyle also felt disappointment—in himself. "The experience was a wake-up call for me," he explained. "I hear [God's] voice telling me to help others and make a difference in the world. Well, now is the time."
Valuable Visit
Luke*, a teenager, was traveling from Georgia with his dad and sister to their home in North Carolina. After a conversation about what it means to follow Christ, he decided this was what he wanted. Luke wanted to make this decision somewhere meaningful so they stopped at the Library. Billy Graham's life and ministry had meant a lot to him growing up, so it was a perfect choice. Standing near the evangelist's gravesite, Luke prayed to receive Christ as his Lord and Savior. The Library staff and volunteers joined in celebrating his decision with the family.
Answered Prayer
Andrea* and Mike* have made many trips to the Library. Each time, they left prayer requests that they be able to have children, as they struggled with infertility. On a recent visit, Andrea and her mom brought two children the couple had adopted—a boy and a girl, ages 10 and 12. The family told Library staff how thankful they were for those answered prayers.
*Names changed to protect privacy.