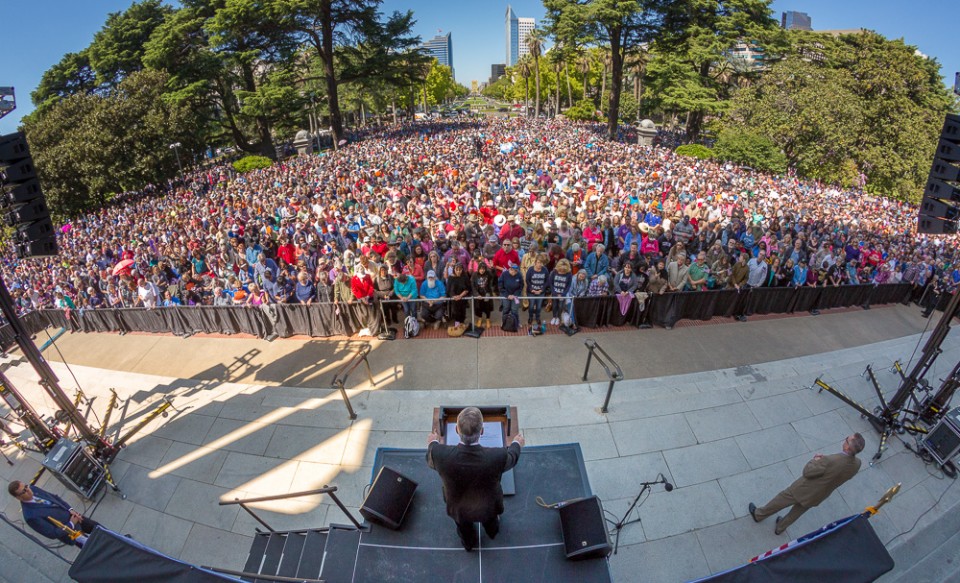 Next month, Franklin Graham will begin his Decision America Tour across California to share the Gospel at one-day prayer and evangelistic events.
Starting in the shallow valley of Escondido on May 20 to the northern end of the Sacramento Valley in Redding on June 5, the tour will roll through a total of 10 cities in the Golden State.
>> See how you can get involved today.
Each event will feature live music from Jeremy Camp and a Gospel message by Franklin Graham.
Decision America California Tour
All events begin at 7:30 p.m. PDT
Sunday, May 20 — Escondido
Monday, May 21 — Pasadena
Wednesday, May 23 — Oxnard
Friday, May 25 — Bakersfield
Monday, May 28 — Fresno
Tuesday, May 29 — Modesto
Thursday, May 31 — Santa Clara
Friday, June 1 — Berkeley
Sunday, June 3 — Chico
Tuesday, June 5 — Redding
Typically a more liberal state, some may see California as hard ground to till spiritually.
But, "There's hopelessness, apathy and despair everywhere," explains Steve Rhoads, vice president of BGEA's church ministry team.
"California is like anywhere else—hope is in short supply," he added.
After the raging wildfires and mudslides the state endured this year, many are especially in need of something more.
"The sense of no one being safe is pretty acute," Rhoads said.
Several prayer meetings ahead of the tour have already been held so local residents can begin to lift up their city and state. Churches are also preparing for the upcoming tour, getting the word out and encouraging members to get involved.
"The event pivots on the church inviting friends, colleagues and neighbors to come to a free, family-friendly event to be given a message of hope," Rhoads explained.
"We're going to come alongside the churches and help them continue doing what they're doing."
You, too, can join in praying for revival across California and the country.
"Ask God to give a new expectancy of what He can do and what He wants to do," Rhoads said.
"If God's people are praying and the Gospel is preached, what might God do? We know if we all call on the name of the Lord, He answers," he continued. "So, if we're going to ask, it'll be a blessing to watch what God does.
"He will answer."
After California, Franklin Graham will continue rolling up the West Coast to Oregon and Washington state for several prayer events in August.
Spread the word and join others in praying ahead of the Decision America California Tour.
Learn more about the Decision America Pacific Northwest Tour this summer.
About the Decision America Tour
The Decision America Tour was born in 2016 when Franklin Graham visited all 50 states, challenging Christians to lead lives rooted in Biblical principles and to pray earnestly for America. More than 230,000 people joined him as he traveled across the country. Last year, he continued the tour by going back to Tennessee and Texas, drawing more than 70,000 people to outdoor venues in 11 cities.