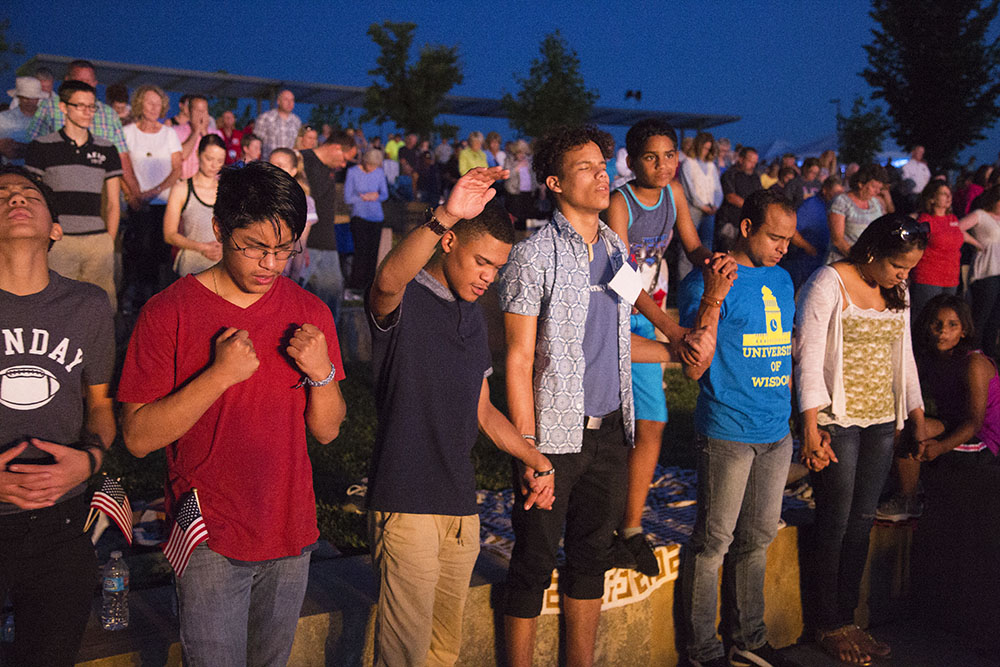 Under a beautiful pink sunset, an estimated 4,600 in Clarksville, Tennessee, welcomed the Holy Spirit to town Thursday at the second stop of the Decision America Tennessee Tour with Franklin Graham.
There were kids, dogs and an engaged crowd—relaxed and ready for a message of hope.
There's a faithful group of believers—about 40 people in this city northwest of Nashville—who have gathered twice a month for the past five years, praying for revival and healing here and in surrounding cities. Just last Saturday, a group walked around town, praying ahead of the event at the Amphitheatre at Liberty Park.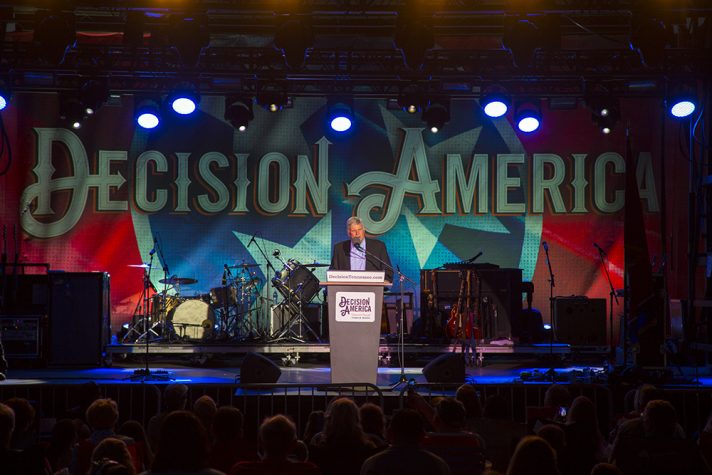 A prayer warrior herself, Carol Moore sat smiling peacefully on the amphitheatre steps before the event began.
"We're giving God the glory. To put people at the feet of Jesus, that welcomes in the Holy Spirit. And that's when change comes.
"I think people here are truly going to be changed," Carol said about Thursday's evangelistic event. "Telling people about God's glory, it's so tangible. You can't do without it."
Franklin Graham couldn't agree more. That's why he's traveling through Tennessee this month, encouraging Americans to live out their faith and sharing the Gospel message with those who don't know Christ personally.
"Our country is in trouble," he said. "Only God can fix this thing. It will only happen if we pray. Our churches are in trouble in this country."
Carol's husband, Roger, pastors Clarksville Vineyard Church, a congregation of about 300 people with an intercessory prayer team. He knows prayer—and action—will lead more people to Christ.
"The Lord wants us [out] in the community to share the Gospel. Instead of just being the building, the church needs to be out in the community."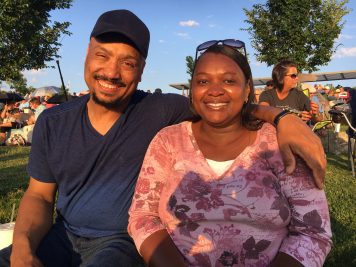 Unity among churches is an issue in Clarksville, Roger said. "There's a lot of separation and division among the congregations here.
"The Lord is looking for vessels to work through, but we can restrict Him by focusing on leading the local congregation we're a part of."
Closer to the stage, the couple's children waited excitedly for the event to start. As preacher's kids, they spoke with wisdom beyond their years.
"If someone's going through a struggle, when they pray, God helps them out," said 12-year-old Rebekah. "The Holy Spirit can overcome them and they can feel such a strong anointing."
Her 14-year-old brother, Jonah, agreed that prayer is a powerful weapon for believers. "Pray for [nonbelievers] and then their lives will get changed," he said.
Franklin Graham held the first Tennessee event in Chattanooga earlier this week. He's headed west to Jackson today and to Memphis Sunday. In his message to Clarksville, he told everyone in the crowd that God has a purpose for them.
"God's got a plan for our lives. He wants us to have joy, He wants us to have peace."
A member of the Decision America Tennessee Tour prayer team, Laura Patterson, exuberated joy Thursday night. Twirling around, she explained, "Right now, I'm just sharing joy. I'm dancing and you can see people smile." She said her joy is all about Jesus.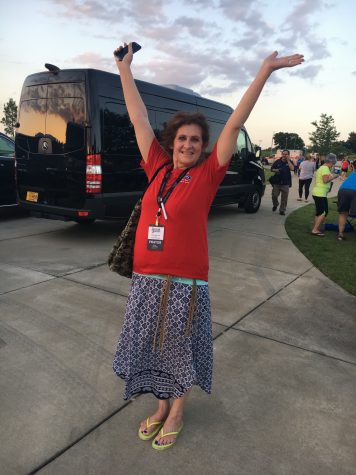 And what did she think of the joy of the Lord in the amphitheatre Thursday?
"I think heaven is gonna open up and God is gonna say, 'I am so proud of each and every one of you and I love you.'"
Dove Award-winning singer and songwriter Jeremy Camp took the stage before and after Franklin Graham's Gospel message.
"There's joy in the Lord," he said, encouraging the crowd to rejoice at what God could do in Clarksville.
Fireworks erupted during Camp's last song—celebrating the night and freedom in Christ.
"I believe the Lord orchestrated this to bring freedom to Clarksville," Roger said. "We [as Christians] can get out and follow up. It's more than just a service. It's bringing faith to our city.
"I believe prayer can change it."
Wife and fellow prayer warrior Carol agreed. Believers around Clarksville, she said, "will have the confidence and boldness to go out and transform this city with the Gospel. To bring joy back to the city."