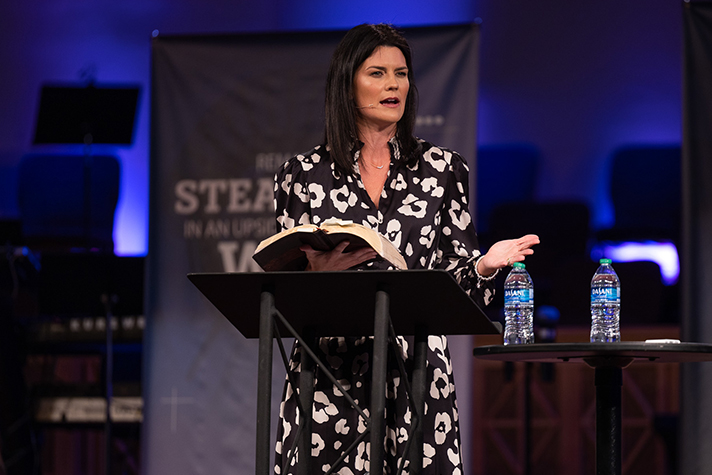 "I am the least of these to be speaking here. But it doesn't matter where God called you. We have been placed in this chaotic time for a purpose," Cissie Graham Lynch said Friday at the National Conference on Christian Apologetics in Rock Hill, South Carolina.
On April 8-9, Southern Evangelical Seminary (SES) brought over 900 people together to engage in conversations about standing firm in faith and "always be ready to give an answer to anyone who asks" (1 Peter 3:15) with solid arguments from scientific, philosophical and theological perspectives.
Conference speakers included apologists and scholars like Gary Habermas, Hugh Ross, Frank Turek, Richard Howe, Alisa Childers and many others.
Lynch reminded the audience it's no coincidence God has called us to serve Him for such a time as this.
"This is an important time in the history of the church, and God has us here for a reason," she said. "Each of us gathered here have been called to preach the Gospel of Jesus Christ and to make disciples. We are called to challenge unbiblical ideas, in the church and in the world."
Lynch boldly addressed the many struggles our country is facing, saying, "Our nation is becoming increasingly hostile to biblical truth."
Congressman Ralph Norman agreed.
"The only way we are going to get it right is prayer, and following up that prayer with discipleship," he told the crowd. "The miracle happens when you plant a seed, and now more than ever we need each one of you to plant a seed for Christ."
Lynch pointed the audience to the book of Hosea and said, "The Bible is very clear about what happens to a nation when it rejects the knowledge of God. Hosea chapter 4 says:
Hear the word of the Lord, you children of Israel, for the Lord brings a charge against the inhabitants of the land. There is no truth or mercy or knowledge of God in the land. By swearing and lying, killing and stealing and committing adultery, they break all restraint, with bloodshed upon bloodshed (verses 1-2).
"This is a season of chaos, confusion, deceit and false teachings. But we know that God is at work, and we have the opportunity to be a light in the darkness," Lynch reminded the crowd.
Following the example of her father and grandfather, Lynch took her message back to the Gospel and the cross.
"We need to remember that it is the truth … it is the Gospel that changes people, and the Gospel is simple," she said. "We can get caught up in apologetics and in knowledge, and we have to remember that those are wonderful tools to reach out to people, but it is the Gospel that changes lives."
Lynch reminded Christians that the only way to face challenging times is to stand firm in the truth and knowledge of God.
"We need the knowledge of God. We need to know His attributes, we need to know what He loves, so that when we face trials, we don't have to wonder, because we will already know."
Listen to Cissie Graham Lynch's Fearless podcast on having a fearless faith in a compromising culture.