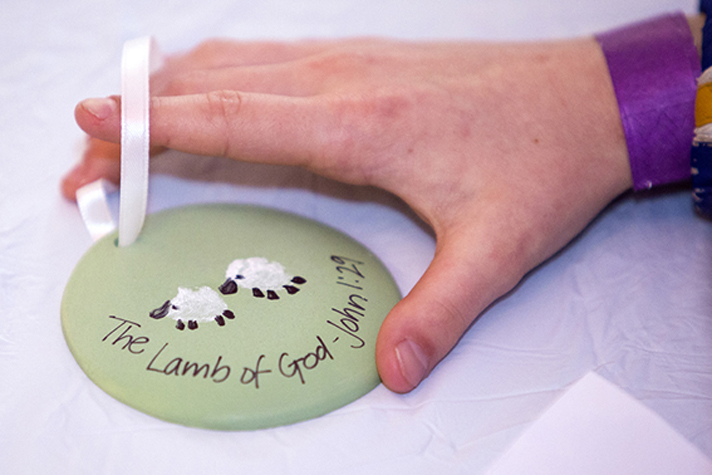 What comes to mind when you hear the word "Easter"? Some might think of colorful eggs, chocolate bunnies, special church clothes or tulips. But for 5-year-old Joshua Miller, the word means one thing: "joy."
On March 23, Joshua sported a button-down shirt and blue tie for the Billy Graham Library's second annual Easter celebration. Despite the rain, the event drew 125 children to the Library to make Easter ornaments, have story time and get their pictures taken with three lambs.
So why does Joshua think of joy?
"Jesus rose again," he said matter-of-factly, hands in his pockets.
His parents, Dan and Stephanie of Lincolnton, N.C., grew up celebrating Easter by dyeing and hiding Easter eggs, and seeing pictures of rabbits everywhere. But they wanted to focus elsewhere for their son.
"What better way to celebrate Easter than to hear God's Word?" Stephanie said.
The family of three waited in line inside the Library for a book signing with Dandi Mackall, an author from Ohio who read from several of her books at the event. Stephanie held her book, "God is My Shepherd and I Am His Lamb," which presents the 23rd Psalm – and the idea of God's protection and provision – in a way children can understand.
"I want them to know that God loves them no matter what," Mackall said. And at this time of year, that Christ's death and resurrection "means something; it's not just a story we pull out at Easter."
Mackall has two grandkids, ages 2 and 4. She has visited the 4-year-old's Christian preschool and said even in that environment, and even with kids who have godly parents, there can be a lot of competition and un-Christlike behavior. Faith in action "doesn't just happen by osmosis," she said, adding that it's imperative to teach kids at a young age.
Mackall spoke about living out that faith at the Library's Easter event when she read "I've Got a Job to Do," a book about telling others about Christ.
"Maybe [young children] can't present a full Gospel message," she said, "but they can be that Gospel." They can be the "hands and feet" of Christ by simply sharing lunch with a lonesome classmate, she said.
During the event, children put white thumbprints on a green ornament, thumbprints which later turned into the body of little lambs. Each ornament had a reference to John 1:29: "Look, the Lamb of God, who takes away the sin of the world!"
Monica Riley of Harrisburg, N.C., stood near one of the craft tables under a heated tent in the Library's parking lot. Yellow, pink and blue strands of cloth hung from the top.
"We love Christian-based Easter events," she said. Her family visits the Library throughout the year.
Riley's 8-year-old daughter, Chloe, sat a few feet away with a half-eaten lamb cookie in front of her. She had already been outside to pet the three lambs, adorned with pink and blue bows.
"They're pretty soft and fluffy and cute and little," she said.
A group from Friendship Baptist Church in Lyman, S.C., also came to the Library for the first time and planned to stay after the event to take the Journey of Faith tour.
For updates on upcoming events and exhibits, email your name and address to hbrooks@bgea.org.