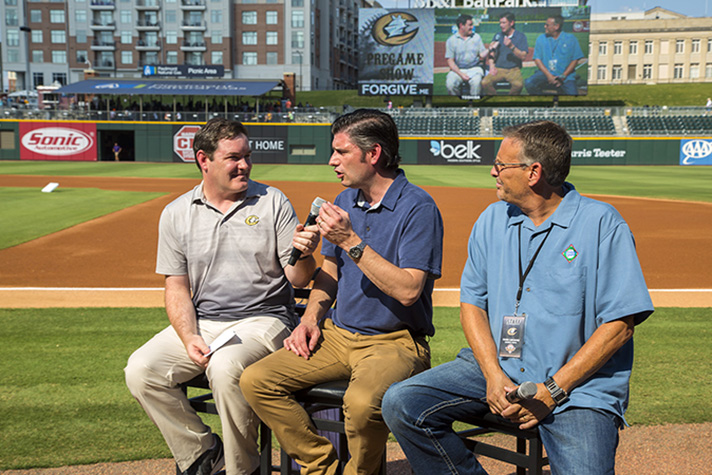 Less than five miles south of BB&T Ballpark in Charlotte, North Carolina, Billy Graham grew up on a dairy farm that's now Park Road Shopping Center.
Between milking cows and other chores, he spent a lot of time with his neighborhood friends playing baseball—dreaming about what it would be like to play professionally.
"I feel like a lot of kids that grew up in the Depression era wanted to play baseball. That was their dream. … But he was such a poor hitter," Will Graham told Charlotte Knights fans on Sunday.
The Minor League Baseball team deemed Sunday "Billy Graham Day" for its Faith and Family Night game.
In his autobiography Just As I Am, Billy Graham admitted his "talent for baseball was not there," saying he "batted from the left side of the plate, cross-handed."
But the irony is he still ended up in some of the most iconic baseball stadiums around the world.
"He got to the stadium," Will Graham said," but it was as a preacher, definitely not as a player."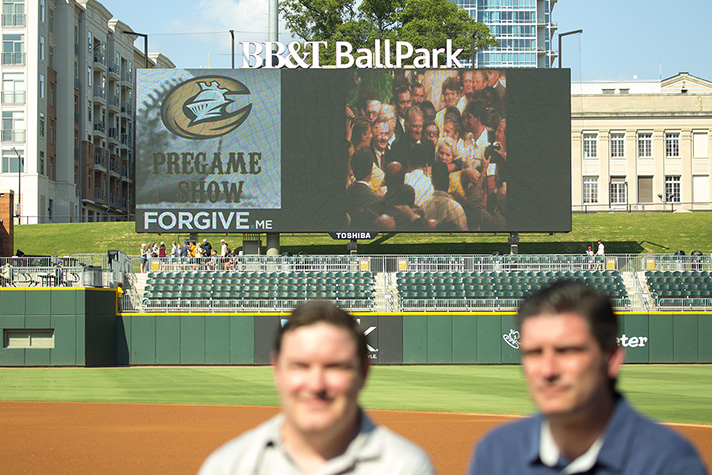 Billy Graham—whose 99th birthday is in November—has never been to the hip uptown Charlotte baseball stadium known for its tremendous skyline views down the right-field line. Although, Mr. Graham did preach the Gospel next door to more than 330,000 people over four nights in 1996 at what is now Bank of America Stadium, home of the Carolina Panthers.
For more than half a century, Mr. Graham preached to live audiences of nearly 215 million people in more than 185 countries and territories in countless sports venues. Early in his career (1957), he delivered the Good News to more than 100,000 people packed inside Yankee Stadium, while his last public preaching came at another iconic venue, Baltimore's Camden Yards (2006).
"My grandfather did have an opportunity to speak in stadiums like that," Will Graham said. "He's never seen this one. This is a beautiful stadium."
Had he been sitting on the lush green grass on this 94-degree afternoon, Charlotte Knights chaplain Frank Cantadore asked Will what his grandfather would likely tell the crowd.
"My grandfather would say that baseball has rules. There's nine innings … there's three outs. But you don't get to say the strike zone is 20 feet by 20 feet. There's rules. And the rules are what makes the game exciting,'" Will Graham said.
"The game has meaning. The game has purpose. And that's how life's meant to be," he added. "Life is meant to have rules."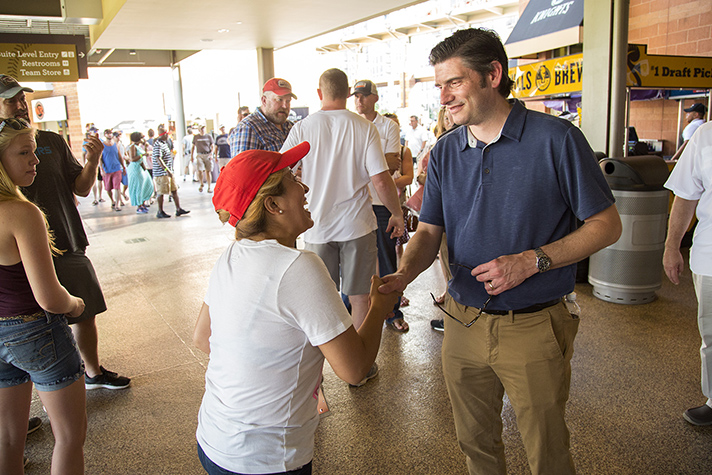 Just before reading to the crowd the one verse Billy Graham has preached on more than any other, Will continued with his analogy.
"God has given us rules and those rules are meant to live by," he said. "Yet, the Bible said when we disobey God … it's called sin. When we have sin in our life, it keeps us from purpose. It doesn't give us meaning in life. It makes it purposeless.
"And that's why I think so many people in this world are disillusioned with what's going on in their life. They're heartbroken," Will explained. "They're looking for meaning. They're looking for purpose and that's because they're separated from how God intended for them to live."
He then quoted John 3:16.
"If my grandfather was here he would say, 'For God so loved the world that He gave His only begotten Son that whosoever believeth in Him should not perish but have everlasting life.'"
Will ended with some truly Good News, including an offer of prayer in the concourse behind home plate where volunteers with the Billy Graham Library were on standby, and many prayed with folks after.
"He sent His Son on a rescue mission to rescue me, to rescue everyone who puts their faith in Jesus Christ," Will said. "We're so grateful for that hope that Jesus provided free for anyone who asks of it. And that's the hope we can have in this world."