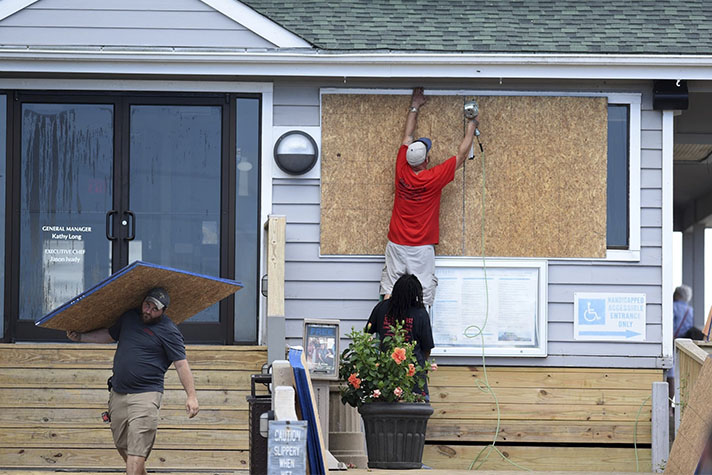 As Category 2 Hurricane Florence moves swiftly toward the East Coast, the North Carolina-based Billy Graham Rapid Response Team (RRT) is preparing to respond.
On Tuesday afternoon, RRT staff emailed their network of crisis-trained chaplains, asking for volunteers to deploy when Florence strikes. More than 200 chaplains responded within a few hours.
>> Help send Billy Graham Rapid Response Team chaplains into disaster zones to share God's love in times of crisis.
"This is quite unusual for a storm to have a direct hit like this one," International Director of RRT Jack Munday said. "It's my understanding it's never happened [in this area] before. This one is coming straight in."
Torrential rain, high winds and storm surge are predicted over the next few days across the Carolinas. Inland flooding is expected as Florence is likely to stall before finishing its course.
"This is a major historic, catastrophic event. We know the need is going to be massive, the deployment is going to be long," Munday said.
Thinking back to Hurricane Floyd's destruction in 1999 when 18,000 square miles were under water, he believes recovery may take months.
Carefully eyeing the latest forecast models for Florence, Munday and his team are thinking strategically about how to use their resources. They're identifying shelters in North Carolina and South Carolina, and making plans to send crisis-trained chaplains to those areas within the next several days.
Law enforcement agencies have also reached out to the chaplains and requested their assistance.
"We certainly will support them," Munday said.
In addition, RRT is in communication with Samaritan's Purse, and will partner with the relief organization in the storm's aftermath to provide emotional and spiritual care. The chaplain team is gearing up vehicles called Mobile Ministry Centers (MMCs) to serve as a refuge where people can come for conversation and prayer.
And although there's still a lot of uncertainty surrounding the hurricane's path, RRT wants to be ready to respond at a moment's notice to the areas where they'll be most helpful.
More than 1 million people are under evacuation orders, so there is high likelihood of emotional and spiritual needs from the incoming disaster. As bread aisles run low and lines for gas pile up, it's crucial that people prepare and aren't overcome by fear.
"Fear is real, but God makes Himself available to us to offer peace in the midst of fear," Munday said, encouraging those who are nervous about the storm to pray. "God can meet us right where we're at.
"Our heart is that people will be praying for those who are affected," Munday said. "We certainly are praying right now that the storm turns around and goes the other way."
If you're in the midst of fear and would like to talk with someone, call the Billy Graham Response Center at 877-247-2426.