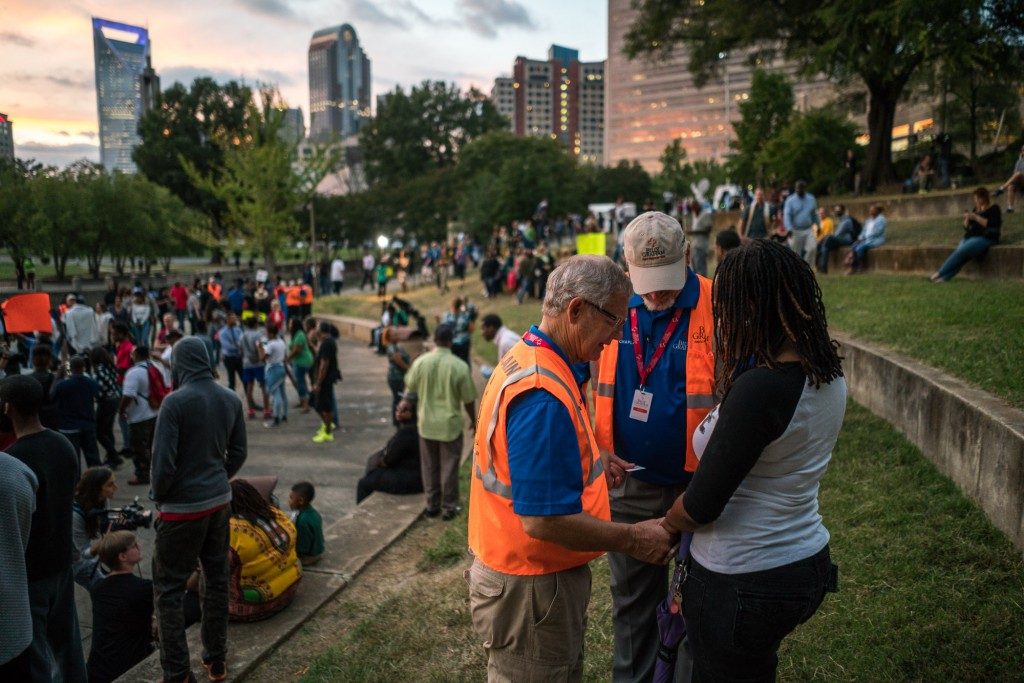 Therefore God also has highly exalted Him and given Him the name which is above every name -Philippians 2:9 (NKJV)
Crisis-trained chaplains with the Billy Graham Rapid Response Team maintained a ministry of presence on Wednesday night in Charlotte, North Carolina, where as many as 300 demonstrators gathered to protest the decision not to indict officer Brentley Vinson in the shooting death of Keith Lamont Scott.
Protesters chanted, some through bullhorns, as they peacefully marched. The scene was much calmer than last time when the demonstrations escalated to civil unrest in the wake of Scott's death on Sept. 20.
On Wednesday, though, protesters focused on their words. They shared their anger, their frustration and their pain. The Rapid Response Team chaplains listened and even had the chance to pray with some.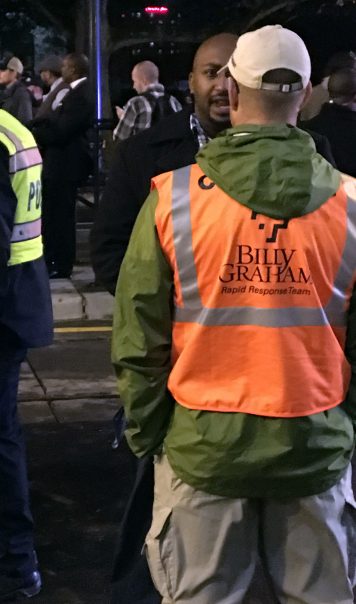 "We were just listening as people were expressing their emotions and anger, their shock at the decision not to charge the officer," said Jeff Naber, manager of chaplain development and ministry relations for the Rapid Response Team.
Many chaplains prayer-walked with the demonstrators as they made their way from the Charlotte-Mecklenburg Police Department headquarters down to the Omni Hotel and back again. Along the way, the group stopped for a moment of silence for Justin Carr, a protester who was fatally shot during the September civil unrest.
Other chaplains stood shoulder-to-shoulder with local preacher Sam Bethea. For the duration of the three-hour demonstration, Bethea proclaimed four words:
"The blood of Jesus," Bethea boomed.
He didn't have a bullhorn, but his voice enabled him to lift the Savior's name above all others. The nearby chaplains chimed in.
"God gifted that man," Naber said. "His voice never wavered. He never tired. He was just relentless in repeating just those four words. Everyone there knew he was there. He kept up his cry to God.
"There were bullhorns, but the name of Jesus overrode anything people were saying," Naber added. "His name was spoken on the streets of Charlotte more than any other name."
Please continue to pray that the peace of Jesus Christ will reign in Charlotte, North Carolina.