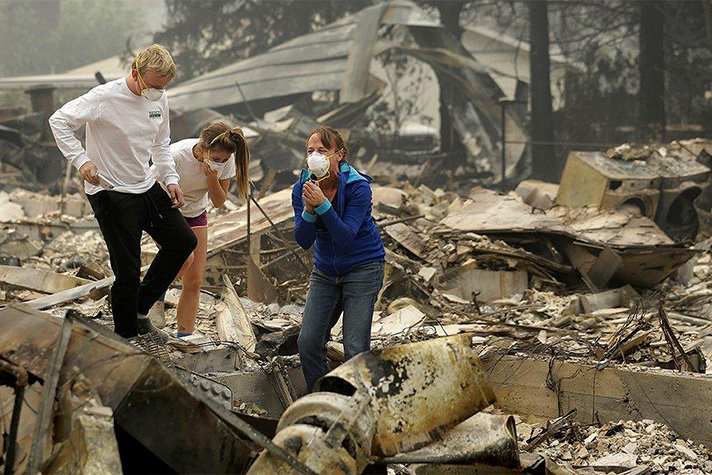 Crisis-trained chaplains from the Billy Graham Rapid Response Team (RRT) are ministering in Santa Rosa, California, as firefighters continue to battle multiple wildfires across the state. Many of the fires are contained or mostly contained. Dozens of people died in the rapidly-moving fires, and many more are still missing.
Thousands of firefighters and support personnel from California and nearby states have worked together to fight the blazes. Chaplains are there, working with area churches and the community.
"The images we've seen are grim and shocking, and yet they don't even begin to provide the full context for the suffering that is taking place as so many have had their lives turned upside down in the blaze," said Jack Munday, international director of the Billy Graham Rapid Response Team.
"When people are evacuated they lose their safety net and comfort zone. In many cases, they don't know if they'll ever see that piece of themselves again, or if they'll return to an ash-covered slab," he said. "Our chaplains will share the hope and comfort of Jesus in the midst of the pain."
The first RRT chaplains on the scene live in Santa Rosa and were able to quickly offer the hope of Christ to their own neighbors. Initial ministry will take place in shelters, in the community and in support of churches who had members lose their homes.
Two local congregations invited the chaplains to come to Santa Rosa.
"One church—40 of its members lost their houses entirely. The fire was within a quarter-of-a-mile on three sides of the church, and it was saved," Munday said.
Hundreds of residents are still missing. At least 240,000 acres have been damaged and an estimated 40,000 people evacuated, though many have now returned to their communities.
The RRT also has chaplains deployed in Las Vegas following the deadly mass shooting there, as well as Texas and Florida as they minister to people affected by hurricanes Harvey and Irma.
Please pray for those in the path of California's wildfires, for firefighters and the families grieving lost loved ones.