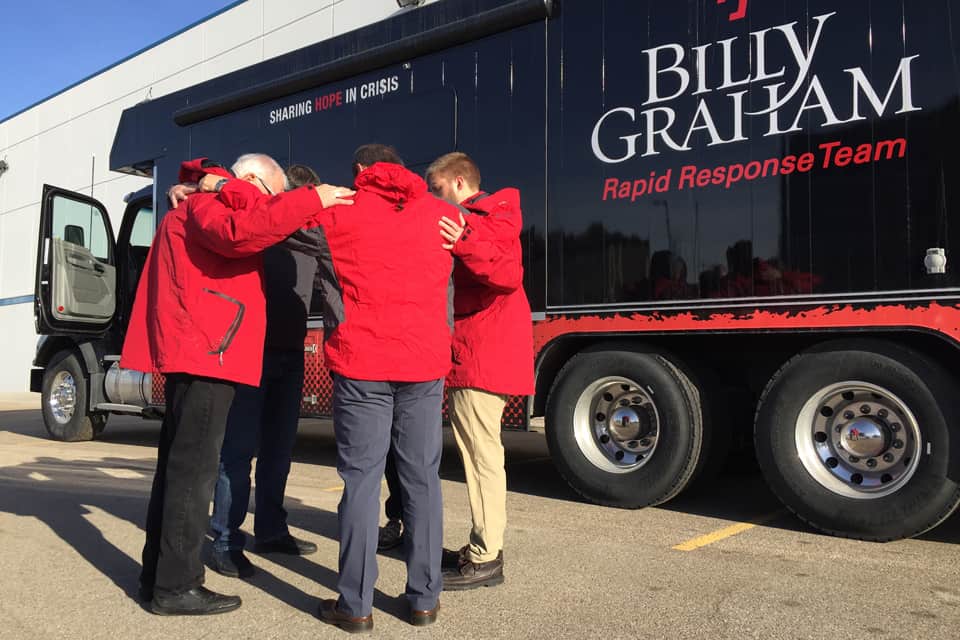 Crisis-trained Billy Graham Rapid Response Team (RRT) chaplains are in Humboldt, Saskatchewan, providing emotional and spiritual support to shocked and heartbroken residents facing devastating loss. Sixteen of the 29 passengers on a Humboldt Broncos team bus were killed and 13 injured after being involved in the catastrophic collision on April 6.
"We are praying for the people of Humboldt," said Merle Doherty, manager of the Billy Graham Evangelistic Association of Canada's RRT chaplains. "Our chaplains want to provide Christ's compassion, care and love as we minister to grieving and hurting people there.
"This is a tragedy that impacts families in multiple communities in Saskatchewan, Alberta and Manitoba," Doherty added. "Horrible events like this are what our chaplains are trained for."
A heavy blanket of grief seems to shroud this private and close-knit community, and chaplains continue to offer a ministry of presence and prayer by attending vigils and simply encouraging people they meet. The chaplains, blessed by the warm welcomes of many who recognized the RRT logo, have had the opportunity to pray with members of the community. Sudden deaths, cancer battles and difficult surgeries are among the heartfelt struggles shared.
One woman the chaplains met at the Humboldt Mall told how she cleaned for the Billet Homes, which housed some of the team members. The boys, she said, were playful, sometimes hiding her shoes when she was there. She often baked for them. But for this woman, the tragedy also brought back the reminder of her own mother's death a few years ago. She wasn't sure if her mother was in heaven or even if she would end up there. The chaplains explained how she could be sure and prayed with her at her request.
"After she had asked Jesus to be her Savior, she commented that she suddenly felt so much lighter and better," one chaplain said. "We celebrated with her that she is now our sister in Christ."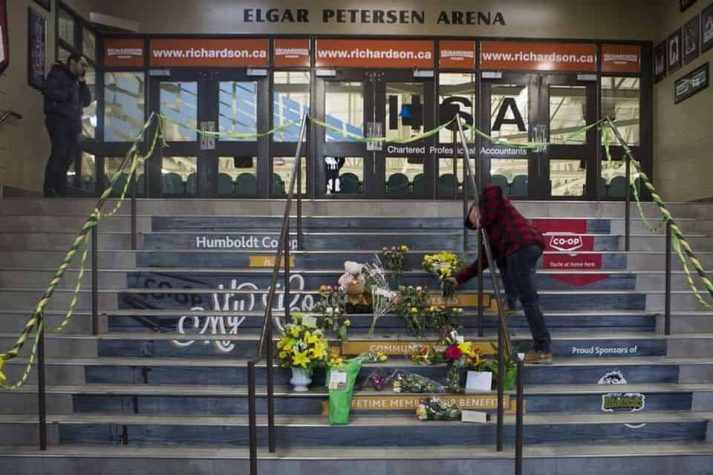 Another man, a restaurant owner and chef, told the chaplains during dinner that two of the players killed had worked for him part-time. It was another tragedy for the man, a dedicated and passionate believer from Pakistan. He shared extensively how his family members suffered persecution for their beliefs in his homeland. The chaplains encouraged the man and his staff with a time of prayer.
#PrayersforHumboldt and #BroncoStrong are the prevailing sentiments throughout this community, which is preparing for memorials this week at the Uniplex. Six chaplains, all from the Calgary region, will stay in Humboldt for as long as they are needed. Four of them attended a vigil on April 8 at Elgar Petersen Arena, home of the Humboldt Broncos hockey team. The Billy Graham Mobile Ministry Center is also set up at the Humboldt Uniplex to serve members of the community.
"We want to soothe broken hearts just by being there and praying with people about Jesus' love and understanding when appropriate, or just listening and weeping when they weep," said Rick Benner, a crisis-trained volunteer chaplain.
This is the first Canadian RRT deployment of 2018. In 2017, chaplains provided a listening ear, a shoulder to cry on and, when appropriate, prayers for grieving people after a mosque shooting in Quebec City, after flooding in Ontario and Quebec, and after wildfires in British Columbia.
Please pray with us for the Lord to lead the chaplains in word and deed as they show people in Humboldt "the God of all comfort, who comforts us in all our affliction, so that we may be able to comfort those who are in any affliction" (2 Corinthians 1:3-4, ESV).