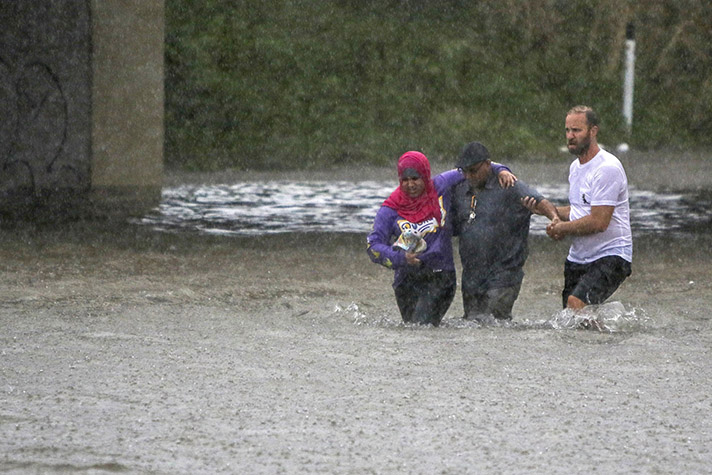 After the Billy Graham Rapid Response Team (BG-RRT) sent 10 chaplains to eastern Kentucky due to deadly flash flooding, they found neighboring regions suffering from the same storm system.
That's why they've added a deployment to St. Louis County, Missouri, where the National Weather Service reported nine inches of rainfall in under 24 hours between July 25 and July 26. The record-breaking rainfall caused rising floodwaters that trapped residents in their homes.
>> Update: The BG-RRT expanded its deployment in eastern Kentucky to Breathitt County, where seven chaplains are serving. 
Storms spread days apart caused St. Louis County to experience multiple events of flash flooding last week, submerging some houses in seven feet of water. July 26 was recorded as the date with the highest rainfall in the St. Louis region since records began in 1874. In six hours, there was more rainfall than it normally receives in July and August combined.
News reports say at least one person died, and six children were rescued from a local daycare.
Chaplain coordinators Cathy and Dale Nordgaarden and a team of chaplains are ministering. A Mobile Ministry Center, a vehicle used as a safe haven for conversations, is also parked in the community.
"As we see the many lives impacted because of this historic rainfall in St. Louis County, Missouri, our hearts are heavy for those who have suffered great loss," said Josh Holland, international director of the BG-RRT. "Our crisis-trained chaplains will be there to listen, comfort and pray with people as the area begins the recovery process."
Over the next several weeks, chaplains will be partnering with Samaritan's Purse, BGEA's sister ministry that organizes volunteers to cleanup homes. Together, the ministries will help locals get back on their feet.
Please keep all those affected by the flooding in your prayers.