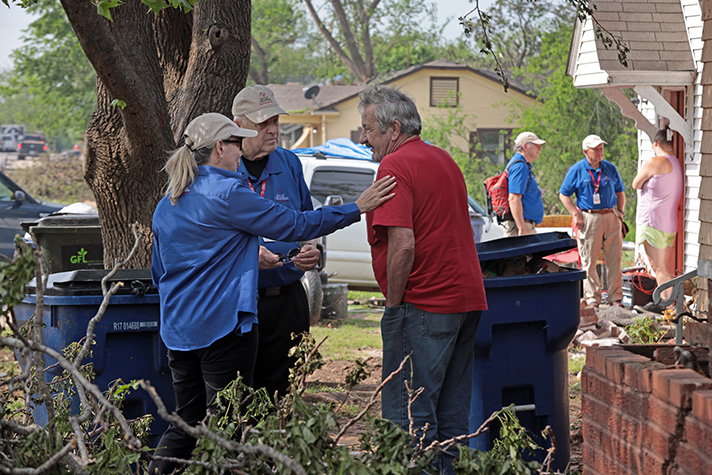 The Billy Graham Rapid Response Team (BG-RRT) is deploying crisis-trained chaplains to Brookings, South Dakota, following Thursday's derecho, a large-scale thunderstorm with straight-line winds.
The storm system ripped across the Plains from Kansas to Wisconsin, knocking down power lines and trees and even rolling semi-trucks. News reports say the derecho spawned dust storms and two tornadoes, killing two people, injuring others and causing severe damage. Some buildings and homes were completely destroyed, while others now sit under fallen trees.
With destruction in over two dozen counties in South Dakota, Gov. Kristi Noem issued a state of emergency. According to the National Weather Service in Sioux Falls, the region faced nickel-size hail and 90 mph winds.
"As we learn of the many lives impacted because of this deadly storm in South Dakota, our hearts are heavy for those who have suffered great loss," said Josh Holland, BG-RRT's international director. "We are sending our crisis-trained chaplains in the midst of this tragedy to show God's love and provide emotional and spiritual care as the area begins the recovery process."
This week, several chaplains will arrive in Brookings, about 60 miles north of Sioux Falls. They'll serve alongside their sister ministry, Samaritan's Purse, whose volunteers will work on cleanup and home repairs.
The chaplains are expected to be in the community for two to three weeks, offering a listening ear and comfort. A Mobile Ministry Center—a vehicle that's a safe haven for conversations—will be present as well.
Earlier this month, the BG-RRT responded to tornadoes in Seminole, Oklahoma, and Rockingham, North Carolina.
Please keep all those affected by the storms and also the chaplains in your prayers.