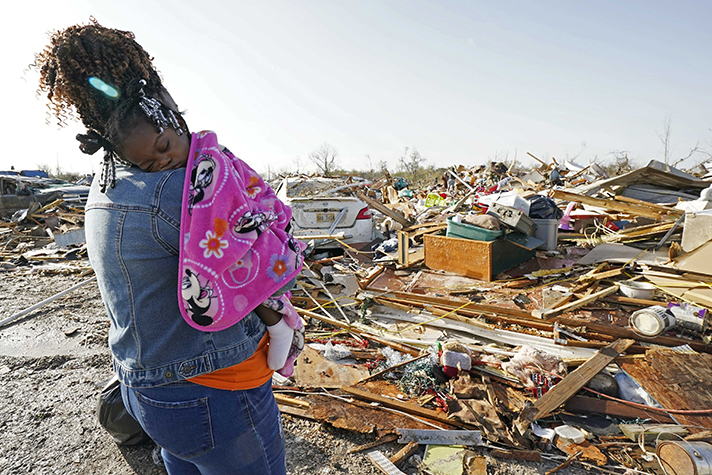 Twenty-six people died after tornadoes, damaging rain, and golf ball-sized hail ripped across the Southeast Friday night. Central Mississippi was hit hardest by the storm, with the small town of Rolling Fork—near the border with Arkansas and Louisiana—flattened and unrecognizable.
The storm system stretched 170 miles, tossing debris 20,000 feet in the air in some areas. The mayor of Rolling Fork declared, "My city is gone."
Billy Graham Rapid Response Team (BG-RRT) chaplains are ministering in Rolling Fork, as well as Amory, Mississippi, to offer emotional and spiritual care to those impacted by the disaster.
"The most important thing right now is prayer," Franklin Graham said. "People need prayer, that God would just comfort their hearts, and He'd put His loving arms around them during this very difficult time.
"Houses can be rebuilt after time, businesses will come back after time, those things can be fixed with time," he continued, "but the loss of life, that's so difficult, so it's going to be felt for a long time."
Chaplains are serving alongside disaster relief organization Samaritan's Purse. BG-RRT has two Mobile Ministry Centers to serve as a space for prayer and encouragement.
"The amount of destruction and loss of life in Mississippi are truly devastating," said Josh Holland, international director of the BG-RRT. "We simply cannot even fathom what these residents must be going through right now. We want to make sure residents know they are not alone and not forgotten.
"In the midst of the storm, there is hope—that hope is in Jesus Christ. We are sending our crisis-trained chaplains to pray, listen, and share God's love with those who have been impacted by these devastating tornadoes."
Chaplains are also serving at a shelter in West Point, Georgia, where some people are staying after being displaced by the tornadoes.
Please keep all those affected by the storm in your prayers. Also pray that God will work through chaplains to help strengthen and comfort others in this time of grief and loss.