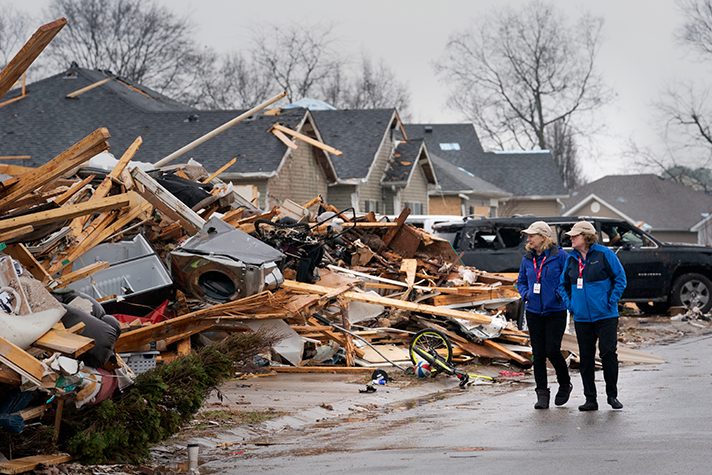 On May 19, residents in Keensburg, Illinois, scrambled for shelter after hearing that a tornado was headed towards their small Midwestern community.
While no injuries have been reported, the tornado left behind a wake of downed power lines and trees, overturned trailers, and damaged houses in the town of less than 300. Weather reports categorized the twister as an EF-2 tornado, with a path spanning 26 miles and winds reaching speeds of 115 miles per hour.
Billy Graham Rapid Response Team chaplains (BG-RRT) deployed to Keensburg to comfort residents with a listening ear and encouraging prayers.
"Our thoughts and prayers are with the people of Keensburg." said Josh Holland, international director of the BG-RRT. "Our hearts are heavy for those who have suffered great loss. We are sending our crisis-trained chaplains to pray with, listen and share God's love with those who have been impacted by this storm."
The small team of chaplains have been showering hurting homeowners with God's love, carrying the message of the Gospel wherever they go. This ministry of presence can mean a lot for homeowners facing destruction and trauma from a massive storm.
Billy Graham chaplains often deploy to both man-made and natural disasters. Teams of chaplains recently deployed to Buffalo, New York, following a grocery store shooting—as well as South Dakota after a derecho devastated homes. Dozens of chaplains are also on the ground in Uvalde, Texas, following a horrific school shooting; and in Ukraine and Poland, ministering to those fleeing conflict.
Will you pray for the people of Keensburg, Illinois, as they put their lives back together after the twister?
See how Billy Graham chaplains helped comfort three traumatized young men at a Ukrainian refugee camp.