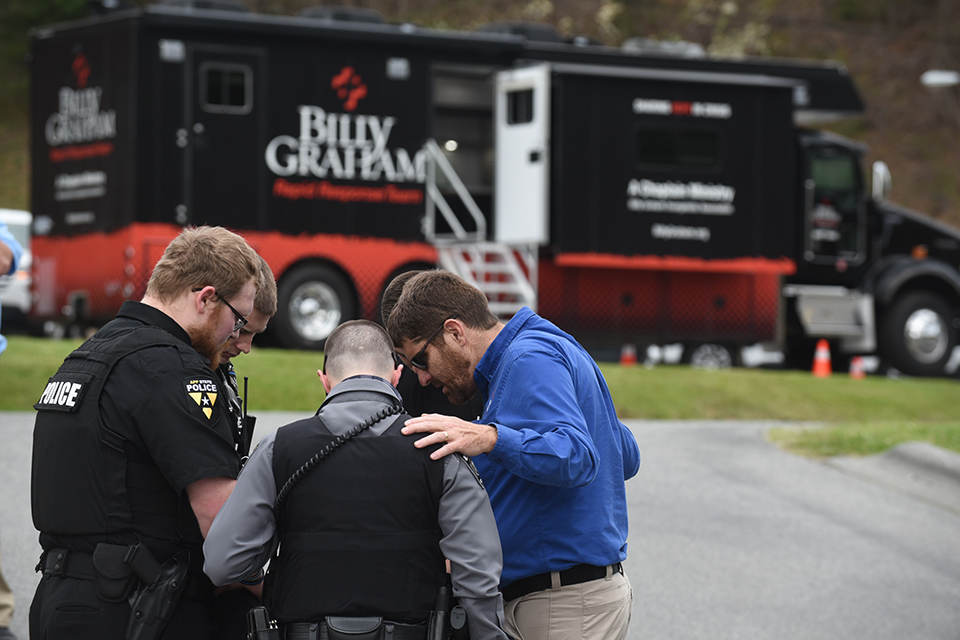 Michael* tried to keep his emotions in check as he approached the memorial site in front of the Watauga County (N.C.) Sheriff's Office on Thursday. He had come with his friend Jason* to pay his respects. But seeing Deputy Logan Fox's cruiser parked out front was just too much. Tears spilled and a sob escaped as Michael grieved his friend.
K-9 Deputy Logan Fox and Sgt. Chris Ward were both killed in the line of duty on Wednesday in Boone. The Watauga County Sheriff's deputies were conducting a welfare check when someone within the residence opened fire in an apparent ambush. Five people—Fox, Ward, the suspect, the suspect's mother and the suspect's stepfather—all died as a result of the 13-hour standoff.
Crisis-trained chaplains with the Billy Graham Rapid Response Team (BG-RRT) deployed Wednesday in the midst of the tragic event. On Thursday, chaplains continued their ministry of presence at a memorial site set up just outside the Watauga County Sheriff's Office in Boone. The BG-RRT's Mobile Ministry Center was parked just up the hill at Oak Grove Baptist Church.
"The Billy Graham Evangelistic Association has a heart for law enforcement, and we love them, and we want them to know that Christ loves them," said Edward Graham, Franklin Graham's youngest son who recently shared a message of God's love during BG-RRT's National Law Enforcement Appreciation Retreat. "That's one thing I'm proud of about my dad. When [many in society] have turned their backs on our law enforcement, we won't. We support them; we pray for them."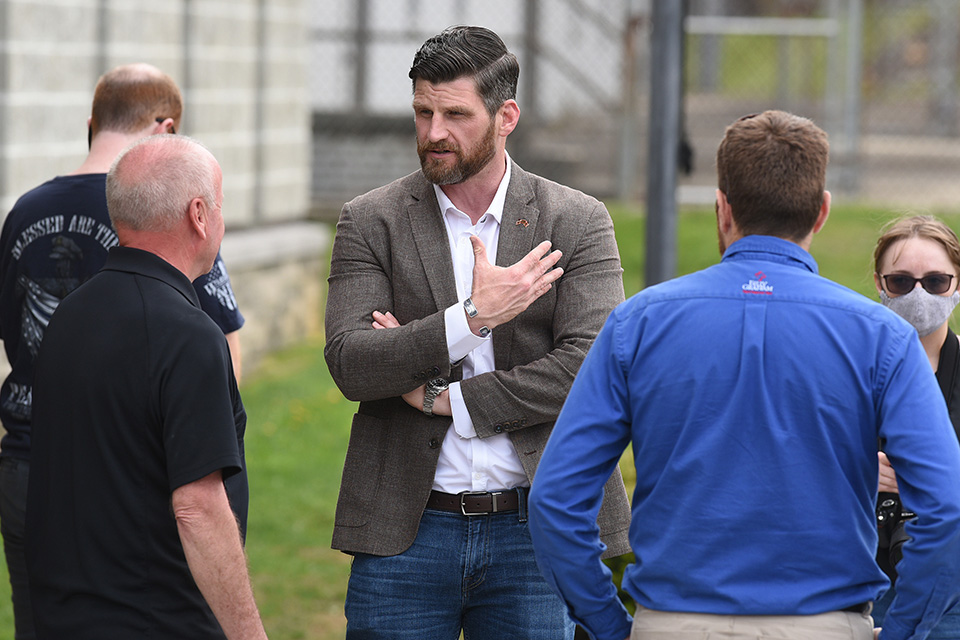 "It's about connecting. Building relationships. Loving. That's what we're called to do," shared Chaplain Manager David Rutledge, who retired from the nearby Asheville Police Department. Rutledge now oversees BG-RRT's law enforcement ministry.
On Thursday, Rutledge and two fellow chaplains—also with law enforcement backgrounds—visited with local authorities and residents who came to pay their respects. The deputies' deaths really impacted this close-knit community and left many hurting. People like Michael, Rebecca and Luke.
Here are their stories:
Michael: Strength in Hard Times
The young man shared with Chaplain Manager Richard Brown that Deputy Fox is the second friend he's lost in the line of duty. The first was William Mast, the Watauga County deputy fatally shot in 2012.
Through tears, Michael told Brown how Fox had been instrumental in helping him "stay on the straight path" and away from a life involving substance abuse. He had last talked with Fox a few days ago, and on Wednesday, he anxiously and unsuccessfully reached out for updates when he heard the news.
Brown listened and encouraged Michael and his friend Jason with a story from 1 Samuel 30. That's where King David and his army learn the enemy has kidnapped their families and left their homeland burning. "So David and his men wept aloud until they had no strength left to weep," 1 Samuel 30:4 reads. David's own men considered turning against him, yet David "found strength in the Lord his God" (1 Samuel 30:6).
"Even though it was a terrible situation, David realized that his only strength was in the Lord his God, which means a personal relationship," Brown told the men before adding:
"Even in these difficult times, we may have these times where we just can't seem to get through. But do we try to do it on our own? Or do we encourage ourselves and strengthen ourselves in the Lord our God through a personal relationship?"
Luke & Rebecca: Hope & Pray
Luke and Rebecca walked hand-in-hand back to their car after visiting the memorial. Like so many who visited, Luke had his own personal connection. It wasn't that long ago that Sgt. Ward stopped by his house to conduct a welfare check.
"He came on up to see how we were doing," Luke remembered. "We sat and talked for a good long while. He just seemed like he was the best of people. He just got out of the car and said, like any other person would in our area, 'How y'all doing?' That escalated into a simple conversation like we were the best of friends."
They talked about hunting, fishing and their families, which is something that really stayed with Luke.
"That passion he has for both his job and his family is all connected," Luke said. "I can sense he was a great person."
The deputies' willingness to put themselves in harm's way to protect others is something Rebecca can't shake.
"You just go home and grab the people you love and pray that nothing like this ever happens again," Rebecca said. "You can hope and pray."
*Names changed to protect privacy.
Please continue to pray for all first responders and members of this community as they walk through the aftermath of this tragedy.