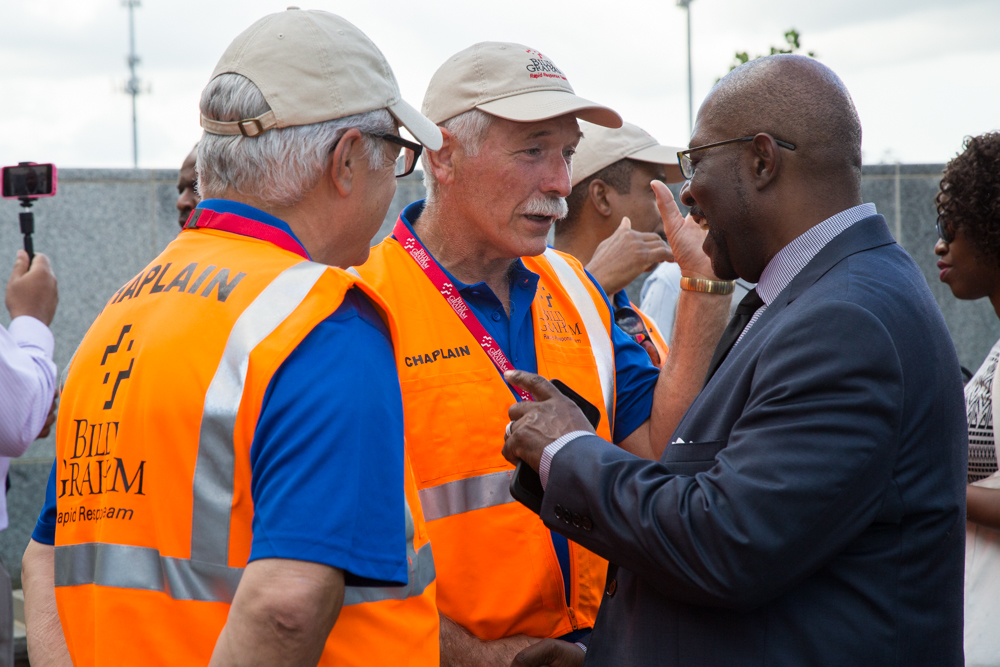 Ken Helvie and his wife Lois have relied on Proverbs 3:5-6 throughout their 47-year marriage. They do their best daily to lean on God and not their own understanding, so earlier this month, when he was awakened suddenly at 4:02 a.m., he prayed.
He felt convinced in his heart that God wanted him to go to Charlotte, North Carolina, for further training as a Billy Graham Rapid Response Team (RRT) chaplain.
The only problem was, just the day before, Helvie declined the opportunity. He told Kelly Burke, RRT manager of emergency response and logistics, that he should stay home. Helvie had just gotten back from serving as a chaplain at the Decision America stop in Hartford, Connecticut, and he had plenty to do on his family farm in Colorado.
But God had other plans. So there Helvie was—up an hour earlier than usual. He woke up his wife, who encouraged him to pursue where God was leading, and then he picked up his phone to call Burke.
"I think I woke him up, too," Helvie said, smiling. I said, 'Kelly, you got room?' I told him basically what happened. He said, 'We've got one chair left, and it's yours.'"
Helvie was on his way. The Strategic Chaplain Ministry training began earlier this week, and during the first day of class on Tuesday, Helvie and 29 other handpicked chaplains learned about responding in times of civil unrest and terrorism with the love of Christ. Jeff Naber, manager of chaplain development and ministry relations, said the training took the chaplains through the ministry response in Ferguson, Missouri; Baltimore, Maryland; and Paris, France, to name a few. They learned about the situations in general—the roles of the police and the protesters, for instance; and then about what it means in these cases to offer a ministry of presence.
"The ministry is that much deeper," Naber said. "It's a 360 ministry. It's not sitting in the pew listening to the Word. It's being the Word, letting the Word flow through you right there on the street."
The room was a composite of experienced chaplains with several deployments under the belt and newcomers like Helvie whose only exposure serving with RRT was at the Decision America rallies.
On the second day of training, the class quickly turned into a practicum after an officer-involved shooting the night before triggered violent civil unrest. The chaplains were handed blue shirts and invited to join in the upcoming ministry on Wednesday evening. For some, like Helvie, this was the first actual deployment. He had no idea what lie ahead.
That night, he stood in Charlotte's Marshall Park with fellow chaplain Jimmy Breitsprecher. The once peaceful crowd swelled with anger toward the end of the rally and poured out of the park, taking their protest to the street.
Helvie and Breitsprecher stayed behind. A few moments later, a woman and her 20-year-old daughter approached. Tears were running down the mother's face. She saw the word "chaplain" on their vests and wanted prayer.
"She told us this story," Helvie said. "Two years ago, her son was killed, I think, in a gang shooting here in Charlotte. She said, and her daughter confirmed it, 'I've never been able to get this off my mind. I don't know how to deal with it.'"
Helvie, in his soft-spoken way, encouraged the woman and her daughter saying, "Only God can heal your heart, but you've got to turn it over to Him."
Standing there in Marshall Park, the chaplains began praying with the two ladies.
"So Jimmy and I started to pray. I'm thinking to myself, how do I pray? I've never experienced anything like this. But the hurt was there," Helvie continued, tears filling his eyes as he told the story on Thursday. "We just started praying. We let the Holy Spirit do the work. I don't even remember what I said."
And while the exact words he prayed might escape him, the moment is one that will stay with him forever.
"When it was over, she looked at us and said, 'That's what we were looking for,' and then just broke out into a smile," Helvie said. "She said, 'That's why we came down here.' It was unbelievable. The light in their faces was unbelievable."
Helvie later thought maybe that's why God was so insistent upon him making the 1,700-mile trek from his home state of Colorado.
"It was the most powerful thing," Helvie said. "For a long time now, since last year, my prayer to the Lord is, 'God, give me the wisdom, give me the words and give me the boldness to say them.
"Did I have the boldness to say something like that before [this deployment]? No I didn't. As far as talking, I've got no problem talking. But as far as boldness to speak up like that? Not like that."
Burke has been with the chaplains throughout the Charlotte response, and chaplains are expected to offer a ministry of presence in the area today. He is quick to point to the Lord who is working through those who are willing to be used.
"Just being exposed to this ministry and being exposed to what God is doing in it and through it will change your life forever," Burke said. "You know you're joining something way bigger than you. It's God and you're joining Him in it."