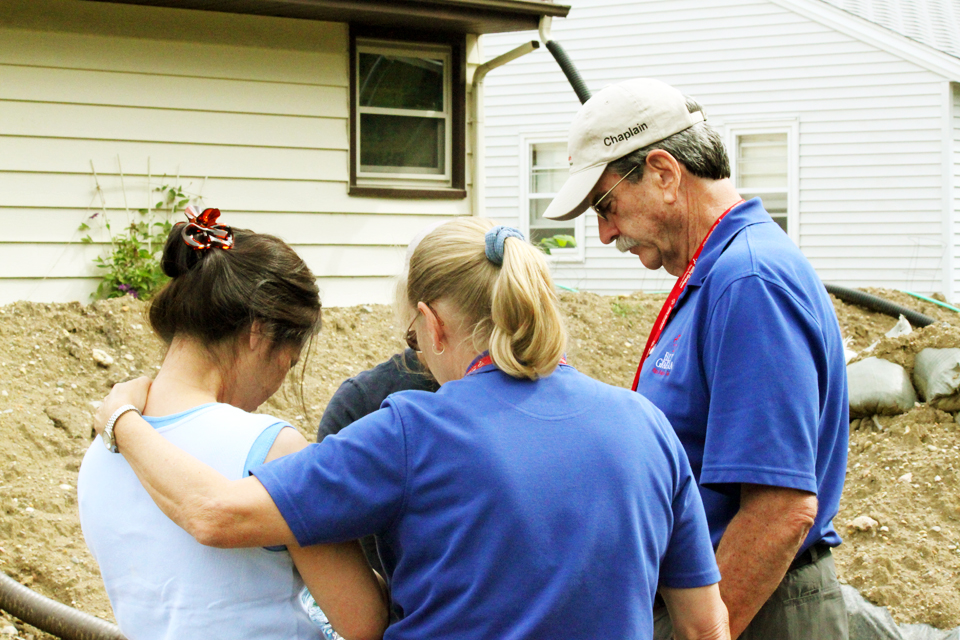 When Chuck and Sandy Bender met almost 30 years ago at a Southern California marina, they never expected God would eventually lead them thousands of miles away, into the heart of disaster zones from the Gulf Coast to the Jersey Shore.
As chaplain coordinators for the Billy Graham Rapid Response Team, Chuck and Sandy drop everything at a moment's notice to travel to the country's worst crises.
Since 2005, they've responded to dozens of disasters, ministering to hurting people in the aftermath of Hurricane Katrina, Superstorm Sandy and the deadly Tuscon, Ariz., shooting involving Congresswoman Gabby Giffords.
But before God could use them to love and comfort others, the Benders had to realize how much God loved them.
And that wasn't easy.
Discovering Grace
"It wasn't that I didn't believe in it all," Chuck said, explaining that he grew up going to church. "It's that I never thought I was worthy enough to become a Christian. The best way I can explain it is those old merry-go-grounds—I thought Christianity was like that. I was always trying to reach for the brass ring."
Meanwhile, Sandy walked away from God for many years.
"I strayed quite far," she said. "I thought I wasn't good enough. I didn't know that I could be forgiven for all the things I had done."
Both Chuck and Sandy went through divorces that rocked their faith and led them to further question their worth.
"There was a lot of guilt about that," Chuck said. "We thought we were unworthy because of the divorce, and we couldn't be used in ministry."
But everything changed once they began to grasp the concept of grace.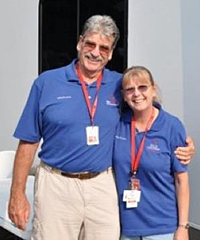 "One day God just spoke to my heart," Chuck said. "I quit looking for that brass ring and finally said, 'Father, you have to take me just as I am.' From then on, God started working on our hearts."
Sandy accepted Christ when she was 40 years old, after about five years of seeking and participating in a church community.
"They just loved on us and showed me what it was like to walk with the Lord," Sandy said. "Changed my life."
It may have taken her a while to discover grace, but as she looks back on her life, Sandy knows God was with her the whole time.
"I had a gal who would pray for me," she said. "I wasn't even thinking about [prayer], and she'd call and say, 'I'm praying for you,' and it's like, 'Uh…thanks.' But there are those people in your life who consistently cover you, even when you're not asking."
Emergency!
Long before he was a chaplain, Chuck was well acquainted with trauma. In 1968, he joined the Los Angeles County Fire Department. Two years later, he became one of the first paramedics in the country, taking part in a pilot program for firefighters.
In just a few years, what began as an experiment became common practice around the world. Many credit the TV show Emergency! with throwing an international spotlight on the paramedic program. The show ran from 1972-1979 and followed the fictional adventures of a pair of LA County paramedics. But producers relied on real paramedics, including Chuck, as technical advisers.
While he had some fun during his brush with Hollywood, serving as a firefighter/paramedic could be gut-wrenching.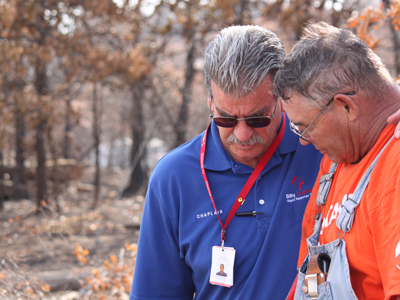 "You know, death and destruction has been my companion for over 45 years," Chuck said. "I was one of the guys who talked to the folks right there when it happened. And I think God was preparing me for this chaplaincy thing through that."
Sandy, on the other hand, wasn't as intimately familiar with disaster. She owned a canvas business and specialized in making boat covers.
So when the Billy Graham Rapid Response Team's International Director Jack Munday visited the Benders' church in 2004, Sandy wasn't sure she was qualified to be a disaster chaplain.
"I'm going, 'Lord, what are you doing?'" Sandy said.
But her husband had confidence in her.
"With Sandy, it wasn't difficult," Chuck said. "She fell right into the groove. We became a partnership, and God just opened the doors. She had to take the classes and get the experience, but we loved it."
'I Ran it Like a Fire Station'
The Benders faced their first major RRT deployment in 2005 when Hurricane Katrina ravaged the Gulf Coast.
They didn't have a lot of experience, but when one of the chaplain coordinators had to leave for an emergency, Chuck was asked to take over.
"I ran it like a fire station," he said.
But his new role as chaplain pushed him far outside his comfort zone.
"I remember I had to give a devotion," Chuck said. "'Me, give a devotion?' God never stretches you farther than you can go, but He wants to stretch you. So that was a blessing for me."
After Katrina, the Benders responded to many more disasters, from Hurricane Ike (2008) to the Haiti earthquake (2010).
When asked about their most difficult deployment, both husband and wife uttered the same words: West, Texas.
On April 17, 2013, a fire broke out at a fertilizer company located just north of Waco. While first responders were attempting to put out the fire, the building exploded, killing 14 people and injuring at least 160 others.
Twelve of the 14 fatalities were volunteer firefighters. For Chuck, that made it personal.
"To me, they were heroes," Chuck said. "After about my seventh funeral and listening to the bagpipes, my cup was full. I was done."
Through the anguish, God provided opportunities for Chuck and Sandy to comfort the people of West—from a grieving waitress to a firefighter who had pulled up to the burning building just in time to watch his friends perish.
"God just put me in there, with my firefighting background, in that place to comfort him and share the love of Christ," Chuck said.
'It's Not Us'
Through their RRT deployments, Chuck and Sandy say they've seen one piece of evidence after another that God cares for the hurting in the midst of tragedy and evil.
"We have seen firsthand God and the Holy Spirit at work at these disaster sites," Sandy said.
As a result, she and Chuck have also seen people awakened to the love of Jesus in ways that may never have been possible in the absence of disaster.
"What happens is, they've lost everything and they have nothing left," Chuck said. "They find out all the material things and all the carnal things aren't important anymore. Everything else is stripped away, and it just opens the door for the Holy Spirit to come in there. It's not us."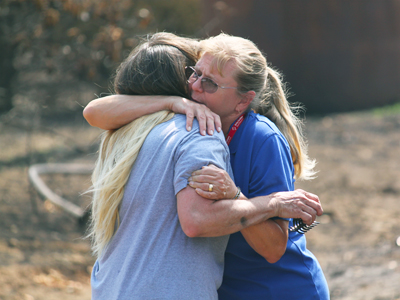 Those who have traveled with the Benders can see God has gifted them with faith, compassion, wisdom and humor, along with two effervescent personalities and a heavy dose of raw, life experience. They've personally grappled with pain and loss, including the sudden death of Sandy's mother and a prostate cancer diagnosis for Chuck, both of which happened back-to-back in 1999.
"Jesus, when he sent out his disciples, he said in this world you're going to have problems. It's going to be hard. But fear not. I have overcome the world. And so we know there's going to be problems," Chuck said. "But we see Him overcome it every time."
As they experience God's faithfulness in their own lives, the Benders naturally want to share His goodness with others. They see their chaplaincy as a calling—a chance to reach out to the lost and hurting and be the hands and feet of Jesus.
"The Lord has taken the mess I made of my life and used it to bring hope to others," Sandy said. "My life has been an example that there is hope. He'll meet you where you're at. You don't have to clean yourself up and be ready."
It's been a decade since Chuck and Sandy joined the Rapid Response Team. Even after dozens of deployments to one tragedy after another, they say they're more certain today of God's love than when they started.
"God loves these people more than we do," Sandy said. "He loves them more than anything, and He wants them to know. God loves us. He sent us to them. He could have sent us anywhere.
"We see nothing but God's love for this world."