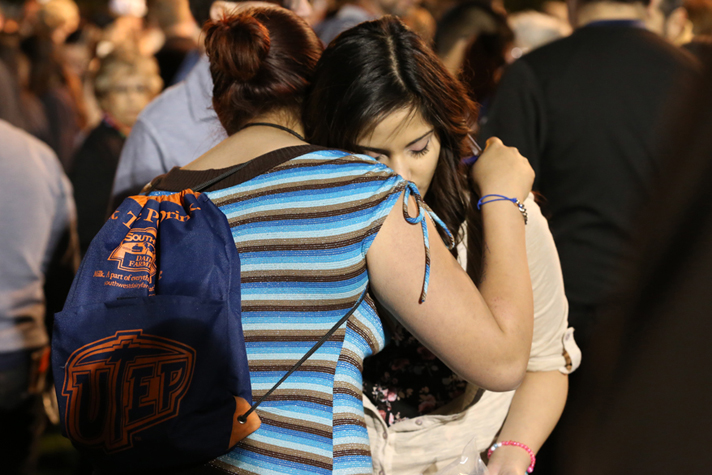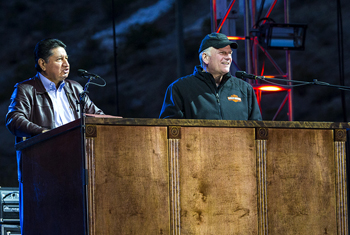 The Good News in the Great Outdoors?
At the beginning of the week, nobody saw this coming. But when the Lady Miners of the University of El Paso made a surprising run to the NIT Championship, Franklin Graham didn't hesitate.
"I said we'll move our event outside," he said. "I didn't even check the weather."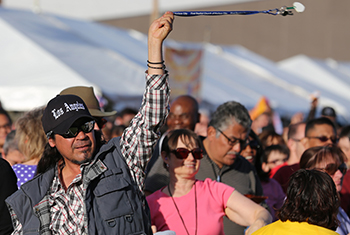 But the weather in El Paso, Texas, low 70s and sunny, turned out perfect. And the Don Haskins Center, where Saturday night's Festival of Hope was originally scheduled, turned out to be promotion central Saturday afternoon.
Franklin Graham, honored during the first half of the NIT title game for his generosity of moving venues, was given the opportunity to invite a packed house to the Festival of Hope.
"At every Festival, we always have challenges," Franklin Graham said. "But God always gets the glory."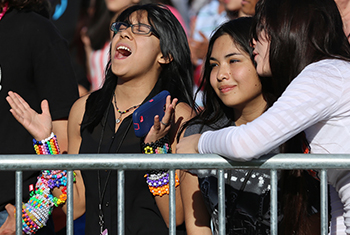 And wouldn't you know it, as the Gospel was preached and hundreds came forward to receive Christ, the irony was not lost on Franklin Graham at the podium.
No, he wasn't standing behind a podium at the Don Haskins Center as originally planned. He was on the UTEP practice football field, which goes by another name.
"I think this is 'Glory Field,'" said Franklin Graham to the crowd standing should-to-shoulder, responding to his message on the prodigal son. "Well, God has forgiven your sins and we give Him all the Glory for that.
"Now, go get involved in a church."
Lives were transformed forever, and in an instant, Saturday night, just as the flickering of twilight faded to black in the distance.  More than 7,000 heard the message live in El Paso, with thousands more watching around the world, in dozens of countries, at BillyGraham.org/Live.
But on the campus of UTEP, it was only fitting that one Miner helped lead another Miner to a new life in Christ.
Alex, a 21-year-old UTEP senior, was one of the first to take the bold step forward at Franklin Graham's invitation to receive Jesus. At the front, he was met by 20-year-old classmate Roman Delharo.
From the instant the two started talking, Roman knew this had to be God-ordained.
"He was crying and he just started opening up," Roman said. "You could tell he actually wanted to change. He had that in his heart."
Roman made sure Alex understood completely the decision to accept Jesus into his life. Alex shared he wanted his family to follow Christ as well.
"I told him that God is going to change him and they will see that in him," Roman said. "I kept telling him, this is going to be something big. Something contagious.
"He's going to lead his family to Christ. We both declared it."
And for good measure, Roman slipped in a little "Spanglish," as both men were bilingual. "Some words just came to me in Spanish," he said.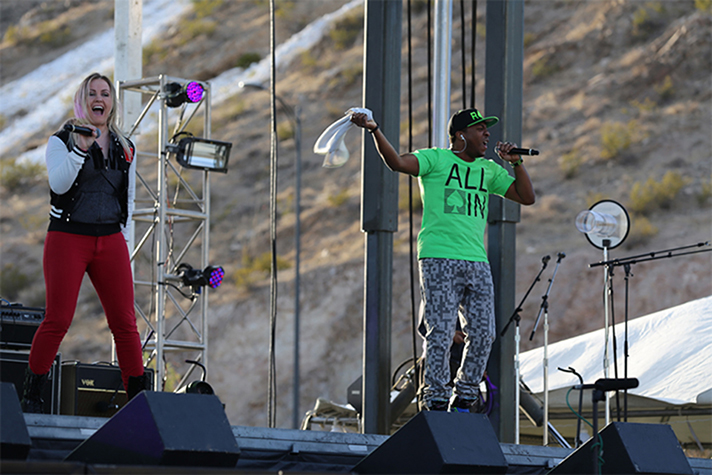 Shailah Grajeda, 13, is also bilingual, but decided to be an English-speaking counselor on Saturday. She talked with Jessica, a 16-year-old from Chaparral, New Mexico, some 25 miles north of El Paso.
The conversation didn't take long before Shailah knew Jessica meant business.
"She accepted Christ today," Shailah said. "She was really open and was really sure she wanted to follow Jesus."
All Jessica would say is that there were a lot of things in her past that had kept her from God. "She had a lot of problems. But she said now she knows she has someone to count on."
Not including her boyfriend, who also came forward to make a decision.
"She didn't cry because her boyfriend was standing next to her," Shailah said. "She was on the verge of tears."
Sunday's Festival of Hope
If you missed Saturday night's event, whether you live in El Paso or around the world, Sunday's Greater El Paso Festival of Hope, featuring Michael W. Smith, Daniel Calveti and more, begins at 6 p.m. (8 p.m. ET), with the webcast starting at 7:30 ET at BillyGraham.org/Live.