Four siblings—Katie, Paige, Johnny and Stephen Rees—combine the best of Louisiana's musical legacy: Cajun fiddle, saxophone driven swamp-pop, and New Orleans influenced R&B, with a dash of sacred harmony as the perfect seasoning.
The four oldest members of the Rees family have performed together since they were children. Katie, 28, plays guitar; Paige, 27, the bass; Johnny, 25, drums and Stephen, 24, the fiddle.
Mom Linda got the group going in the mid '90s when her husband, John, took a job in North Dakota training Taiwanese flight students how to fly jets. Playing as Linda Lou and The Lucky 4, the group performed country songs and '50s and '60s rock songs at hundreds of county fairs, rodeos and coffeehouses throughout the Midwest and the eastern United States.
But John Rees kept telling the family they'd eventually get back to their Cajun roots. Moving back to their father's place of origin in Louisiana, the group sought to re-connect with the Cajun and New Orleans Irish culture of their ancestors.
The group put out its first CD, "Ca C'est Bon," in 2006, a combination of their own songs, sung in French and English, as well as some well-known Cajun and western swing tunes. Selected in 2006 by Billboard Magazine from more than 1,400 artists as one of six finalists in the Independent Music World Series, L'Angelus has been steadily gaining international attention.
Last year, after moving to the Nashville area and performing in nearby Leiper's Fork, they caught the ear of Michael W. Smith's manager, who quickly introduced them to the veteran artist. Soon they began touring with Smith and joined him at the first Rock the Lakes event this summer in Rochester.
Speaking backstage at Rock the Lakes Rochester on Father's Day, Paige and Katie expressed gratitude to their dad for showing them how to use their gifts and also for the sacrifices he (and their mother) made to bring L'Angelus to fruition.
Most importantly, Katie and Paige watched as their parents grew in their love for the Lord. "We were raised in the Catholic faith and always had a basic belief in God," said Katie. "But our parents' faith deepened while we were in our mid-teens and they helped us grow. All of us, on our own, reaffirmed our faith in Christ. Now we try to walk that out."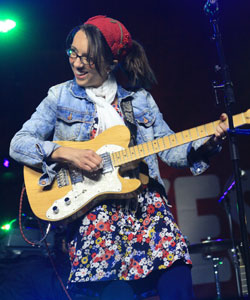 Her sister Paige added, "God drew us together as a family during that time. Our father led family devotions and we all prayed together, which brought us all closer."
Now their dad manages L'Angelus and the kids are having the time of their life on the road. "We have enjoyed playing at Rock the Lakes," said Paige. "This is so much fun. We love performing for a large crowd of like-minded people who share a common hope. You can feel the spirit of faith here."
That spirit permeates everything the band does and even explains the slightly unusual name. Said Katie, "Music in the Cajun culture has always been a unifying force. It brings families together on the front porch and at the parish dance. L'Angelus is the name of an ancient prayer that, like the music, signifies a coming together of a people. For centuries, Cajuns and their Acadian and French ancestors have bowed their heads to pray as a community whenever they hear the bells ring."
L'Angelus will be joined in Ottawa Sunday by Michael W. Smith, The Afters, Matt Maher, Canton Jones, Sebastian Demrey and Lacey Sturm.

Watch live streaming here beginning at 4 p.m. ET »
Help Impact a Hurting Generation
Youth are starved for the hope of the Gospel. You can help bring them the love of Christ by donating to Festivals or other ministries.