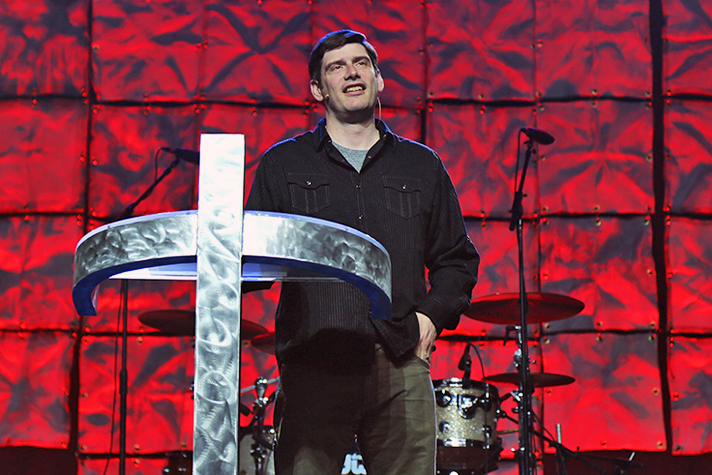 With new businesses flourishing and a modern riverfront park attracting locals day and night, small-town Owensboro, Kentucky, is experiencing what some call "Owensboro's Renaissance." Friday night, a spiritual revitalization began taking place with the kickoff of the Ohio Valley Celebration with Will Graham. The relatively new Owensboro Convention Center was packed with hundreds of youth, their parents and grandparents, all eager to see what "student night" would bring.
Local rapper Colt Graves started off the night, followed by Charlotte-based rapper Dae-Lee. Both had a growing crowd of young people on their feet, hands in the air as they prepared them to hear a message of hope from Will Graham. Aaron Shust set the tone with a couple of acoustic hymns as nearly every person in the venue stood to sing along, their voices filling the large space.
Will Graham got the audience laughing as he eased into the evening's topic: purpose.
"When we don't understand the purpose in something, we get dissatisfied," he said. "Just as a painter gives purpose to his painting or a builder gives purpose to his building, God gives purpose to man because He created man."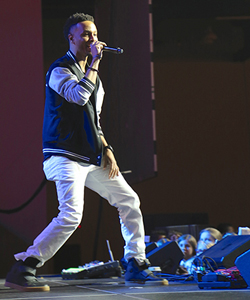 Purpose isn't found in a human relationship or material thing or in pleasure, he continued, and it's not about religion or what church you attend.
"Your purpose in life is to have a relationship with Jesus," he said, pulling verses from the second half of John 3.
Taking out a pen and piece of paper, Will Graham said the purpose of a pen is to write, but it can't write on its own. You can't fulfill your purpose, he said, "until you place your life in your Creator's hand."
As he invited people to accept Christ as Creator and Savior, friends, siblings and families filled the space in front of the stage. Four girls huddled in a circle, prayed together, then wrapped their arms around each other's shoulders, all smiles.
"I would like to see this city get on fire for Christ where we have to build more churches because there's no more space in churches for people to go," 8th-grader Dylan Newton said.
Dylan, who was trained as a Celebration counselor, stood with a young man slightly older than him, explaining to him how to fully give his life to Christ.
"I've always had a heart for missions, so I thought this was a good start," he said. "It actually feels really good that I just led someone to rededicate his life to Christ."
Like Dylan, 7th-grader Sarah Free attends Bellevue Baptist in Owensboro. Sarah had a chance to counsel a classmate, also in 7th grade, who wanted to be sure of her commitment to Christ.
While Owensboro has lots of youth who attend church, Sarah said, many of her classmates aren't Christians. She sees school as a mission field.
"There's a lot of teenagers that don't know Christ and are just hurting inside," she said. "They might be smiling on the outside, but they need something … they don't know what it is, and that's Jesus."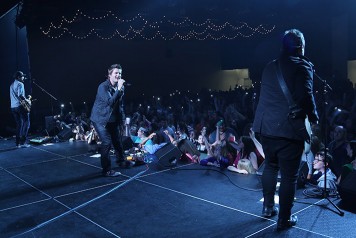 Seasoned Christian band The Afters closed the first night of the Celebration with songs like "Light Up the Night" and "Every Good Thing."
Earlier in the day, lead singer Josh Havens said the four-man band has been praying for the Celebration.
"Our prayer is that … there's a lot of people here in the Ohio Valley that give their lives to Jesus tonight," he said, shortly after he arrived in Owensboro. "When you see people come to Christ, that makes any amount of travel worth it."
The Afters have performed around the United States and abroad.
"There's one thing that I've seen in every community that's universal," Havens said, "and that's that we all need Jesus. We all need hope."