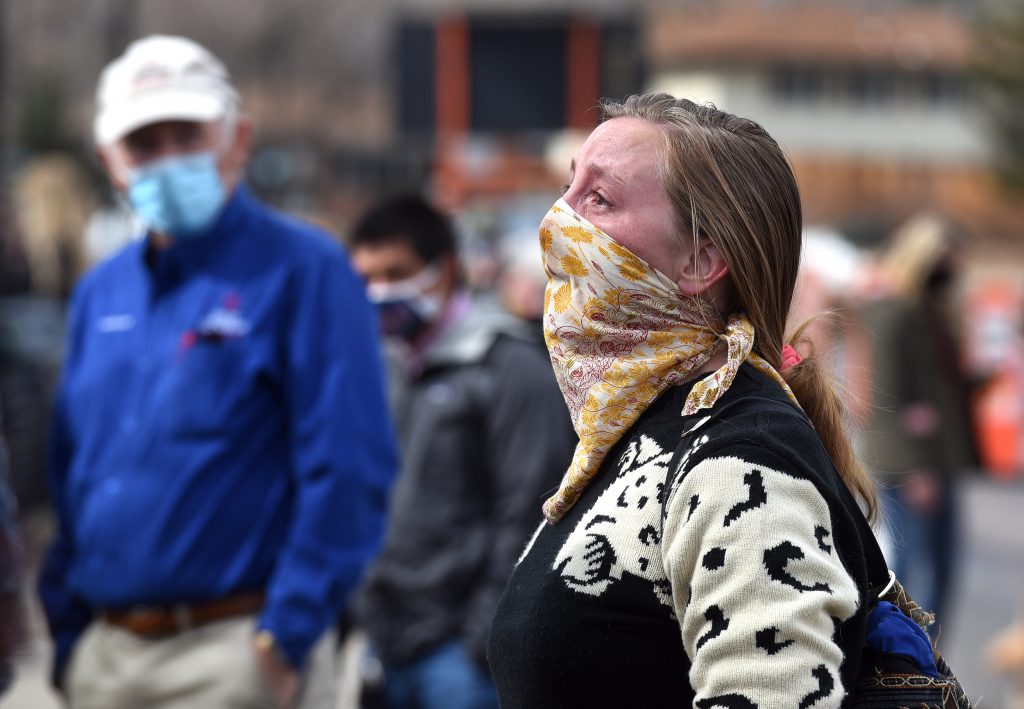 She just wanted apples—three to be exact.
Jenna* was making her way to the produce aisle of the King Soopers grocery store in Boulder, Colorado, on an average Monday when she was puzzled by loud popping sounds.
"Get out of the store! There's a shooter!" someone screamed.
Ten people wouldn't make it out of the store alive, but Jenna got out safely.
"I got in my car and went to buy apples and really didn't think too much about the Lord, but I've been thinking about Him ever since," Jenna told Lois and Ken Helvie, crisis-trained chaplains from the Billy Graham Rapid Response Team.
Tears slid out from her mask and her body gave way to sobs as she thought about all that had gone terribly wrong during what should've been an ordinary visit to grab groceries.
She laid her head on Lois's shoulder and wept while standing outside a chain link fence in front of the grocery store that had become a crime scene. Flowers, crosses and cards were piled high along the fence—a growing makeshift memorial for locals continuously flooding the area.
The 20-something admitted she was "so glad" she had a relationship with Jesus to get her through this, and the chaplain couple offered to pray with her.
"We're out here all week if you want to talk some more," Lois told her before walking along the memorial sidewalk again with her husband, ready to be there for anyone hurting.
From 60 miles east of Denver, the Helvies had Boulder, Colorado, on their hearts long before the shooting. In the 1990s, Lois often made hour-long drives to the city to help with evangelistic events for Promise Keepers—and that's when she started praying for revival in Boulder.
"It's a dark, dark place," Lois shared about the spiritual state of the region. "People need to know God is the answer to the hopelessness."
Her prayer has been "that God would start revival in this town that would change the state of Colorado."
The following stories show how that prayer may have just started being answered.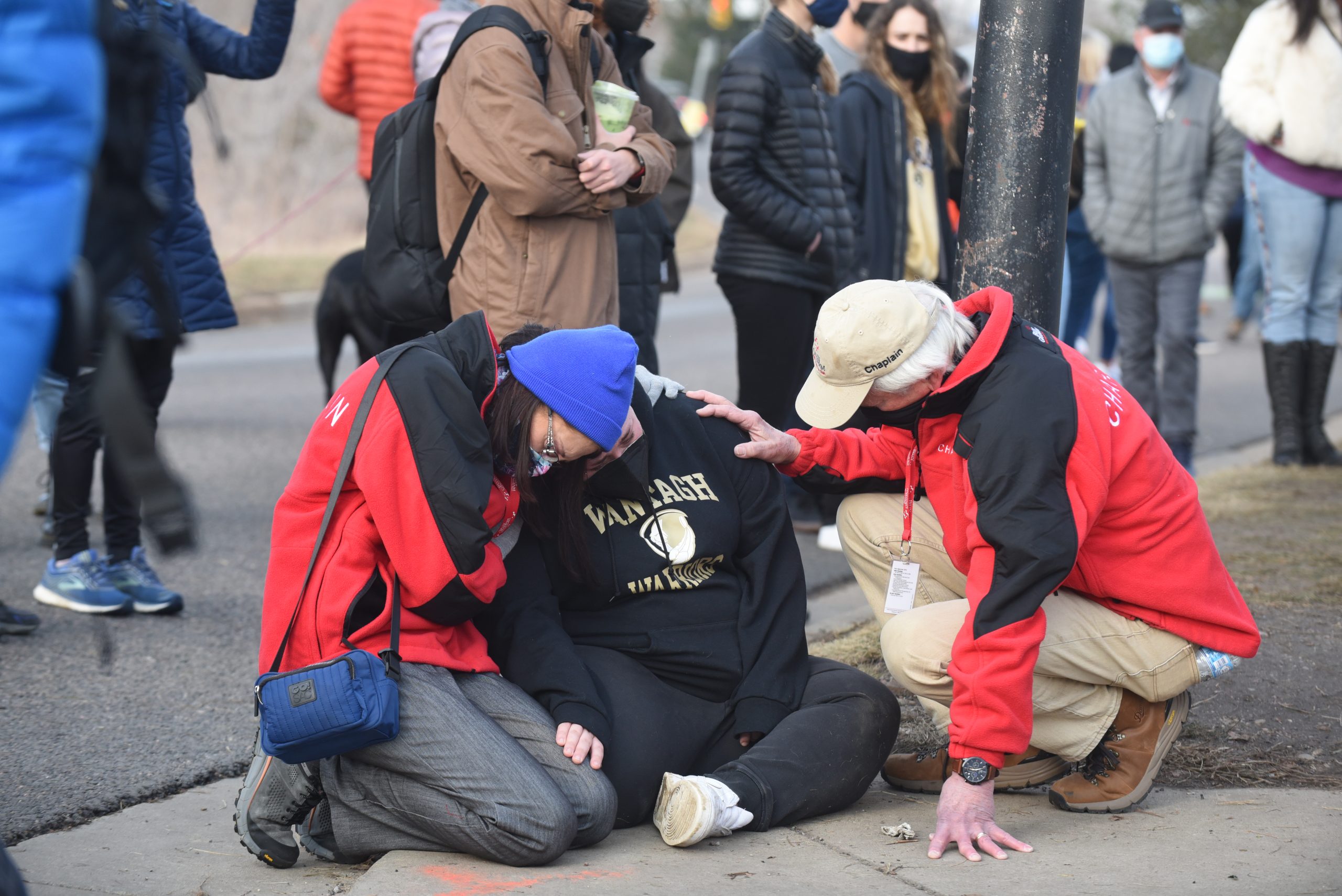 Boulder Local 'Saved' Twice
Lois and Ken Helvie came across a man who'd been in the large grocery store on Monday. He just happened to be at the exact location the gunman chose—at the exact time.
"I didn't get killed," he told the chaplains, grateful to still be alive.
"That must mean God has a real purpose for your life," Lois said.
"I guess so," he replied, unsure about having faith in Jesus.
The chaplains explained the Scripture Jeremiah 29:11 to him, which states, "For I know the plans I have for you, declares the Lord, plans for welfare and not for evil, to give you a future and a hope."
Learning about a God who loves him changed the man's perspective. After reading a Steps to Peace With God booklet alongside the chaplains, he prayed to receive Christ.
'God Was Really Watching Over Her'
Mandy* stood outside King Soopers all by herself, looking stoic. She was processing what happened Monday afternoon—and quickly opened up to the chaplains about it.
"My mother is the most talkative person I've ever met," Mandy said. "When she gets in King Soopers, she chats with all the people she knows in there."
But on Monday, her mother was running late to the store and decided not to go in.
"If she would've been there, she would've been killed," Mandy admitted.
"God was really watching over her," Lois said, taking a moment to point out how God directs people's paths and had saved Mandy's mother for a purpose.
Although many in the Boulder area say they aren't religious, Lois has noticed "there's a lot of questioning of why this is happening in Colorado." The King Soopers event marks the state's third mass shooting after Columbine and the Aurora movie theater.
"The opposite of God's love is what's causing this," Lois said.
Still, she's found, "In the midst of tragedy, [God] is so strongly present. I see people being drawn to the Lord more than any other situation I've been in—they're realizing the brevity of life."
*Names changed for privacy.
Do you know where you'll spend eternity? Trust in God today.