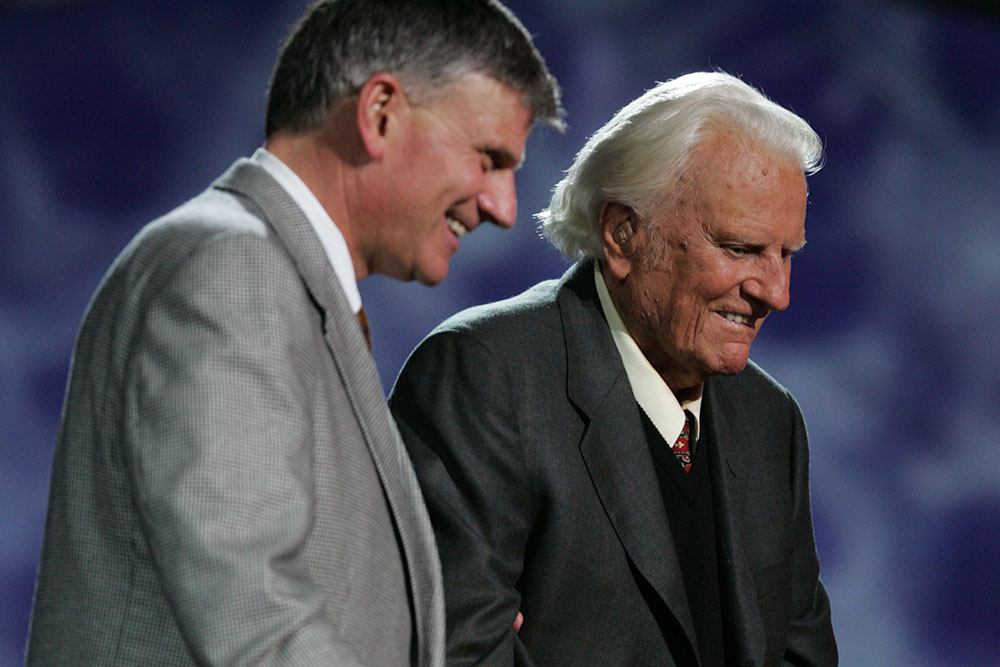 Franklin Graham wrote this op-ed piece which ran on USAToday.com on February 21, 2018.
My father never gave up on me, even when I caused him pain. He lived like the Gospel he preached—a message he repeated till his last breath.
My father has joined my mother in heaven. He went to sleep in his home in the beautiful mountains of North Carolina and woke up in the arms of Jesus. While many around the world mourn his physical death, he is now celebrating the eternal life he spent over 70 years telling millions of people about.
In the summer of 2005, he preached his final series of public messages to more than a quarter of a million people in New York City over three days. It would be his final live evangelistic crusade. That same year, a Gallup poll revealed that one in six American adults—35 million—had heard Billy Graham preach in person.
Since 1947, some 215 million people at more than 400 crusades, simulcasts and evangelistic rallies heard my father tell them, "The Bible says, 'For God so loved the world that He gave his only Son, that whosoever believes in Him will not perish but have eternal life'" (John 3:16). Today, he is experiencing what he devoted a lifetime to telling others they could experience if they placed their trust in Jesus Christ.
Final Crusade
During that final crusade in New York, he spoke with a national magazine about death. "Do I fear death? No. I look forward to death, with great anticipation. I am looking forward to seeing God face to face. And that could happen any day" (Newsweek, July 4, 2005).
Well, that day has come, and while I miss him (and my mother) dearly, I take great comfort in knowing I will see him again.
The man the world knew as Billy Graham was always "Daddy" to me. I was well into my teens before I fully comprehended that my father had a household name and a worldwide ministry. He was home a few days, then gone for weeks—sometimes months. Had it not been for my mother's cheerful attitude and spiritual strength, his absence may have had a devastating impact on me. Her eyes flickered like the flames in the fireplace as she described Daddy's travels, crusade meetings and people he met from all walks of life.
His homecomings were always a big deal. We waited eagerly at train stations and airports watching for his long legs to step onto the railway platform or airport tarmac. Other times, we ran to the driveway when we would hear the car coming up the mountain. My three sisters, brother and I would tackle him, but he always managed to scoop us up into his loving arms, letting us know how much he had missed us. Then, he would turn his attention and affection to the woman he loved—and who shared her life with him for 64 years. Those were happy times.
My Time with Daddy
On most Sundays for the past 20 years, I have driven an hour-and-a-half to have lunch and spend the afternoon with my father. I'll forever cherish these special times we spent together. But there was a time when our relationship wasn't so good, a time when I caused my mother and father quite a bit of anguish and heartache. During my teens and early 20s, I proved to be anything but what most people expected Billy Graham's son to be. I'm so thankful he never gave up on me or quit loving me.
After graduating from college in 1974, I headed for Lausanne, Switzerland, to work at a conference the Billy Graham Evangelistic Association was sponsoring for 2,500 evangelical leaders from around the world. My life was a mess; I was empty and lonely. During that conference, my mother and father wanted to take me to lunch to celebrate my 22nd birthday. After lunch at a little Italian restaurant on Lake Geneva, Daddy and I walked along a pathway beside the lake when he turned to me and said, "Franklin, your mother and I sense there's a struggle going on in your life." Somewhat stunned, I wondered, "How does he know this?" He continued, "You're going to have to make a choice either to accept Christ or reject Him. You can't continue to play the middle ground."
With my mind racing, wondering what he was going to say next, I heard these words: "I want you to know we're proud of you, Franklin. We love you no matter what you do in life and no matter where you go. But you're going to have to make a choice." He had pricked my conscience to the point I was actually angry. I couldn't figure out how he knew about the struggle that had been going on inside me—but he did, and he was right.
My father's words haunted me for several weeks until I finally gave up running from God and made that choice to accept Jesus Christ as my personal Savior and turn my life over to Him. I've never looked back or regretted my decision.
About 20 years after our life-changing walk along Lake Geneva, my father told me something else that would alter my life in another way; he asked me to assume the day-to-day management responsibility of the organization that bears his name. I'm at least smart enough to know I could never fill Billy Graham's shoes, but I'm grateful he gave me an opportunity to help him finish his race on earth well, and to continue his life's work.
Proud of My Father
I don't know that I've ever been more proud of my father than the sunny day in May 2007 when 1,500 people, including three former American presidents, turned out to help us dedicate the Billy Graham Library in his hometown of Charlotte, N.C. (He joked to the crowd that he felt as if he were attending his own funeral!) Seeing him standing in front of the 40-foot-high glass cross that serves as the entrance to the Library, I thought about something he once told British TV personality David Frost in an interview: "Well, I'm going to heaven," he said, "not on my good works or because I've preached to all these people or read the Bible. I'm going to heaven because of what Christ did on the cross."
Billy Graham's message of the cross never changed since he preached it at his first crusade—to an audience of 6,000 at the Civic Auditorium in Grand Rapids, Mich., in 1947.
Many books have been written by my father and about him. For more than six decades, authors, reporters, scholars and observers have scrutinized his life and commented on it for the public record. But the purpose of Billy Graham's life is captured in a single paragraph found at the end of a little book a number of years ago.
A Final Word
Following that final New York crusade in 2005, a well-known publisher released a book with the entire text of his three sermons at Flushing Meadows Corona Park. They invited him to write some closing thoughts for the book, which filled just two pages under the heading, A Final Word from Billy Graham:
"No matter what your problem is," he wrote, "if you and I could sit down and talk, I would want to tell you one great truth: God loves you, and He can make a difference in your life if you will let Him.
"God loves you so much that He sent His Son into the world to die for your sins. When we open our hearts to Christ, He forgives our sins and comes to live within us by His Holy Spirit. He also gives us strength for the present and hope for the future. This is the message of the Gospel—and this is the message you have read in this book."
If my father could speak or write to us today, he would say the same thing. It was what he lived and breathed—until his very last breath.
Franklin Graham, the son of Billy Graham, is the president of the Billy Graham Evangelistic Association and Samaritan's Purse.