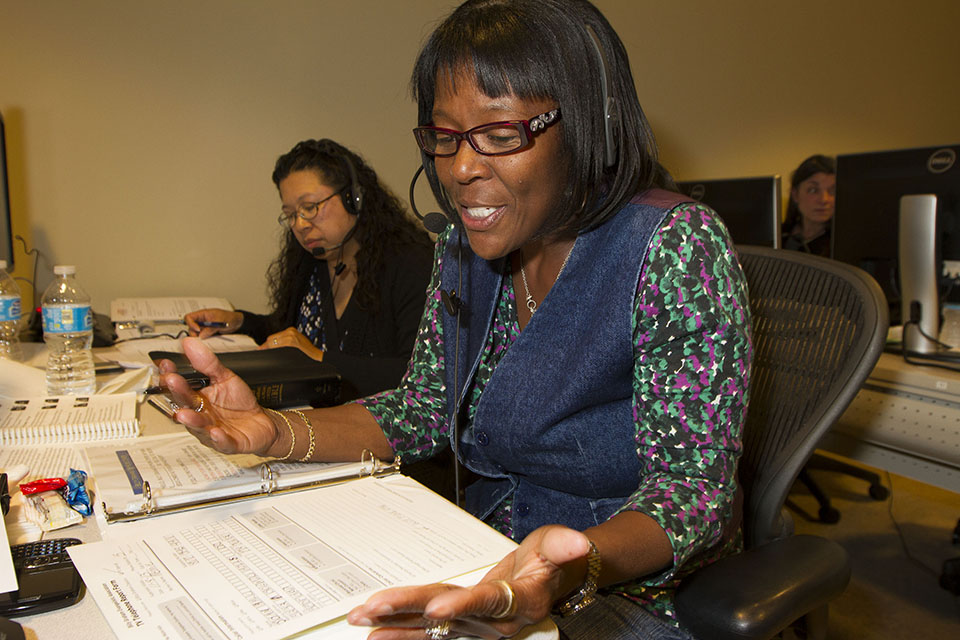 A lot of people grew up watching Billy Graham on TV, and for some, his direct preaching style made it seem like he was talking just to them.
But the real power behind Mr. Graham's preaching has always been the Gospel. Countless viewers have made commitments to Christ during a Billy Graham Classics program over the last few decades.
Even Billy Graham tunes in occasionally. His healthcare team in Montreat, North Carolina, turns on the TV Classics for him every Thursday and Saturday.
Hundreds of thousands have watched Billy Graham Classics over the years on TBN, and many still watch religiously, if you will, because the 98-year-old evangelist's sermons are still relevant today.
Earlier this month, another international network, GOD TV, started carrying the Billy Graham Classics on Thursdays and Saturdays.
When it started out in 1995, GOD TV was on the air only two hours a day—reaching 22 European countries from its U.K. base. Now the network is available to 310 million homes around the world 24/7—including 100 million homes in India.
And that opens new doors for the Billy Graham Evangelistic Association's TV Telephone Ministry (TVTM).
"We're excited about a new audience hearing the Gospel and hearing the message … [and] that people will have the opportunity to call in," said Pam Niemeier, director of TVTM and Christian Response for the Billy Graham Evangelistic Association (BGEA).
When the Phones Start Ringing
During a Billy Graham Classics program, the evangelist invites people to give their hearts to Christ and start a new life.
And when the Holy Spirit starts moving, phones start ringing.
At 37 call centers across the U.S. and two in Canada, TVTM volunteers might feel they're spinning a roulette wheel every time they pick up the phone. They never know who will be on the other end of the line.
It's not unusual for a trained volunteer to encounter someone who's depressed, lonely or hurting. And oftentimes, there are opportunities to encourage someone with Scripture and through the leading of the Holy Spirit.
Last year alone, 7,400 people who called in made decisions for Christ.
Getting to the Root of the Pain
In a digital age, you might think people would call less because they're online more. But calls into BGEA's Christian Response department—another facet of its telephone ministry—are up 14 percent.
The Christian Response team works out of BGEA's headquarters in Charlotte, North Carolina, and answers calls six days a week.
Niemeier said one reason calls are up is because people are responding to BGEA President and CEO Franklin Graham's Facebook posts and news interviews.
The callers want their voices heard. And they're not all nice.
"It really matters how you respond," said Niemeier. "We have to respond in love," but she admits it's a challenge.
Team members often do a 180 and ask hostile callers, "What do you believe?"
This approach can be very telling, she said: "Our goal is to get to the heart and the root of their pain and steer the conversation to Scripture."
Some common issues that come up are rejection, divorce, or someone who's been hurt by a church or by a close relationship.
And many times, the Christian Response team ends up ministering to the same callers who called in to complain.
'Am I Still a Christian?'
People from various religions, or from no religion at all, may call in.
Recently, though, there's been a surge in the number of Christians calling—with big questions about their faith.
The number of believers calling in with questions about their faith was way up last year. And the number of people wanting assurance of their decision to follow Christ rose 77 percent during the same time.
Niemeier attributes these statistics to our culture, with believers blending into the secular world and losing their way.
Some of the comments the Christian Response team has heard from Christians are: "I don't even know God anymore;" "I used to walk with Him;" "I used to feel His presence;" and "Am I still a Christian?"
In a digital world—and for those who don't use the internet or social media—it can be comforting to talk to someone over the phone.
That's why calls also continue to flood into BGEA's TV Telephone ministry—30,000 calls last year alone.
And when the phone lines light up after a Billy Graham Classics TV program, Niemeier says it's a privilege for her team to start ministering.
"Our goal is to get them connected to God so they don't need us at all."
Do you have a relationship with Christ? Take this step now.
Want to become a TVTM volunteer? Learn more.
Watch Billy Graham TV Classics on TBN, Thursdays from 5:30–6 p.m. ET, and Saturdays from 10:30–11 p.m. ET.
Watch Billy Graham TV Classics on GOD TV, Thursdays from 8:30–9:30 p.m. ET, and Saturdays from 3–4 p.m. ET.