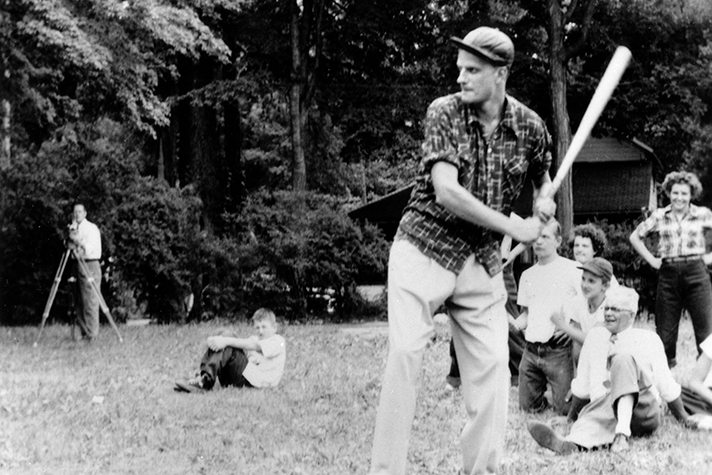 Q: Who was Billy Graham's childhood hero?
A: Babe Ruth
Franklin Graham shares this tidbit in his latest book, Through My Father's Eyes:
"Prior to his conversion as a teenager, my father set his sights on making his mark in the big leagues—baseball, that is. His dream was no different than that of many other boys his age: to play with the New York Yankees. His hero was Babe Ruth. In fact, my grandfather arranged for him to meet the "King of Swat" when he played an exhibition game in my father's hometown of Charlotte, North Carolina.
"It's no wonder that when my grandparents took my dad to hear Billy Sunday preach in Charlotte a few years later, my father was captivated. When this athlete-turned-evangelist leaned over the edge of the platform, lifted his Bible dramatically, and proclaimed, 'The Bible says,' it made an impact in the heart of this young, impressionable country boy."
>> Read how Billy Graham was honored in 2017 by his hometown team, the Charlotte Knights.
Billy Graham has also talked about his affinity for baseball, growing up playing "pitching ball" with neighborhood friends every chance he got. He later realized that his calling was to ministry, not sports—but somehow, the two could work together.
In his book Nearing Home, Billy Graham wrote: "Since there were few things in life that I loved more than baseball, as a young man I dedicated myself to the sport and hoped that my passion for the game would lead me straight to the major leagues.
"But baseball was not God's plan for me. Nevertheless, He taught me how to integrate these important components into service for Him."
Find out God's plan for you. Start here.