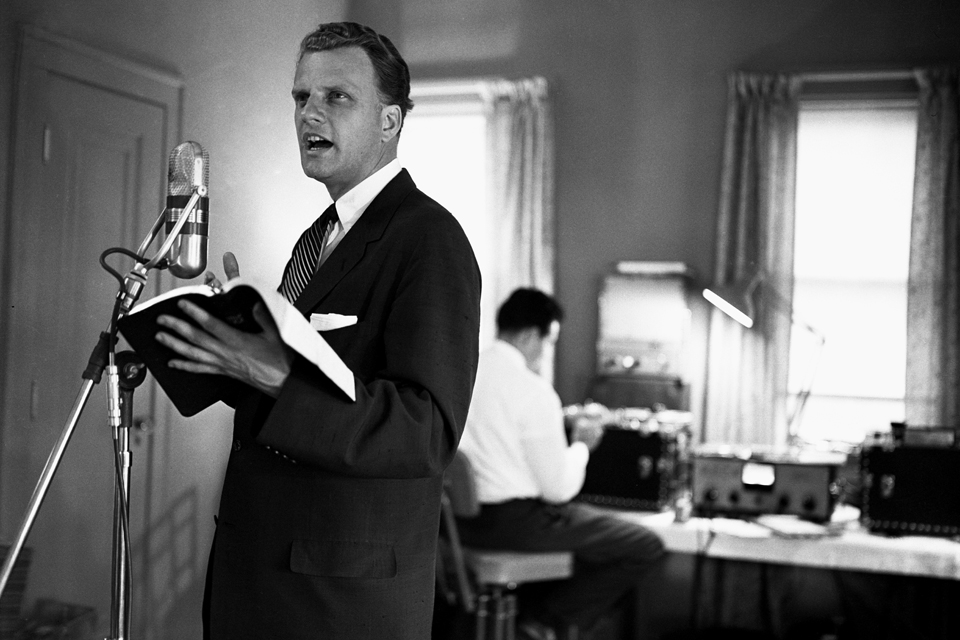 Q: What was the name of the first radio show Billy Graham hosted?
A: Songs in the Night
In 1944, when Billy Graham was a young newlywed serving as the pastor of a church in Illinois, he was asked to take over a weekly radio show on Chicago's WCFL.
Songs in the Night aired on Sundays from 10:15 to 11 p.m. The radio signal reached across the Midwest and into parts of the South and East.
When Mr. Graham agreed to take over the program, he had two big needs. The first was funding. It cost $150 a week for the time slot on the radio station. The second necessity, he strongly believed, was a recognizable name to encourage listeners to tune in. God quickly provided for both needs.
The program, which presented the Gospel of Jesus Christ each week, quickly grew a loyal following, and the Holy Spirit prompted people to support it.
"My filling station attendant in Hinsdale gave me $1 to support the program," Mr. Graham wrote in his autobiography Just As I Am. "A poor woman sent us 10 cents. A carload of people listening as they rode took up a collection for us on the spot."
In just the first two months, the average income from listeners was more than $100 a week. "The Lord kept the budget in the black with other contributions," Mr. Graham wrote.
As for the second big need, it took some boldness on the part of the young evangelist.
He Wouldn't Take 'No' for An Answer
In 1944, most people had never heard of Billy Graham, but many listeners were familiar with the singer George Beverly Shea, who was an announcer on Moody Bible Institute's WMBI. Determined to get Mr. Shea to sing for Songs in the Night, Mr. Graham headed straight to his top-floor office and asked to speak with him.
When the secretary there wouldn't cooperate with the eager young preacher, he waited for the right opening and let himself in.
"Mr. Shea, I'm sorry to intrude, but I just have a quick proposal for you."
As a nervous Mr. Graham breathlessly detailed his plans for the radio show, Mr. Shea was uncertain at first but eventually said "yes."
"I think he agreed to give it a try only because he could see that that was the only way he was going to get rid of me," Mr. Graham wrote much later.
It was the beginning of a ministry partnership—and close friendship—that would last until Mr. Shea went to be with the Lord nearly 70 years later, in 2013.