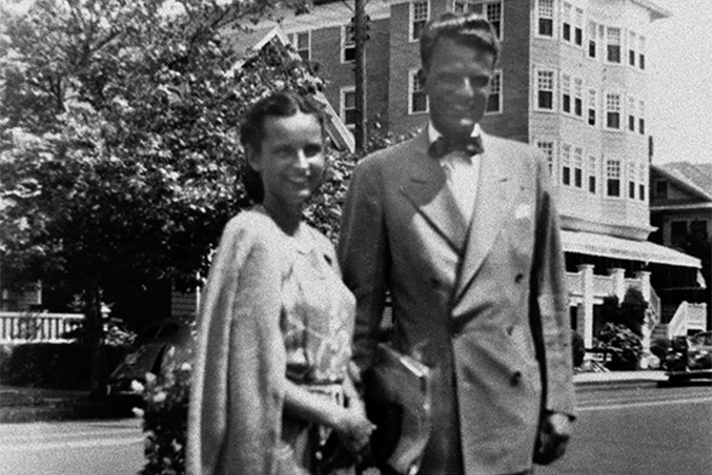 Q: Where did Billy Graham compose his first note to Ruth?
A: He was in the Blanchard Hall library at Wheaton College.
At the time, Blanchard Hall also housed classrooms, offices and a men's dorm. Mr. Graham took many of his classes there, and in the early 1940s, his friends suggested that he approach Ruth, who was studying at a table nearby. After many loud whispers among his friends and many shushings from the librarian, he wrote and delivered a note to Ruth, asking her out on their first date.
He told about that moment in his autobiography, Just As I Am:
"One day in the library in Blanchard Hall, I saw Ruth studying at one of the long tables. Johnny Streater and Howard Van Buren urged me to make my pitch to her right there. The expression of the librarian at the desk turned to a frown as we whispered among ourselves. Undaunted, I sauntered nonchalantly across to Ruth and scribbled my proposal for a date to the concert. To my surprise and delight, she agreed to go."
The pair went to see a performance of Handel's Messiah, and Mr. Graham was so smitten that he tried to hold Ruth's hand that night—twice. She pushed him away both times.
Wheaton College President Philip Ryken visited Billy Graham at his home a few years ago where Mr. Graham reminisced about his time as an undergrad, including the story of his first date with Ruth.
"More than 70 years later, I could tell how thrilling it was for him to chase the woman he loved," Ryken wrote of their meeting. "I also understood how ideal their partnership was. From the very first night, Ruth proved that she would be equal to every challenge of their extraordinary life together in ministry."
Billy and Ruth Graham wed on Aug. 13, 1943, and were married for 63 years.