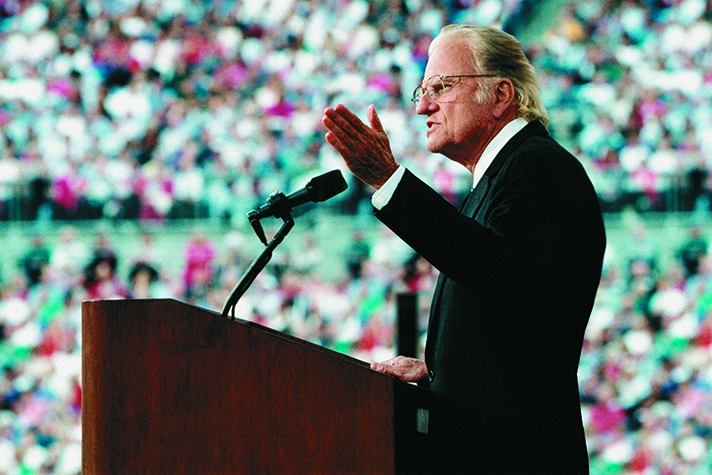 It's been just under two years since Mr. Graham went to be with the Lord, and now there's an opportunity for you to continue his legacy for generations to come—from our nation's capital in Washington, D.C.
Legislators in North Carolina are honoring the evangelist's lifelong ministry with a statue in the U.S. Capitol, and you can be part of it.
>> Honor Billy Graham's legacy. Help place his statue in the U.S. Capitol to point future generations to Christ.
Billy Graham grew up as a dairy farmer's son in Charlotte, North Carolina, later settling his family two hours west in the mountains of Montreat. This pastor to 12 presidents preached to more than 215 million people worldwide, holding several Crusades throughout his home state of North Carolina.
In 2013, North Carolina's General Assembly named Billy Graham North Carolina's Favorite Son. Two years later, the state general assembly voted to have Billy Graham's statue placed in the U.S. Capitol's Statuary Hall, and by last December, the North Carolina Statuary Hall Committee officially set these plans in motion.
The Architect of the Capitol estimates that 3 to 5 million people visit this historic building each year.
Regarding this honor, Franklin Graham said, "Our hope is that adding his likeness to Statuary Hall will continue to bring awareness to my father's life work of spreading the Gospel of Jesus Christ and allow the message he preached to be shared with those who visit for many years to come."
The Billy Graham Evangelistic Association is coming alongside the North Carolina Statuary Hall Committee to help raise the funds for this project.
>> Your gift will help make this statue a reality—a tangible reminder for future generations of the Gospel message Billy Graham preached throughout his life.
Each state can have two statues, for a total of 100 statues throughout the U.S. Capitol, a meeting place for Congress. Other statues include George Washington, Ronald Reagan, Thomas Edison and Helen Keller.
Charlotte-based artist Chas Fagan, a self-taught sculptor and painter, will create the statue of Billy Graham. Fagan also sculpted the statue of President Reagan for the U.S. Capitol Rotunda.
Billy Graham's granddaughter, Cissie Graham Lynch, helped choose the artist who will honor her grandfather's life and message.
"I think one of the greatest parts of my grandfather's testimony is that he was a farm boy from North Carolina," Lynch said. "This is something for North Carolinians to be proud of and to always remember that God can use any of us as long as we have a life and a heart that surrenders to Him and is obedient to His calling on our life."
>> Learn more about Billy Graham's life and legacy.
Would you consider being part of this unique piece of history? Your generous gift will help feature a humble servant of God—and the Christ-centered message he preached—in the heart of our nation's capital. Give today.
Discover Jesus Christ, the person Billy Graham wanted everyone to know.
North Carolina is also home to the Billy Graham Evangelistic Association headquarters, as well as the Billy Graham Library and Billy Graham Training Center at The Cove.