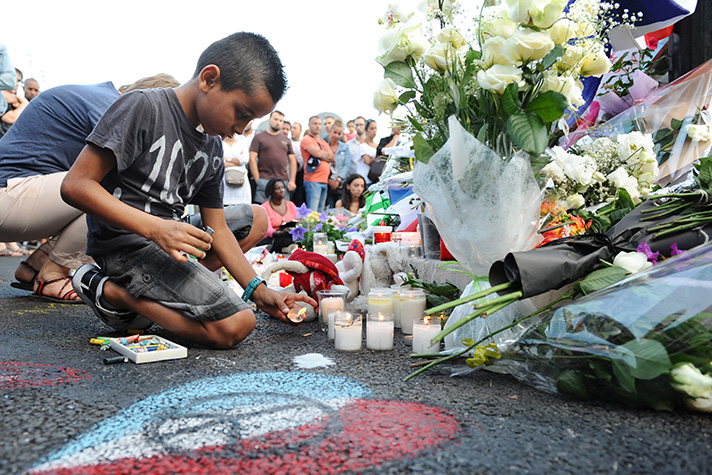 The Billy Graham Rapid Response Team (RRT) is a global network of crisis-trained chaplains. The RRT currently has chaplains ministering in Dallas, Texas (police shooting); Baton Rouge, Louisiana (police shooting and civil unrest); Kanawha and Greenbrier counties, West Virginia (deadly flooding); Brazoria County, Texas (flooding); Fort McMurray, Alberta, Canada (wildfires), and now Nice, France.
Following Thursday night's vicious attack in Nice, France, that left more than 80 people dead including children, an international team of crisis-trained chaplains is offering emotional and spiritual care to the traumatized community.
The Billy Graham Rapid Response Team, a worldwide network made up of hundreds of chaplains ready to respond at a moment's notice to natural disasters, terrorist attacks and civil unrest, now has 10 chaplains from Canada, the U.S. and the UK on the ground in Nice.
"Will you join me in praying for the grieving families as well as for the more than 50 people injured?" Billy Graham Evangelistic Association President Franklin Graham shared late Thursday night via his Facebook page.
The team in France is led by a French-speaking Canadian chaplain who has lived in Nice and knows the area well. The same chaplain led last November's response to the terrorist attacks in Paris.
For the second time in eight months, the French people have experienced a horrific attack targeting unsuspecting civilians. This time it happened during a fireworks display and Bastille Day celebration in Nice, a picturesque city on the Mediterranean Sea, near the Italian border.
This will be the third international joint deployment for the Rapid Response Team in less than a year. Four months after responding in Paris, crisis-trained chaplains also ministered to people in Brussels, Belgium, following the terrorist attack at an airport in March.
Jack Munday, international director of the Billy Graham Rapid Response Team, called the attack in Nice "another round of devastation that has totally disrupted thousands of lives."
"And yet," he continued, "God is able—more than able—to bring His comfort and hope in times like this."
As the chaplains minister in Nice, asking God to direct their steps as they meet people who are suffering, their aim is to bring a presence of hope, comfort and peace as they encounter locals and tourists.
Munday said the goal is "to make ourselves available to provide emotional and spiritual care and to actively engage with area churches to help equip them for ministry in times of grief." He added, "In these days of uncertainty, it is time for the Church to be the Church, in touching people's lives every day in their communities."
Members of the Rapid Response Team will provide a listening ear and offer to talk or to pray with those who are willing.
As followers of Jesus Christ, the chaplains carry with them a light that shines hope and love into these dark times.
Will you pray for the people of Nice, as well as the chaplains who are ministering there?
The Billy Graham Rapid Response Team exists because of BGEA's faithful donors. If you would like to give to the Rapid Response Team to help send crisis-trained chaplains to minister to hurting communities, you can make a secure donation from your computer or mobile device.