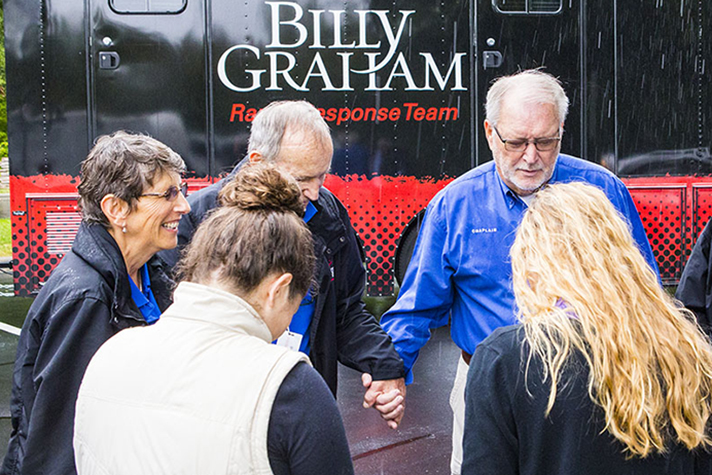 God is our refuge and strength, a very present help in trouble.
Therefore we will not fear though the earth gives way,
though the mountains be moved into the heart of the sea,
though its waters roar and foam,
though the mountains tremble at its swelling. Selah
Psalm 46:1-3, ESV

After deploying more than 100 chaplains to Texas since Hurricane Harvey took lives, homes and security from so many, the Billy Graham Rapid Response Team is preparing to send many more chaplains out as Irma pummels through the southeastern U.S.
On Thursday morning, an email was sent to the Rapid Response Team's network of crisis-trained chaplains, asking for volunteers to deploy if Irma strikes. More than 60 chaplains responded within a few hours.
"We're also identifying chaplains on the East Coast who have volunteered for Harvey, to redirect them to Irma, because we've had such an overwhelming response from our chaplains," said Jack Munday, international director of the Rapid Response Team.
>> Help send Billy Graham Rapid Response Team chaplains into disaster zones to share God's love in times of crisis.
Munday said 117 chaplains have ministered across seven deployment sites in Texas so far. Based on daily reports, he estimates chaplains have provided emotional and spiritual care to more than 20,000 people.
"As people in Texas continue to recover, we continue to see God working in the lives of those who have suffered great loss," Munday said.
Now, as Irma wreaks havoc in the Atlantic, Munday is trusting that God will be "a very present help in trouble."
"My heart goes out to the people on these islands because they didn't have the resources, the shelter, the ability to prepare as we would have on the mainland, which makes them more vulnerable," Munday said. "It's just so tragic, and information is kind of scattered right now, but it's an area of prayer as well."
With one eye on the latest forecast models for Irma, Munday and his team are thinking strategically about where they could send chaplains and resources. They may have a staging area in Charlotte, North Carolina, which is home to the ministry's headquarters. They're also identifying evacuation shelters in Florida where people may be in need of emotional and spiritual care after leaving their homes in the path of the hurricane. Munday's team has been calling chaplains who live within a 30-mile radius of the evacuation centers to see if they're able to minister to the people there.
In addition to chaplains from the U.S., the Billy Graham Rapid Response Team is also expecting help from its Canadian office, which has committed to sending chaplains and equipment across the border and into the southeast if needed.
There's still a lot of uncertainty surrounding the hurricane's path, but the chaplain team wants to be ready to respond at a moment's notice to the areas where they'll be most helpful.
"Every storm is different, because it impacts different people," Munday said. "And our ministry is focused on people. But with Hurricane Irma possibly hitting a highly populated area such as Florida, the potential for loss of life and property appears to be greater than most hurricanes we've experienced, with the exception of Hurricane Katrina.
"With Irma, we're seeing panic and fear and confusion. And our prayer is that people would prioritize being safe and continue to pray, knowing we serve a God who's faithful."