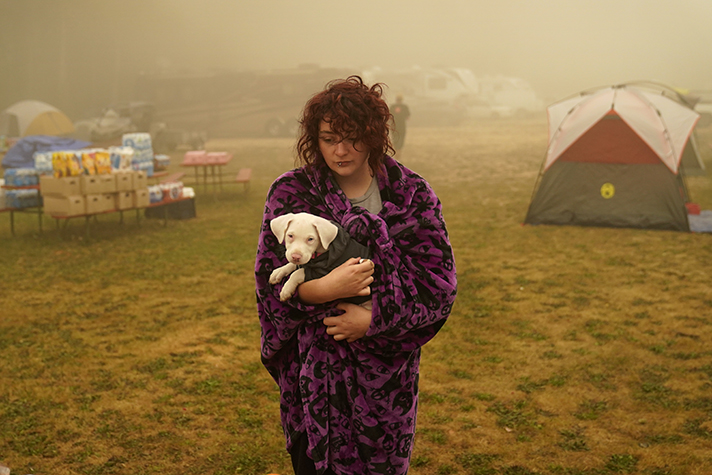 With much of the West Coast ablaze, the Billy Graham Rapid Response Team (RRT) is offering a listening ear and comfort in Medford, Oregon, and Santa Cruz, California, to those affected by wildfires.
"We have seen how devastating these wildfires can be and the toll that they can take on those affected," said RRT's assistant director Josh Holland. "Our crisis-trained chaplains are listening to the stories of those who were impacted and providing emotional and spiritual care to those who have lost property, homes and loved ones."
Billy Graham chaplains are serving in southern Oregon in the aftermath of the Almeda Fire, which killed at least three people and destroyed more than 2,300 homes.
Seven other crisis-trained chaplains are in Santa Cruz, where many are facing the effects of the CZU Lightning Complex fire that's burned 86,000 acres in nearly a month's time. Thousands of residents were evacuated from the inferno that's destroyed almost 1,100 structures, including more than 900 single-family homes.
The crisis-trained chaplains are partnering with Samaritan's Purse, a ministry that will be helping residents sift through what remains of their homes.


Nine western states are currently fighting around 100 wildfires that have caused at least 35 deaths, displaced hundreds of thousands and burned down entire towns. With millions of acres burned so far, these record-breaking wildfires have been continually fueled by high winds and temperatures—after being mostly started by lightning strikes, accidental human cause or arson.
Heartbreaking stories have come to media outlets, including a 12-year-old boy who died with his dog while trying to save his grandmother. Tens of thousands of firefighters from across the nation are being called in to help get the infernos contained.
"As the fires continue, our nationwide network of chaplains are praying for all of those who are impacted, including the firefighters who are risking their lives to help contain the many fires," Holland said.