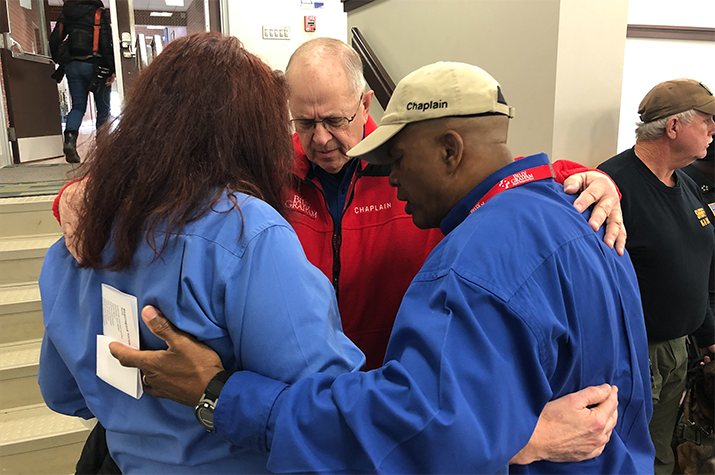 On Sunday afternoon, a powerful storm system charged through the Southeast, causing numerous tornadoes to rip through Alabama, Georgia and Florida. At least eight touched down in Alabama alone.
According to news reports, 23 people in Lee County, Alabama, died from the most vicious of the twisters—a F4 that packed 170-mile-per-hour winds. It was nearly a mile wide and 24 miles long, stretching toward Georgia. 
Ninety people were reportedly injured, and crews are using dogs and drones to comb the hardest-hit areas, searching for more victims. So far, those who died range in age from 6 to 89. One family lost 10 people.
This is the deadliest tornado outbreak the United States has faced since 2013.
On Monday, the Billy Graham Rapid Response Team (RRT) deployed alongside Samaritan's Purse to offer emotional and spiritual care in Lee County. Ten crisis-trained chaplains are now on the ground. They come from Alabama, the Carolinas and Illinois, and with them comes the Mobile Ministry Center, a hub for prayer that's open to the public.
>>See photos from the Lee County deployment.
"Tornadoes are unique in that they will strike with very little notice, changing your whole world in a matter of minutes," said RRT International Director Jack Munday. "The trauma being experienced throughout this area—especially with the families who lost loved ones—is intense and heartbreaking. Our goal is to come alongside them, bringing the hope and comfort of Jesus."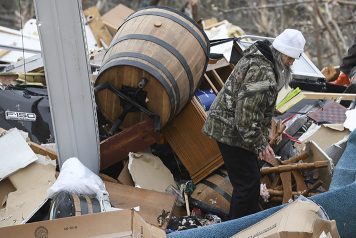 Some churches in the area have clothes piled high, ready to distribute them to families in need.
The RRT is ministering in churches, praying with pastors and residents who come by for assistance.
Rev. Rusty Sowell has been doing a lot of praying himself.
"Where there's 175 mile-per-hour winds, … there's no mercy," said Sowell of Providence Baptist in Beauregard.
His church is midway between where two tornadoes hit. The fatal F4 went seven miles east; the other went four or five miles west.
"We didn't have to look at the news to know there was major damage here," he said.
Sowell describes his community as "small-town America," where teachers checked on students after the storm passed through. "Children who grew up here, live here. … It's like 'Friday Night Lights' here," he said.
Sowell has met with families of the victims: "What stood out was the cold, stark reality of death. What was comforting to me was their degree of faith. Even at the most difficult point of their lives, they were resting on their faith, trusting God."
The Mobile Ministry Center is set up at Sowell's church. RRT Assistant Director Josh Holland acknowledged the large number of people grieving and also the need to come alongside those responding to this emergency.
"We want to offer our support to those who have lost loved ones. We also want to offer our support to the law enforcement community as they're very overwhelmed at this time," he said, commenting that several of the chaplains there have a background in law enforcement.
Franklin Graham tweeted, "Our hearts go out to those in the path of tornadoes that touched down in Alabama and Georgia. … Pray for the families who have lost loved ones & pray for first responders & those involved in search & rescue."
As RRT chaplains and the Samaritan's Purse team minister in Alabama, please be in prayer for all those affected by recent storms.
Thinking about the days ahead, Holland added, "We just want to be available to share God's hope in this horrific situation."