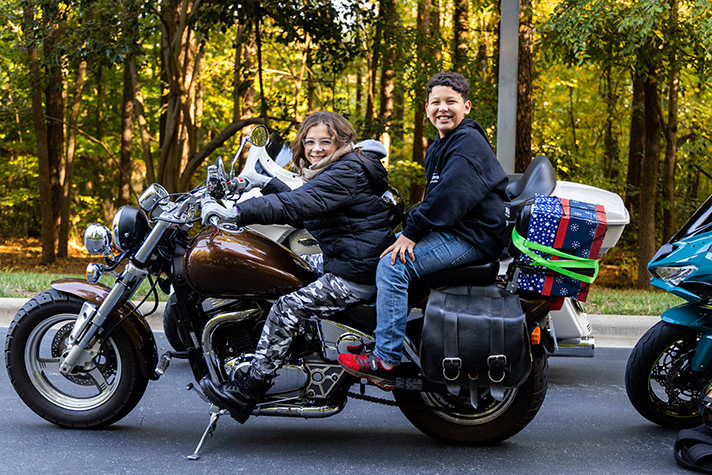 Although the Billy Graham Library in Charlotte, N.C., is temporarily closed due to renovations, you couldn't hear any sounds of construction Saturday.
Instead, there was a rev of engines.
More than 1,100 motorcyclists filled the Library's parking lot for the 15th annual Bikers With Boxes event, delivering a total of 6,689 Operation Christmas Christmas (OCC) boxes for kids in need. The shoebox-size boxes—filled with toys, school supplies, and essential items—are given alongside the Gospel message to children overseas through the ministry of Samaritan's Purse.
"You guys enjoying the beautiful day so far?" asked Jon Micah Sumrall, lead singer of Christian rock band Kutless. "I wasn't able to bring a Harley here today—I had to take an airplane—but I'm glad to be here with you guys."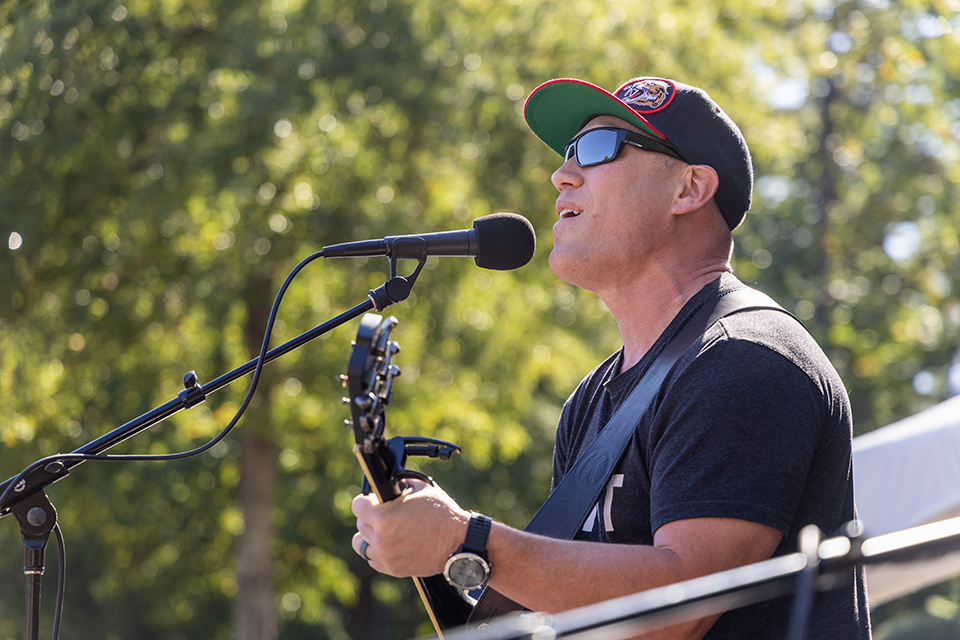 After turning in their boxes, many bikers turned their attention to the stage as Sumrall led worship and shared a message, challenging the crowd to define success.
"What does it look like when you dedicate your whole life to achieving that next thing … [and] where does that leave you when life suddenly takes turns that you don't expect?" Sumrall questioned.
He shared the Scripture of Matthew 16:24—26, which says, "Then Jesus told his disciples, 'If anyone would come after me, let him deny himself and take up his cross and follow me. For whoever would save his life will lose it, but whoever loses his life for my sake will find it. For what will it profit a man if he gains the whole world and forfeits his soul?'"
"I believe we were created to be in a relationship with God and in relationship with one another," Sumrall said. "I believe if we start there as the foundation of how we view success, it changes the way you live your life."
As he closed with the song, "All Who Are Thirsty," Foran Lang, better known as Pastor Freon, lifted a hand to praise God. He sat with two old friends, Jim and Lynn Marshall, whom he hadn't seen in 14 years. They'd just happened to run into each other at the event.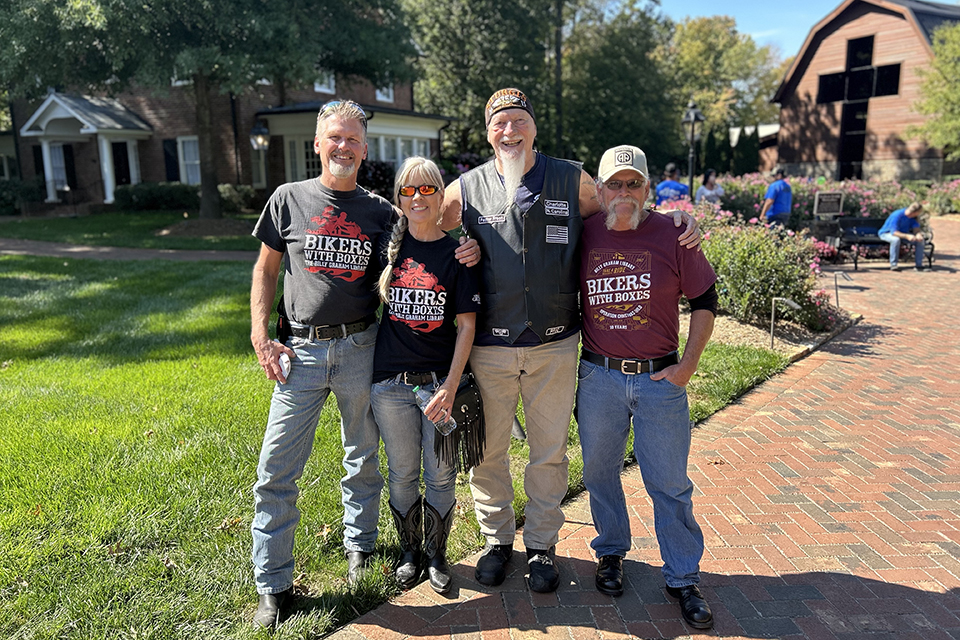 "I did 17 years and 5 months in prison, and they used to check me out and take me to church on their bikes, 15 years ago," said Lang, who came to faith in Christ inside a prison cell after having a difficult life filled with hate and addiction.
Lang, who now co-pastors Barstool Church in Huntersville, N.C., has emceed twice for Bikers With Boxes. Saturday morning, he rode under a canopy of golden leaves with bikers from Catawba Heights Baptist Church of Belmont, who gave 300 boxes. Lang opted to put small flashlights and tarps into the boxes he packed to help with kids' protection.
He is passionate about the event "because it reaches so many kids through the boxes, but it ministers to us as well," he said. "It's a chance for us to come together and visit and have some camaraderie and get fed."
"It's really inspirational," Lynn added from across the table. Before her church gathered to pack boxes, she watched a video of a little girl receiving markers from an OCC box. The moment moved her to tears.
"Like Freon said, [this event] does feed us, especially as a pastor and pastor's wife, you really look forward to events like this," Lynn said. Her husband, Jim, serves as pastor of Wadesboro Christian Fellowship in Rockingham, N.C.
Time spent on a motorcycle can also feed your soul, especially when it's just one-on-one time with the Lord.
"It gives me that time to think about something before I react or speak to it." Lang said. "I didn't take that time when I went to prison, so I learned a little something. God really changed me."
He's also found riding to be helpful in his relationship with God.
"It's good prayer time for me," Lang said. "I don't listen to a radio [even though] I got one, I just talk to God."