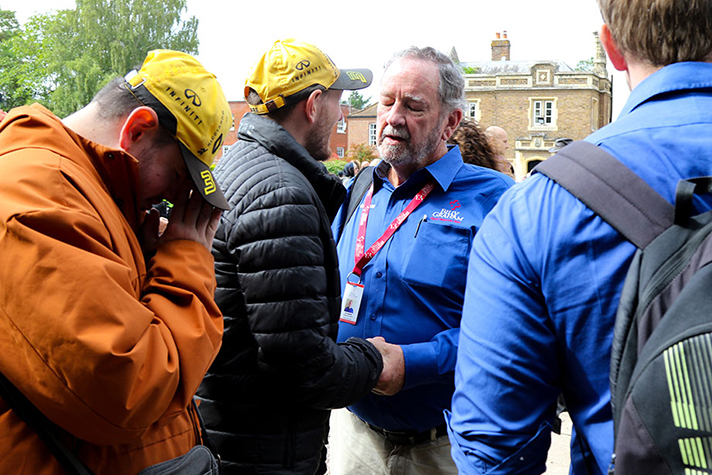 Following the announcement of Her Majesty Queen Elizabeth II's passing on Sept. 8, crisis-trained chaplains with the Billy Graham Rapid Response Team (BG-RRT) deployed to Buckingham Palace and Windsor Castle in England, as well as the Palace of Holyroodhouse in Scotland, to offer emotional and spiritual care to those in need.
Tens of thousands of people have flocked to these locations to pay their respects, many with flowers, personal notes, and candles in hand to be left in the queen's honor. As members of the public have paused to say a final farewell to the longest reigning monarch in British history, many are feeling immense pain and sadness, unsure of what's to come.
It's in these moments that BG-RRT chaplains have been able to offer comfort and lasting hope.
A Divine Appointment at Buckingham Palace
One of the first chaplains on the ground was Anne Hyams, who was on a train about 15 minutes from London when news broke that the queen had died.
Immediately making her way to Buckingham Palace upon arrival, Hyams prayed that God would use her to show His love and comfort to the many mourners who were beginning to congregate outside the palace. That's when she noticed two young women standing near the palace gates.
After initiating a conversation with them, Hyams learned that the late 20-year-olds, Olivia* and Sophie,* were from Australia and were in the U.K. on vacation, returning home the next day. As they talked about the queen, the conversation turned to the importance that faith played in her life. Hyams then shared how she herself had experienced a life-threatening health condition last year, but no matter the outcome, she knew her eternity was secure in the hands of God.
Prompted by the Holy Spirit, Hyams simply asked: "Where are you now?" Both Olivia and Sophie answered that they were anxious about what lies ahead.
"They hadn't considered their future destiny," Hyams said. "So I explained the Gospel to them. … [They acknowledged] they were sinners and they needed a Savior, so I went through 'Steps to Peace With God' with them and they agreed with each point."
When asked if they wanted to pray to invite Jesus into their lives, Olivia and Sophie immediately said "yes" and prayed aloud with Hyams, accepting Jesus Christ as their Lord and Savior.
A Seed Planted at Windsor Castle
A young woman in her early 20s was standing all alone on the outskirts of Windsor Castle. Not in a rush to leave, Emily* lingered, taking in the masses of people paying their respects and looking around at the many bouquets that lined the gates on the ground. Anika Magwood, a BG-RRT chaplain, was standing nearby.
"This is a very sad day, isn't it?" Magwood said. "Yes, [it is]," the woman replied.
The two began to talk about their memories of the queen, and Magwood shared how she remembered the queen's coronation in 1953. Emily then shared some of her own.
Magwood could tell she was overwhelmed with sadness, so she quietly prayed that God would open a door to share about the One who can turn her sadness into joy. Soon the conversation shifted to why Magwood was there. Sharing with Emily about the BG-RRT, Magwood asked her, "Do you have a faith in God?"
Emily quickly responded that her parents were both atheists and she was raised in that environment—but then admitted she often has questions about a "higher power."
Seeing this as her "open door," Magwood began to share about the hope of the Gospel.
"There's only One that can bring us hope in the midst of all this pain," Magwood told Emily.
Emily listened intently as Magwood shared about Jesus and how He changed her own life when she was 28.
When the opportunity came to ask if Emily wanted to invite Jesus Christ into her life, she replied "no," but that didn't catch Magwood off guard. Instead, Magwood saw this moment as a "seed planting opportunity."
Handing her a "Steps to Peace With God" booklet, Magwood asked if she could pray for Emily. The young woman agreed, and when they were finished praying, Emily's countenance had changed and she thanked the chaplain for her prayer.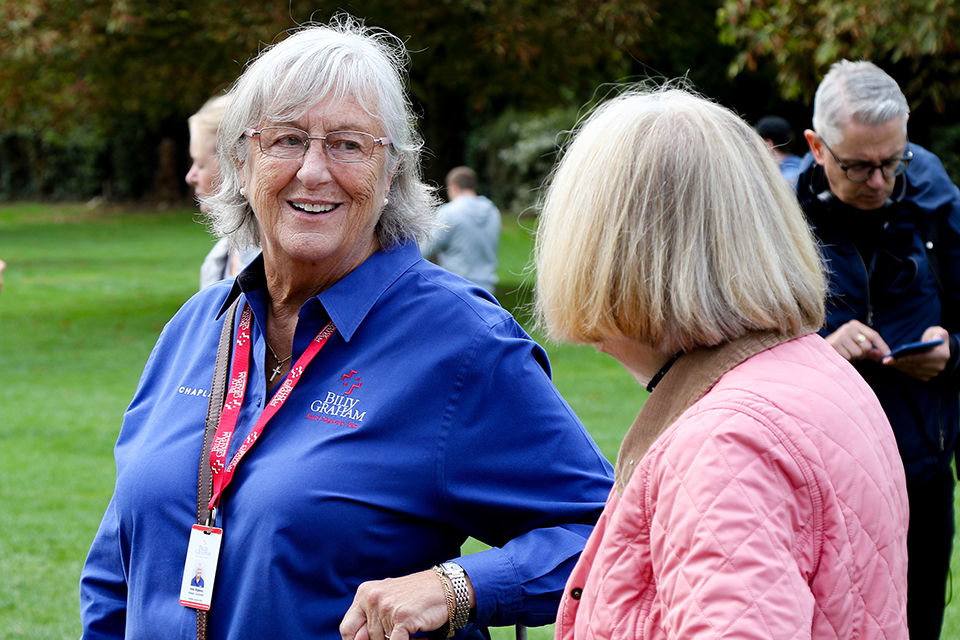 The Power of Prayer Felt at Palace of Holyroodhouse
Shortly after the queen's coffin arrived from Balmoral Estate to the Palace of Holyroodhouse in Edinburgh, hundreds began pouring onto the palace grounds to pay their respects. Meredith* was one of them.
As an American student working on her master's degree in Edinburgh, Meredith arrived last week to the city. Already overwhelmed by living in a new place, it was evident to Steve Rawbone, a BG-RRT chaplain from Edinburgh, that Meredith had a lot on her mind, and the two began to talk.
Meredith shared with Rawbone part of her story and what brought her to Edinburgh, and Rawbone in turn told Meredith about how Jesus changed his life. Meredith told Rawbone that she believes God exists and that she even has a Bible, but has never considered anything more than that when it comes to God. After talking for a few minutes, Rawbone asked if he could pray for Meredith, and she didn't hesitate to say "yes."
Rawbone prayed that God would help her in her studies and as she adjusts to life in Scotland. And more importantly, that God would reveal Himself to her. Before they parted, he recommended his local church to her where she could get involved and find a faith-based community while in Edinburgh. The young woman thanked him and left looking lighter.
Please join us in praying for all who are mourning the loss of the queen, that God would open hearts to His love as our chaplains minister.
*Names changed to protect privacy