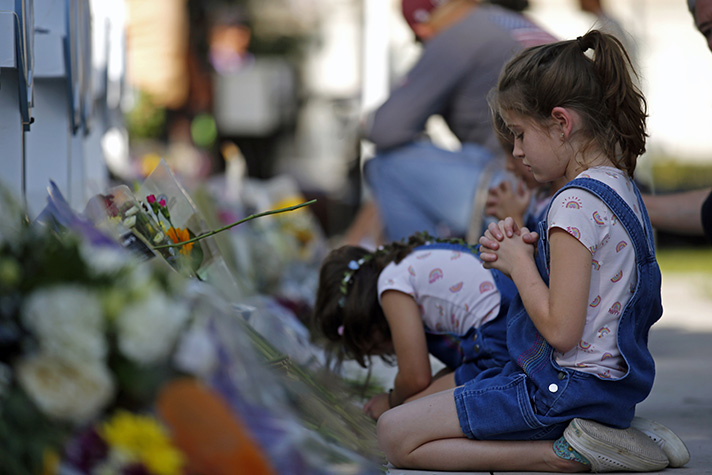 Until this week, not many people had heard the name of the south Texan town of Uvalde. But an indescribable tragedy has added its name to the grievous list of cities and towns that have experienced the horror of a mass shooting.
And much worse, a mass shooting where the precious lives of innocent children were lost.
On Tuesday, 19 fourth-grade children and two teachers died after an 18-year-old gunman opened fire at Robb Elementary School using an assault rifle.
It isn't possible to find words to describe the pain and anger of those who lost their loved ones.
They need room to mourn, a shoulder to cry on and arms to hold them when they feel weak. And they also need someone to remind them that they can lift their eyes to heaven even when all they can feel is the weight of darkness around them.
Crisis-trained chaplains with the Billy Graham Rapid Response Team (BG-RRT) deployed to Uvalde to do precisely this. They serve in natural disasters, man-made disasters, school shootings, civil unrest, terrorist attacks and any place where people's lives have been turned upside down. Chaplains offer emotional and spiritual care, pointing others to the love of Christ.
"From what we have done and seen so far, the common thread in this community as a whole is that their hand was outstretched," shared Ken Dunlap, manager of deployment, response and support with the BG-RRT. "They were very welcoming and very appreciative that we came to serve and to be part of the healing process in this community."
Dunlap has been ministering outside the Uvalde Civic Center.
The first chaplains arrived to Robb Elementary School within two hours of the shooting, and immediately sought ways to help the community and establish relationships to facilitate ministry in coming days.
"Two of the chaplains were allowed to give the death notification notice, along with the law enforcement agents, to one of the family members that lost a child," shared Dunlap.
"They were there to try to facilitate that bittersweet moment. And I say bittersweet because they were Christian people, so they had the grace of God and received the ministry of the chaplains with grace. It is great to see how God puts things together."
Other Christian ministries also want to serve this heartbroken community. Pastor Russell Howelton of Skybridge Community Church in San Antonio, along with his children who own a restaurant, brought their barbecue smoker trailers to donate meals to the community.
They parked them right across from the BG-RRT tent.
"I was just telling my sons, 'You know what? We are going to bring all this food to the people, but we will need someone to do the spiritual work alongside us.' When I pulled up and I saw the Billy Graham tent, I just praised God. He always has a plan."