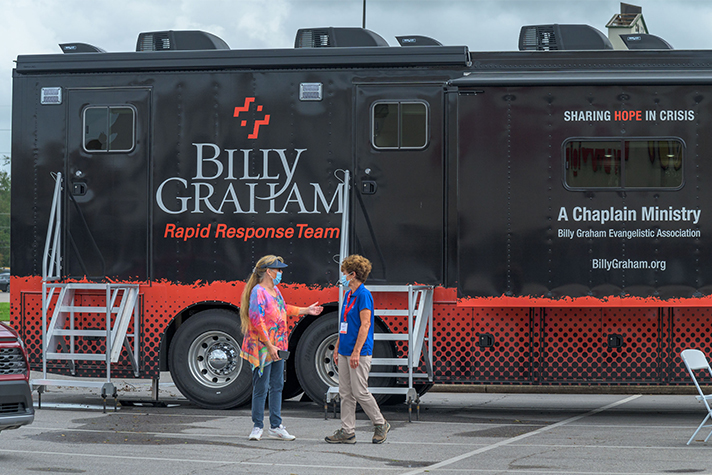 Chaplain coordinator Sharon Folsom and her husband, Kenny, served others for weeks following Hurricane Laura, but ironically had to return to their home in southern Alabama to prepare for another hurricane headed their way—Sally, a Category 2 storm.
Part of the Billy Graham Rapid Response Team, the couple offers emotional and spiritual care to communities in the aftermath of man-made and natural disasters. Little did they know that one would hit so close to home, sending them on a new deployment to nearby Foley, Alabama.
On September 16, the slow-moving storm made landfall in Gulf Shores, just 30 miles from the Folsoms' residence. High winds and catastrophic rainfall infiltrated areas as far as western Pensacola, Florida.
"Now there's a lot of debris piles," Folsom commented as she and her husband skirted fallen trees on their way to check on homeowners.
Much of the rural town of Foley still has trees down in yards and on homes, with some businesses just mounds of twisted metal. The coordinator also pointed out that while most pine trees are broken 10-15 feet up due to the high winds, others came up from the root ball because of the 30 inches of rain some areas received. It's the worst storm the region has faced since Hurricane Ivan in 2004.
Leading five crisis-trained chaplains, Folsom and her team have been offering comfort and a listening ear to those recovering from the storm. Much of their ministry has occurred in a Piggly Wiggly parking lot off of Highway 59, where the team's Mobile Ministry Center (MMC) is located—a large black vehicle providing a quiet place for conversations and prayer.
That's where Folsom met Amanda*, a pregnant woman who was distraught after her mobile home was devastated by the hurricane. She stepped inside the MMC, finding shelter from the rain outside as bands from Tropical Storm Beta came through.
Amanda's roof hadn't even been tarped yet and now more water was filling her home. As she explained that a tree was blocking the home's entrance and other issues, Folsom simultaneously wrote out a work order for Samaritan's Purse, a ministry that organizes volunteers to help with disaster cleanup.
"There was a storm before the storm," Folsom said after hearing Amanda's story. Desiring for her to know the hope of Christ, Folsom turned the conversation toward faith.
"I know Jesus," Amanda responded.
Over the next few minutes, the women went through a booklet called the "Steps to Peace with God," which shares about having a relationship with God.
On one page, Amanda had the opportunity to literally point to who she was closer to—people who live in sin and rebellion, or God who offers peace and forgiveness. Thinking about her personal journey of faith, Amanda commented, "I know I'm going to heaven, but I know I'm not where I need to be."
"Are you ready to commit your life to Jesus?" Folsom asked her.
Amanda said she was, but that she didn't know how to pray. Folsom helped, leading her with the words.
The posture of Amanda's open heart toward God gave her a fresh start with His Son, Jesus Christ.
To begin this newfound commitment, Amanda provided her contact information so a host church could reach out to her for mentoring and to help her grow in her faith. Folsom also gave her a Billy Graham Training Center Bible.
Amanda is just one of dozens who have cycled through the Mobile Ministry Center. While some come to find help with their homes, many have left with counsel and prayer.
"A lot of people recognize the name Billy Graham," Folsom shared, noting how many in the Bible Belt noticed the evangelist's name on the MMC. "One lady in tears came up the steps," she said. "It was just a need to have someone to listen."
*Name changed for privacy.
Do you want to commit your life to God? Start right now.