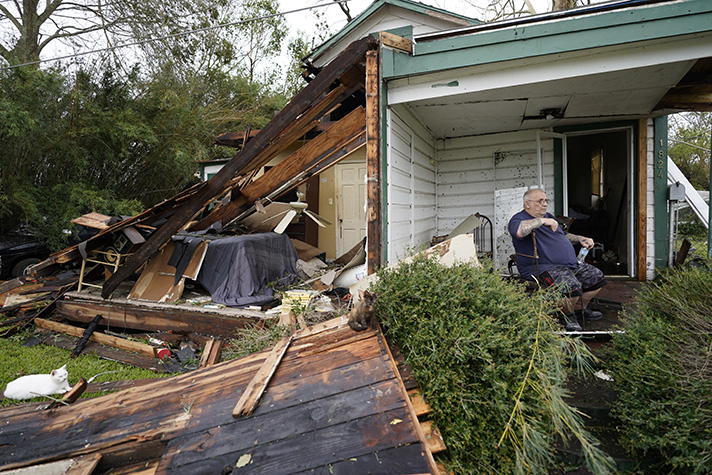 Early Thursday morning, Hurricane Laura made landfall in Louisiana as a Category 4 storm with 150 mph winds. At least six deaths have been reported, including a 14-year-old girl who died when a tree fell on her home in Leesville, Louisiana.
The Billy Graham Rapid Response Team (RRT) is deploying alongside Samaritan's Purse to Lake Charles, Louisiana, one of the areas hit hardest by the hurricane—which has since weakened to a tropical storm.
"With the scope of this storm, we are thankful that the overall damage was not worse than what the initial reports are showing," RRT International Director Jack Munday said. "We know that even beyond the physical damage, the emotional toll that a storm like this takes is significant, and our crisis-trained chaplains will be there to share the peace and hope that can only be found in Jesus Christ."
One of the RRT's Mobile Ministry Centers arrived in Lake Charles Thursday evening. These large vehicles set up in a recovering area and serve as a safe haven for conversations and prayer.
Hundreds more chaplains are on standby and ready to offer emotional and spiritual care in the hurricane's aftermath. Samaritan's Purse will get to work helping repair damaged homes in Jesus' name.
Earlier this week, Tropical Storm Marco hit the edge of the Mississippi River, bringing heavy rain and high winds to parts of Louisiana. That storm, combined with Hurricane Laura, was a notably rare event where two storms swarmed the Gulf simultaneously—a phenomenon that hasn't occurred since 1959.
In 2005, Hurricane Katrina—another Category 5—devastated large areas of the Gulf Coast. In 2017, Category 4 Hurricane Harvey hit the Houston area, and parts of the city are still recovering.
Rapid Response Team chaplains are also deployed to wildfires in Napa Valley, California, and to minister in Kenosha, Wisconsin, following the police shooting of Jacob Blake and ensuing protests.