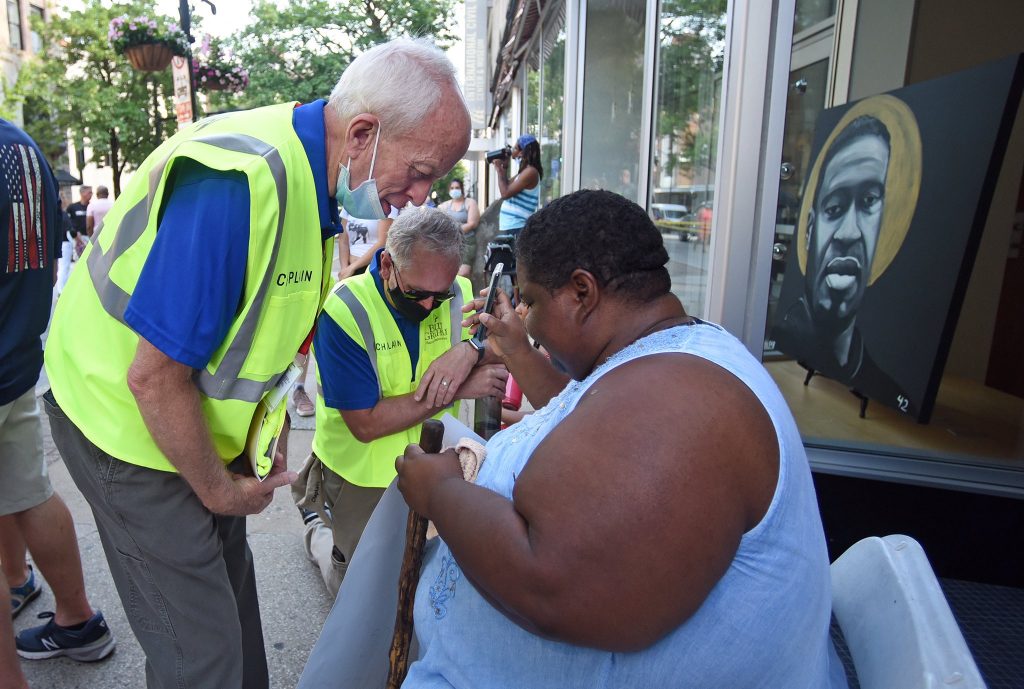 Six crisis-trained chaplains from the Billy Graham Rapid Response Team (RRT) responded to LeBauer Park in Greensboro, North Carolina, Thursday to offer emotional and spiritual care during protests over the death of George Floyd, an African-American man who died while in police custody on May 25. More than 20 other chaplains are serving in Minneapolis, where Floyd died, and Charlotte, where the Billy Graham Evangelistic Association is headquartered.
"As we have deployed in Minneapolis and Charlotte, we have found many struggling with challenges in their own personal life, as well as having a deep concern for social justice and fairness," said Jack Munday, international director of the RRT. He added, "Those attending protests or rallies have welcomed us to have an opportunity to pray."
>> See photos from the Charlotte deployment.
Munday experienced this firsthand as he walked several blocks in uptown Charlotte during a march on May 31, pausing to encourage and pray with a sobbing 20-year-old University of North Carolina at Charlotte student—and later with a 70-year-old African-American man who wasn't sure what to think about all the demonstrations happening. Munday also had the chance to introduce a 16-year-old African-American, who wants to be a police cadet, to local police officers.
"In having a ministry of presence on the streets, it gave us a greater understanding of the protesters' pain and frustration, but also showed us a concern and commitment of law enforcement to serve and protect our communities," said Munday.
While the Rapid Response Team largely focuses on serving those during man-made and natural disasters, the group also has a law enforcement ministry—to help officers (and families) who risk their lives every day in the face of crime and crisis as they serve their communities. In times of crisis, the chaplains are there to share God's hope to everyone who would be willing to have a conversation or word of prayer.
"The reason we deploy is because crisis is crisis in someone's life regardless of what's causing it," Munday explained. "It can be a traumatic impact on people that causes grief, that without Christ, can turn into despair and hopelessness. And so our mission is to follow the example of Christ, who saw the multitudes who were weary and scattered, who came with a heart of compassion.
"You have law enforcement and protesters who are angry, and we're in what we call the 'critical middle' to bridge those two shores of, in some cases, tension to bring a sense of peace, assurance and hope. It's not taking a position of either side; it's taking a position for Christ that only through a changed heart in Christ can there be lasting unity, fairness and justice."