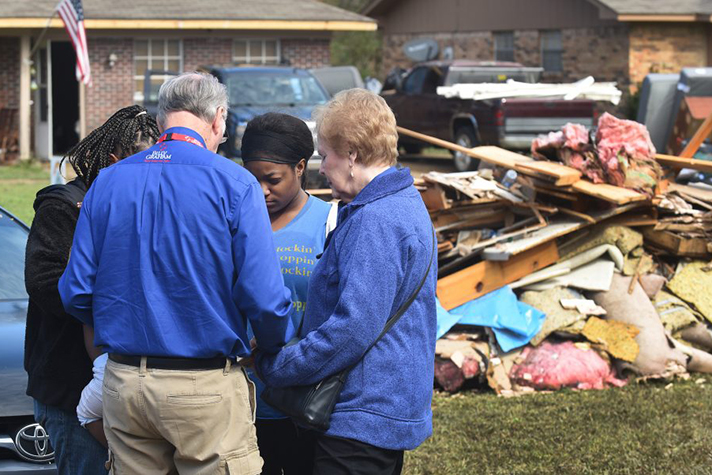 After various regions in the South received more than a foot of rain, the Billy Graham Rapid Response Team (BG-RRT) is ministering to the flooded small cities of Dumas, Arkansas, and Mound Bayou, Mississippi.
"Our hearts, our thoughts and our prayers go out to the individuals in this area who have been impacted by varying degrees with the staggering amount of rainfall that has damaged or destroyed many homes," said Josh Holland, BG-RRT's assistant director.
This past week, residents in southeast Arkansas and west Mississippi had to be rescued in boats when 10 inches of rain poured in less than 24 hours—and more rain showers followed. Many locals experienced power outages and downed trees while stacking sandbags along doorways and attempting to dry out their soaked belongings.
Partnering with Samaritan's Purse, two teams of crisis-trained chaplains are offering a listening ear and prayers to the communities while Samaritan's Purse volunteers repair flooded homes.
In addition, two Mobile Ministry Centers, vehicles that serve as a safe space for conversations, are in Dumas and Mound Bayou. The Billy Graham Rapid Response Team also has chaplains serving in Lake Charles and Iberville Parish, Louisiana, after heavy rainfall in late May and early June resulted in damaging floodwaters.
"God's Word says that He is with us in the floods—physically and spiritually—and we pray that people in these areas will know that God loves them even in this painful time," Holland said. "We have crisis-trained chaplains available to share God's love and the hope found through Jesus Christ in life's most difficult times."
Do you have hope in all circumstances? Know Christ today.