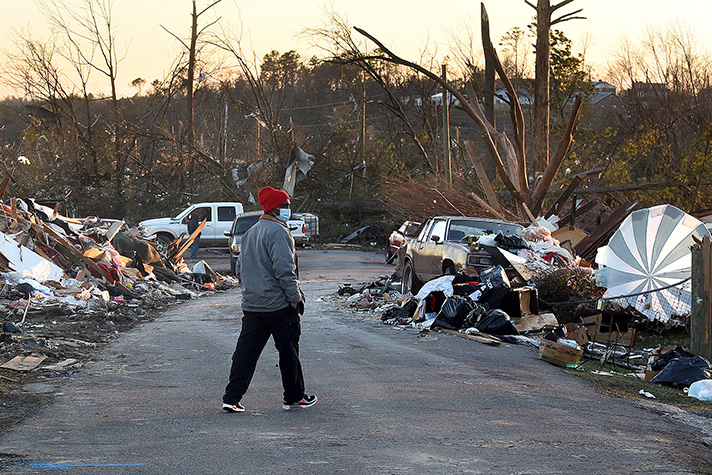 The Billy Graham Rapid Response Team (BG-RRT) has chaplains serving alongside Samaritan's Purse in the tornado-ravaged community of Center Point, Alabama, in the suburbs of Birmingham.
At least one young person was killed after being trapped in his home and dozens more were injured due to Monday's overnight twister, which caused "significant damage" according to the National Weather Service.
"As we learn this morning of the devastation and loss of life in the aftermath of a tornado, our hearts are broken for those in central Alabama who have had great loss," Jack Munday, the BG-RRT's international director, said Tuesday. "Our crisis-trained chaplains are there in the midst of this tragedy to provide emotional and spiritual care as the area grieves and begins the recovery process."
The state's most populated county is starting to pick up the debris left behind in collapsed or damaged buildings—including hotels, schools and homes. Chaplain coordinator John McGuire, who lives just a few miles from the area, began ministry immediately.
He's been checking on the well-being of locals, and on Thursday, welcomed RRT's Mobile Ministry Center, a vehicle that chaplains use as a safe haven for conversations.
Amid COVID-19, the Rapid Response Team has kept deploying to help those facing man-made and natural disasters while practicing social distancing and wearing face masks. They know just how important it is for someone to be there amid tragedy—especially during an isolating pandemic. For months, chaplains offered prayer and a listening ear to residents in Foley, Alabama, after Hurricane Sally hit in September.
Additional Billy Graham chaplains are currently ministering to communities, medical staff and COVID patients at Samaritan's Purse emergency field hospitals in Los Angeles County, California, and Lenoir, North Carolina.
Please keep all those affected by these crises in your prayers.