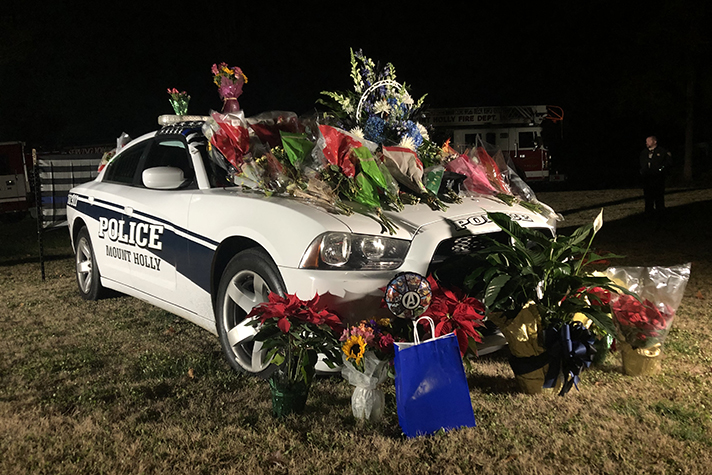 Crisis-trained chaplains with the Billy Graham Rapid Response Team (RRT) offered emotional and spiritual care to the devastated community of Mount Holly, North Carolina, where 25-year-old Mount Holly police officer Tyler Herndon was fatally shot in the line of duty on Friday, December 11.
Reports state the shooting occurred after several Mount Holly police officers responded to a breaking-and-entering call. Officers confronted an armed suspect and gunfire was exchanged. Herndon, a fellow officer, and the suspect were wounded and transported to the hospital. Herndon passed away just two days shy of his 26th birthday.
Our deepest sympathy to the loved ones & friends of 25-year-old police officer Tyler Herndon of Mount Holly, NC, who was killed in the line of duty today. Please lift them up in prayer. https://t.co/TnalmDClzC

— Franklin Graham (@Franklin_Graham) December 12, 2020
"Our hearts are heavy to hear of the tragic, fatal shooting of a local law enforcement officer in Mount Holly," said Josh Holland, RRT's assistant director. "We pray for God's supernatural comfort and peace for the officer's family and friends."
The tight-knit city of Mount Holly, a suburban area in Gaston County, is only a 20-minute drive from Billy Graham Evangelistic Association headquarters in Charlotte, North Carolina. The three crisis-trained chaplains who deployed to offer emotional and spiritual care are all on staff with the Rapid Response Team and have law enforcement backgrounds. They offered a ministry of presence specifically to the Mount Holly Police Department as officers grieved the loss of their brother while still reporting for duty.
"Our department is hurting," Mount Holly Police Chief Don Roper said during a Friday press conference. "Our family is hurting, but we will rely on each other to get through this."
Nearly 250 chaplains that are part of the Rapid Response Team's network of about 2,000 chaplains have former or current law enforcement experience, helping them recognize the unique needs and stresses that officers face. In the wake of a pandemic and much civil unrest across the nation, this has been an especially difficult year for law enforcement officials.
In 2021, the Billy Graham Evangelistic Association is planning to expand its law enforcement ministry by hosting appreciation events for officers in larger cities that have recently faced civil unrest. These occasions will enable officers to bond with one another and receive encouragement through Bible-based teaching.
Please keep Officer Herndon's family, friends and this grieving community in your prayers.