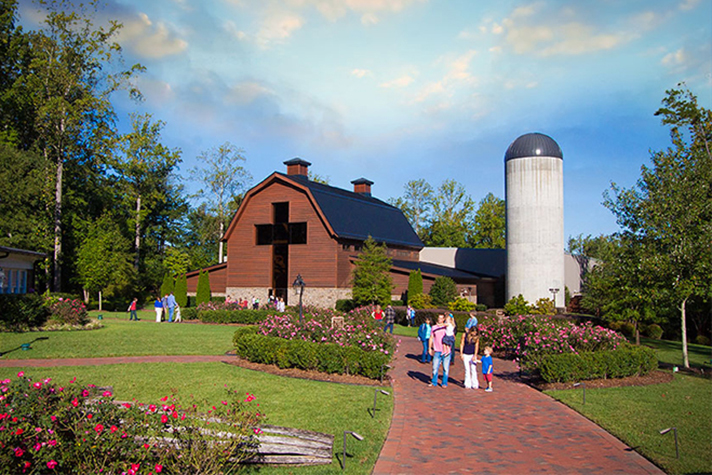 Billy Graham grew up on a dairy farm about five miles from the Billy Graham Library in Charlotte, North Carolina. Over the past 12 years, tens of thousands from around the globe have come to the Library to learn about his life and ministry and be encouraged by how God can use their own lives for His glory.
With 70-plus years of ministry documented through photos, letters, videos, audio clips and articles, there's a rich history available to Library visitors.
Starting this summer, additional pieces of Mr. Graham's life will be welcomed to Charlotte as dozens of historic records are moved from Wheaton College, his alma mater, to the Library grounds.
"This is part of our continuing consolidation in Billy Graham's hometown," said Franklin Graham, president and CEO of the Billy Graham Evangelistic Association (BGEA). "Some 214,000 people visited the Billy Graham Library here in Charlotte last year alone, and it makes sense for my father's archives to be housed and maintained here for visiting scholars to conduct research, and for our guests to see when they come visit our ministry headquarters, the Library and my parents' gravesites."
For decades, the Billy Graham Center on Wheaton's campus in Illinois has housed a large number of records, such as TV recordings, sermon transcripts, press clippings and oral histories.
The Billy Graham Center was created as a way to advance worldwide evangelism by establishing a hub of inspiration, research and training for Gospel ministry. It has also helped preserve the legacy of Mr. Graham's ministry and BGEA's historical records. The center was dedicated in 1980 when BGEA was still headquartered in Minneapolis and before the Library was envisioned.
In 2001, BGEA announced plans to relocate its Minneapolis office to Charlotte and began consolidating its operations on a 63-acre campus, where a 200,000-square-foot office building (the current BGEA headquarters) and the 40,000-square-foot Billy Graham Library have since been built. Transferring archives from Wheaton to the Library is a continuation of that process.
"We are grateful for the role Wheaton College played in my father's life and for their ongoing commitment to the cause of evangelism—as well as for their partnership as these archives transition into a new era," Franklin Graham said. "We also thank Bob Shuster and Paul Ericksen for their professional care of the archives over several decades at Wheaton."
Billy Graham graduated from Wheaton in 1943 and met his wife, Ruth Bell, on campus.
Since opening in 2007, the Library has served as an "ongoing Crusade," sharing the Gospel with anyone interested in walking through its main attraction, a free Journey of Faith tour, which documents Mr. Graham's life and the simple Gospel he shared with so many. The tour takes visitors from his humble beginnings milking cows to being called by God to serve as a traveling evangelist.
After his passing last year, thousands have come to see his gravesite on the Library grounds, drawing even more to experience the Gospel during their visit.
Archives will remain at Wheaton College for research until June 1, when they will be prepared for transfer to Charlotte.