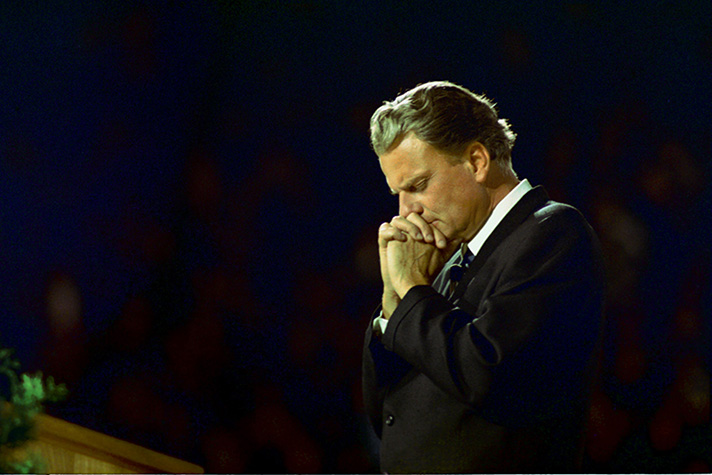 Today is the 64th observance of the National Day of Prayer. Started in 1952 and currently chaired by Shirley Dobson, this national observance was officially signed into law by President Bill Clinton in 1998. Each year on the first Thursday of May, many citizens of the United States take some extra time to turn to God in prayer. Some even gather to pray in organized groups or attend prayer-focused events.
The theme for this year is Lord, Hear Our Cry. More than ever, we need to cry out to God on behalf of the world and its leaders, as well as for persecuted Christians around the globe. These five answers from Billy Graham may help you grow in your prayer life:
Q: I was startled to read about Christians being persecuted in some countries. Why is this?
A:  The human race has rebelled against God, and instead of wanting to seek God and live by His truth, we resist God and want to go our own way.
>> Read Billy Graham's entire answer
Q: I don't think it does any good to pray for world peace or our leaders.
A: We can't solve our problems on our own; we need God's help, and that's why we should pray.
>> Read Billy Graham's entire answer
Q: How good do you have to be before God will answer your prayers?
A: He knows all about us; He knows what we've done wrong … and yet He doesn't wait until we're perfect before He'll listen to us and hear our cries for help.
>> Read Billy Graham's entire answer
Q: I've prayed and prayed for God to give me a strong faith, but nothing happens.
A: God loves you, and more than anything He wants you to come to know Him and spend all eternity with Him.
>> Read Billy Graham's entire answer
Q: Does it really do any good to pray for people who are having problems?
A: The Bible says, "Pray for each other so that you may be healed" (James 5:16).
>> Read Billy Graham's entire answer