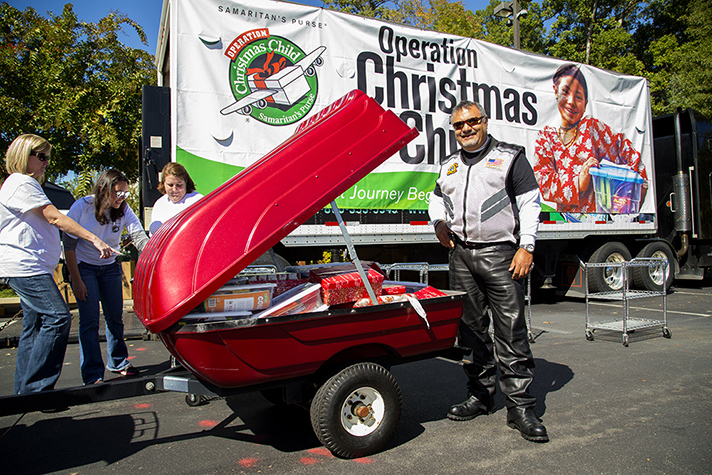 What's the most important thing anyone can put in an Operation Christmas Child shoebox?
"It's your prayers," Franklin Graham told more than 1,300 motorcycle riders at the eighth annual Bikers with Boxes charity ride event at the Billy Graham Library on Saturday.
"The children that these boxes go to are kids who live in poverty, who live in some of the most war-torn areas of the world. Kids who have nothing, who've never had a gift in their life. When you pray (for them), I know God hears the prayers of a righteous person."
A motorcycle enthusiast himself, Franklin came to greet and publicly thank the bikers, who brought more than 4,500 Operation Christmas Child (OCC) shoeboxes that will be sent to children all over the world. These shoeboxes—full of toys, hygiene items and school supplies—are sent to remind these children they are loved by God and His people.
Brenda Rumley, who has prayed over each gift she has placed in shoeboxes over the years, agrees with Franklin: "I knit and crochet things for the boxes. And while I'm knitting or crocheting, I just pray for the child who will receive the gift I am making. I don't know who they are, but God does. And I love that."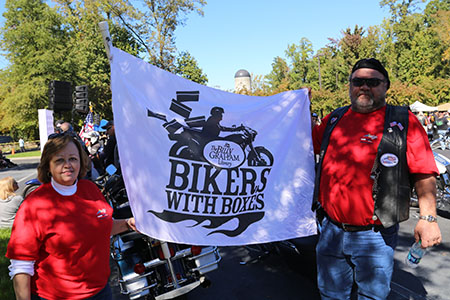 Brenda and her husband, John, who leads the Carolina Faith Riders—the motorcycle ministry of Northside Baptist Church in Greensboro, North Carolina—have delivered shoeboxes to Bikers with Boxes events for the past five years.
Just last year, Carolina Faith Riders delivered 602 shoeboxes—more than any other group—to the Billy Graham Library. When John took the stage to receive the award on behalf of Carolina Faith Riders for most boxes delivered, he challenged another group to beat him this year.
As it turns out, his group of riders beat their number from 2015; they delivered 1,175 boxes—nearly double their number from last year.
"The challenge was a playful one, but we wanted to encourage other people to bring more boxes than ever when this year's event rolled around," said John.
Brenda chimed in: "And even though John said it wasn't really about winning, I say it is, because it's the children who win."
And John agrees: "It's for the love of children and sharing God's word. It's all for God's glory. If we can reach a child anywhere in the world with a shoebox, that's all I need."
Over the years, God has grown the shoebox ministry of Carolina Faith Riders. Local businesses have sponsored some of the group's shoeboxes. Generous individuals have donated. One person even wrote a check for $1,000 to put toward their OCC efforts.
"We love to sit back and watch how God's going to work. We don't worry about the money anymore. We just sit back and say, 'Lord, what are you going to do next?' He always amazes us."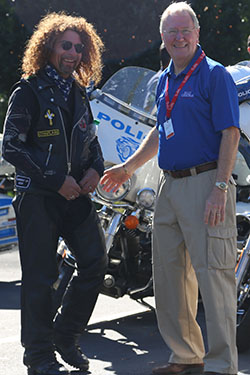 Roger Piggott, who rode 17 hours from Toronto, Canada, also came to Bikers with Boxes by the hand of God's faithfulness.
Piggott, a chaplain who works primarily with veterans, youth, prisoners, and attempted suicide survivors, wanted to come and be a part of the Bikers with Boxes experience and to visit the Billy Graham Library.
He also hoped to reunite with some members of the Rapid Response Team, who were onsite at the Billy Graham Library, giving tours of the Mobile Command Center and praying with visitors.
Just last year, he rode his motorcycle to Fayetteville, North Carolina, to attend a Sharing Hope in Crisis seminar.
"I only had money for gas each way. On the Saturday of the seminar, I didn't have money for a hotel that night," said Piggott. "A minister found out and got a hotel room for me. I had a great night's sleep, and rode back the next day to Toronto."
While he celebrates God's provision in his own life, he wanted to take the journey to celebrate God's provision in the lives of children all over the world.
"In Canada, at a lot of churches I work through, shoeboxes are big there. I love how it brings families together, with parents and children packing the boxes. And on the other end, the blessing is the recipient, the smiles of the children. And hopefully, the light of Christ going forward," he said.
"And by the grace of God, I'm going forward, following risk line all the way and swinging the bat hard for Jesus Christ."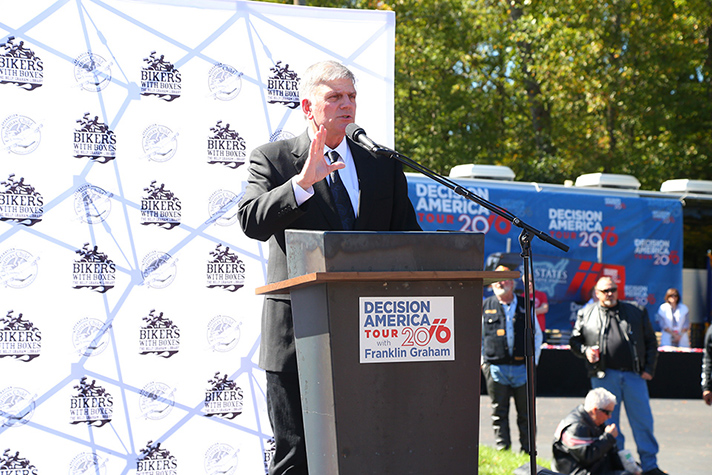 Franklin Graham invited riders to join him as he hopes to stir revival in America. Will you join him too?