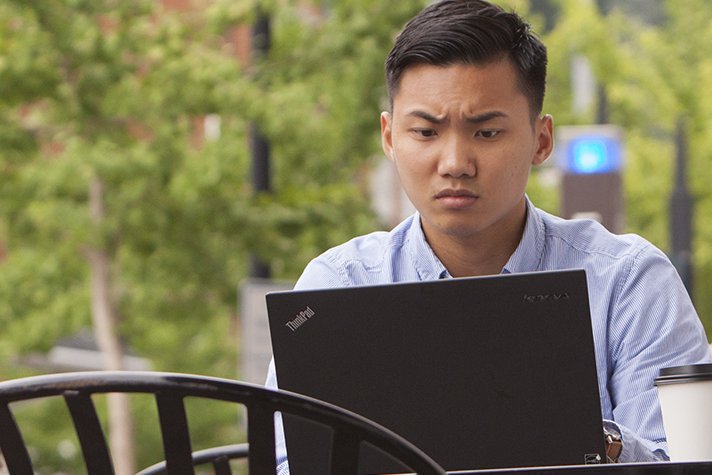 Whether it's a tornado, mass shooting, cancer diagnosis or coronavirus pandemic, God is in control.
That's the message the Billy Graham Evangelistic Association (BGEA) wants to share with people around the world during what seems like a bad dream.
Here's a look at some ways BGEA is reaching out to share God's hope and peace with frazzled people worldwide.
BGEA Prayer Line
BGEA's call center has received an increase in calls lately. People are calling for prayer, to talk about their fear and anxiety over coronavirus and other concerns. Trained Christian Response representatives are available to listen, and offer prayer and encouragement.
>> If you or someone you know needs prayer, call the BGEA Prayer Line toll-free at 1-888-388–2683. Lines are open 24 hours a day, 7 days a week. 
Internet Evangelism
"There are so many people just in chaos; they don't know how to handle this," said Mark Appleton, director of BGEA's internet evangelism ministry, Search for Jesus. "They don't know how to process what's going on around them."
After the coronavirus outbreak in China, the team created a web page in Mandarin, followed by pages in five other languages as the virus spread globally—English, Spanish, Korean, Arabic and Portuguese.
An additional web page featuring Billy Graham entitled "Find Peace Admist the Panic" has received thousands of views. As people search for answers, these resources offer Biblical hope and an introduction to the God of peace.
>> Find Peace Amidst the Panic: Share this short video from Billy Graham's final message
Together, more than 2,200 people have indicated decisions for Christ through all seven web pages. Of those, more than 500 people have requested follow-up discipleship materials.
"Those are all open doors to introduce the Gospel to people," said Appleton.
This week, his team is working on other ways to reach people one on one via social media and help them in their struggles.
"People have insecurities about their income and jobs," Appleton observed. "They're searching for answers, many coping with serious issues, such as, 'How am I going to take care of my kids because I suddenly don't have work for the next month?'"
For their Spanish-language ministry, En Busca de Jesús, the Internet Evangelism team is creating prayer videos for people online so team members can pray over specific requests.
Appleton's hope is that people who find these videos and web pages will want to know more. He hopes they will choose to connect with a trained online coach via chat or email and ask, "What gives you that kind of faith?"
Radio Ministry
The Bible has a lot to say about fear, worry and anxiety—three emotions that have defined people's response to the coronavirus pandemic.
Beginning mid-week, the Billy Graham Channel on SiriusXM—Channel 460—will offer messages from Billy Graham that focus specifically on these three.
Another resource is a new episode from Cissie Graham Lynch's Fearless podcast called "Fearful Faith in Crisis?"
In it, the granddaughter of Billy Graham and daughter of Franklin Graham encourages people not to let fear and anxiety sweep over our their hearts and souls.
>> Find more audio resources, including podcasts and sermons
Jim Kirkland, BGEA's executive director of Audio Media, said his team is committed to giving guidance and answers on what people are dealing with in this unique season.
"We want to provide someone what they need from a Biblical standpoint on dealing with fear, worry or anxiety. Where they want it. When they want it."
Rapid Response Chaplains
Billy Graham Rapid Response Team (RRT) chaplains are trained to share hope in times of crisis. In response to COVID-19, the RRT is asking its crisis-trained chaplains to wear their blue RRT shirts if going out in public. The shirts have the title "chaplain," along with the BGEA logo.
This gives people an opportunity to talk and pray with them about any worries or fears.
>> Billy Graham chaplains share spiritual advice amid coronavirus
Are you searching for peace? Find it here.