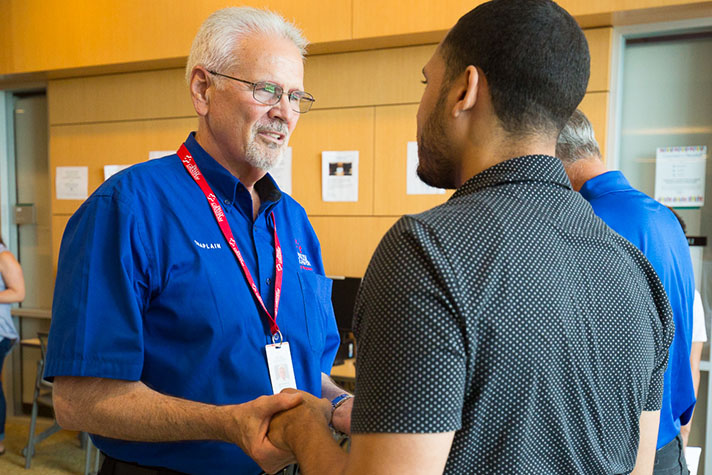 For Teresa Espino, the moment was a bit much to take in.
Crisis-trained chaplains with the Billy Graham Rapid Response Team had just circled up for a moment of prayer to encourage her and several others within the Office of Student Affairs on Monday at the University of North Texas at Dallas.
"It was very overwhelming at the moment, too (while they were praying), because I didn't feel alone," said Espino, who has been among many counselors there talking with faculty, students and community members. Many are grasping for answers in the wake of the recent shootings both in Dallas and nationwide.
"I had a group of people who were praying for me, praying for us, for this group, this institution to keep doing what we're doing and do it with grace and do it with strength and love."
Since the police shootings, UNT Dallas has been offering free counseling to anyone interested.
There's hope.
Even in horrific tragedy like this, there's hope.
Giving encouragement to these volunteers was important to chaplain coordinator Barb Grabowski, who first learned how valuable that could be while serving a 2012 deployment in Newtown, Connecticut. There, she discovered counselors helping others grieve and process the deadly elementary school shooting were taking on their clients' burdens with little relief. These workers also needed emotional and spiritual care, she found.
Upon walking onto the UNT Dallas campus on Monday, just four days after the deadly police shooting in the nearby downtown area, Grabowski and the small team of chaplains encountered a community eager to share in prayer.
"We had such favor (at UNT Dallas) because they knew we came for them—not to counsel but just to pray for them," Grabowski said. "Everybody said the same—they were having heavy hearts."
The first person they encountered on campus was Dr. Cyndi Matthews in counseling and human services. When Grabowski asked Matthews how she could pray for her, Matthews said, "If you prayed for me right now, I might break down."
It was an honest moment for the director of the clinic. Since last Friday, she had been working hard to make sure counselors were available to assist those in need, while also pitching in herself during the free counseling sessions. In the wake of the tragic events, there has been a mixture of emotions on the diverse campus. More than three-quarters of the student population are minorities.
Matthews said she talked with one person on Saturday who felt overcome with hopelessness. Talking is key to healing, Matthews said, and she does ask for prayer for those conducting counseling.
But for a rare moment on Monday, she was on the receiving end of care. Grabowski hugged her at the close of the prayer and encouraged her that her job was a calling.
"It was just nice to know that there's support. That I'm not in this alone," Matthews said.
Dr. Jamaica Chapple, the dean of students, said meeting the chaplains was a divine appointment. On the night of the shooting, she was especially concerned for her students who were participating in the peaceful protest. For them, this was an opportunity to exercise their rights, their voice. All that was shattered by violence.
Chapple and her team, including Matthews, quickly decided to open the clinic doors first thing Friday morning. The clinic typically is only open a few days a week, but with the help of alumni, the graduate student program and other volunteers, the operation has been able to field an increase in volume.
Chapple even got involved on Friday, taking off her administrative hat and putting on her clinician hat.
"Everything that I needed in the moment was completely set aside to pour into students what they needed and people from the community what they needed," Chapple said.
"Some of them weren't even aware of how they were feeling. All they knew was they were shocked, still replaying the moment that the shots were fired over and over and over again.
"Some talking about the fact that they couldn't go back and get their cars because it's a crime scene," she continued. "Even the act of just driving past that area in downtown Dallas was very traumatic for the folks we were working with."
Each traumatic moment shared was another potential burden for a counselor to shoulder, and that's what prompted the chaplains to stop by. Grabowski said she was encouraged to find a strong Christian presence that warmly embraced prayer.
"The wonderful thing about this campus is they're all about unity," Grabowski said. "And it doesn't matter what color you are, they just want to bring the love of Jesus in here."