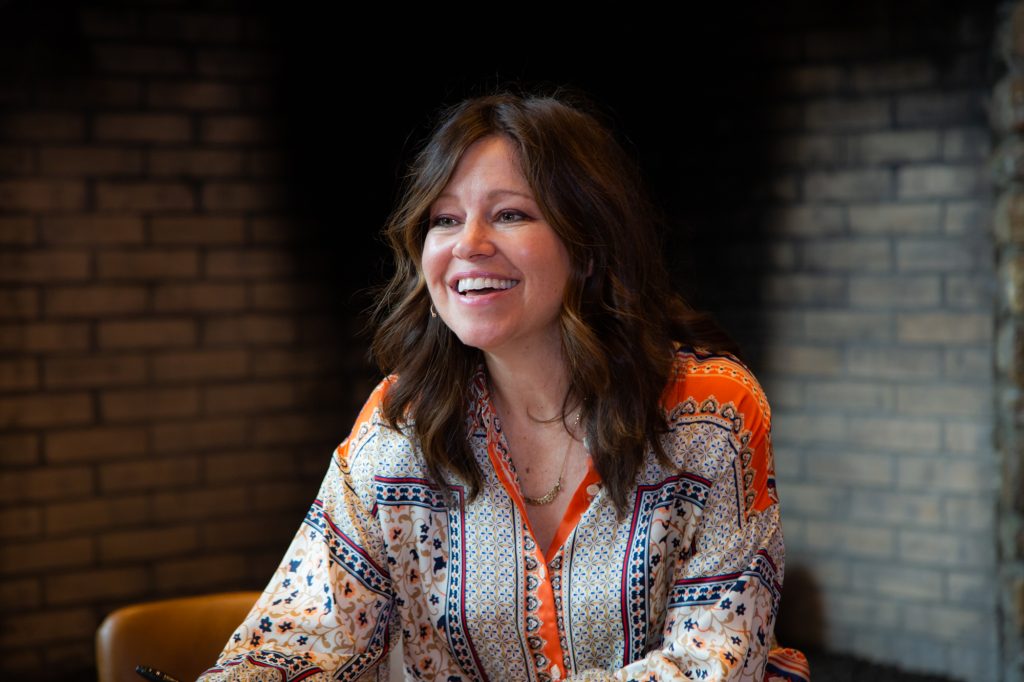 With a bright orange feathered hat tilted to the right and dangly orange earrings to match, it's probably no surprise Dagmar Maxwell considers herself a social butterfly.
But in the past couple of years, COVID-19 has challenged her way of life and sapped the energy she gets from being around other people. "It's like I was a water fountain, overflowing, and then I went to a dry desert."
Which is why she got up Saturday morning, fastened her hat and made her way in the pouring rain to the Billy Graham Library's annual Ladies Tea.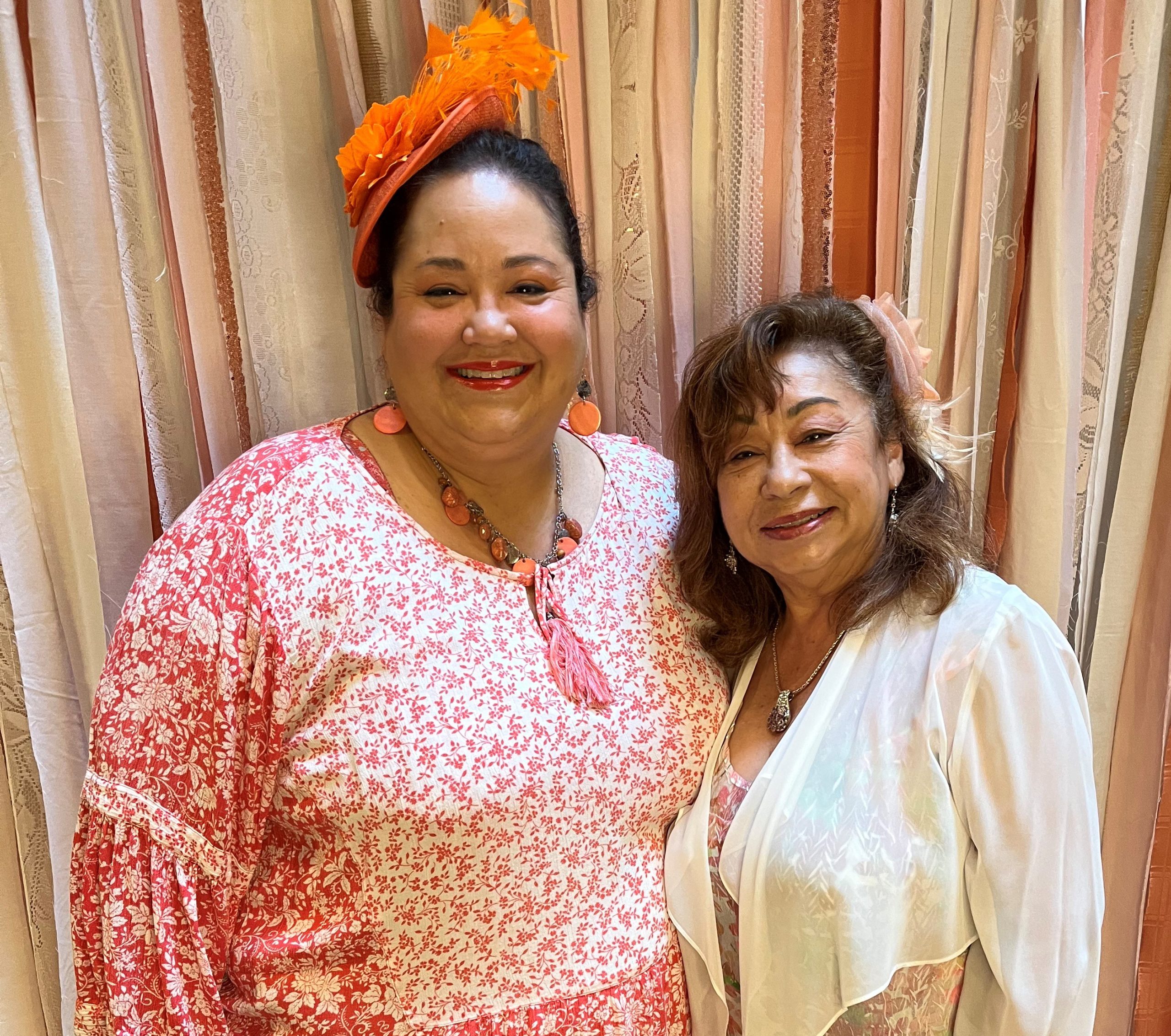 "I have been in a deep depression since the pandemic and feeling further from God," she said. "I thought, 'Let me go to the tea and refocus on Christ and who He is in my life.'"
More than 450 women—many in colorful dresses and hats—attended Saturday's event, held at the Billy Graham Evangelistic Association headquarters behind the Library.
Maxwell highlighted multiple Bible verses during Kelly Minter's message and said she's going to study them.
"The message is always spot on," said Maxwell. "It draws us closer as mother and daughter and closer to God."
Author, speaker, and musician Kelly Minter reminded them through personal stories that whatever life brings—whatever worries consume our thoughts, whatever plans go awry—God is faithful to take care of us.
Using a passage from Matthew 6, Minter read:
"Look at the birds of the air: they neither sow nor reap nor gather into barns, and yet your heavenly Father feeds them. Are you not of more value than they? And which of you by being anxious can add a single hour to his span of life?" –Matthew 6:26-27, ESV
Considering the birds is "not at the top of my list," Minter said, if she's being honest. But what a powerful illustration that can be.
Minter shared a time she was sitting on her porch, worrying about one thing or another, when she saw a bird plop down in her driveway just inches from a worm. And not just any worm, she said, but "you almost could have mistaken it for a snake." In that short moment, Minter was reminded of God's provision.
Continuing in Matthew 6, Minter read:
"And why are you anxious about clothing? Consider the lilies of the field, how they grow: they neither toil nor spin, yet I tell you, even Solomon in all his glory was not arrayed like one of these." –Matthew 6:28-29
At Minter's home, she shared, she planted some zinnias out back. She sees them when she takes the trash out.
"They're just hanging out, swaying, beautiful, not stressed. If it rains, it rains. If it's sunny, great," she observed one day, trash bag in hand. It's like God telling her, "Stop carrying around all this worry."
"It is a privilege as a child of the heavenly Father not to worry," Minter stressed. We can give those temporal worries over to God, and instead, invest in the eternal—the things that will last:
"Do not lay up for yourselves treasures on earth, where moth and rust destroy and where thieves break in and steal, but lay up for yourselves treasures in heaven, where neither moth nor rust destroys and where thieves do not break in and steal. For where your treasure is, there your heart will be also." –Matthew 6:19-21
Those verses may seem "lofty and disconnected" from our modern times, Minter said, but we get so "weighed down by stuff" that we lose sight of what's important.
"What is it that you're living for?" she asked the crowd. And how do you store up treasures in heaven anyway?
She offered a few answers: By spending time with people—pointing them to Christ, giving of your resources, and investing in missions.
She told the story of a missionary couple she met as a child and remembers thinking they were crazy for giving up comfortable lives here to be missionaries abroad. A few decades later, she sees how many people they have reached and what joy they have in their lives.
"We have to be about things that the Lord is about," Minter said.
She joked that when she headed to Nashville over 20 years ago for a record deal, "I moved there to be rich and famous for the glory of God." Her plans didn't go as expected and she ended up in a completely different place with her music and career. She found that when her time and talents follow God's leading, she is blessed beyond measure.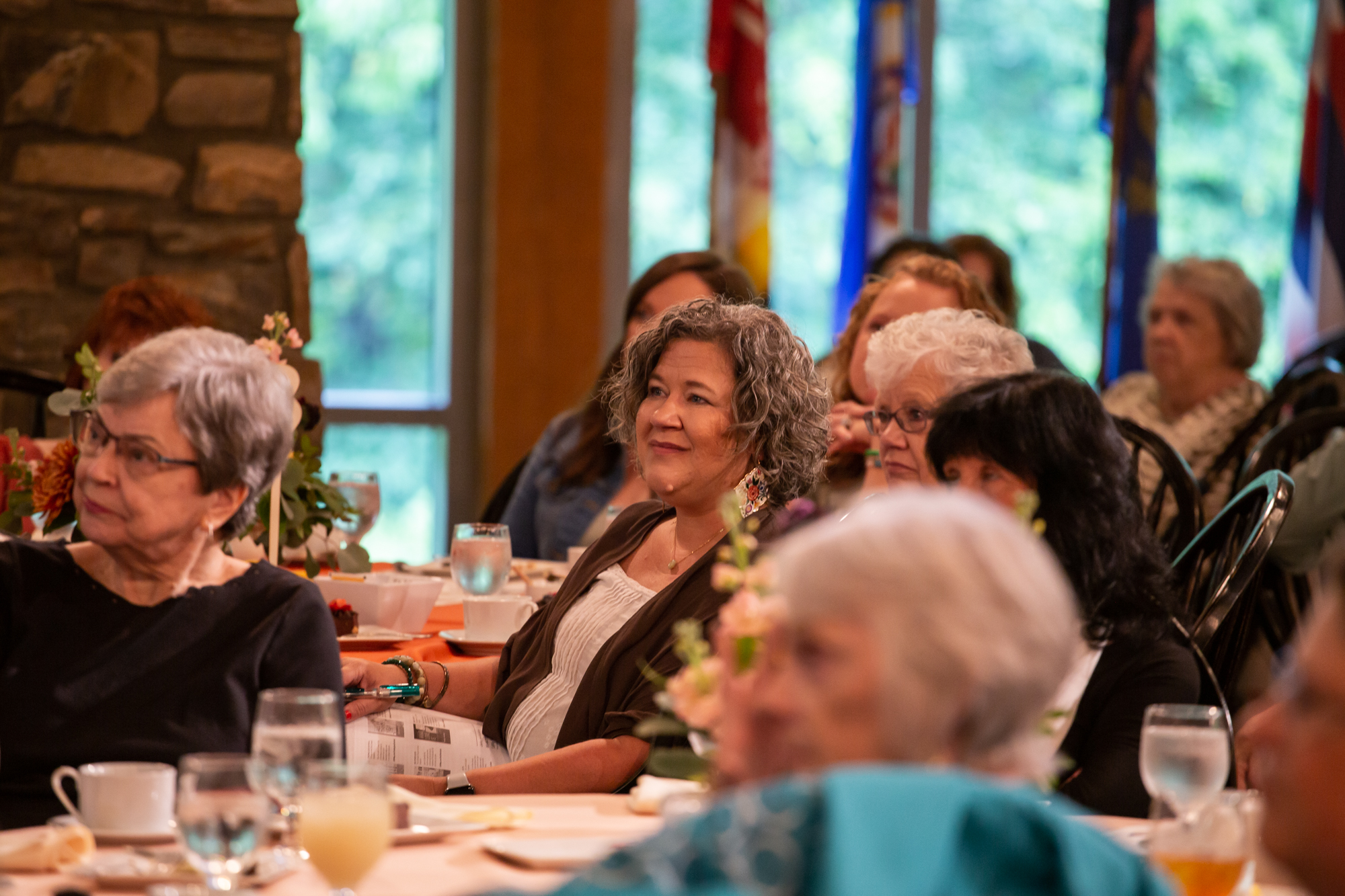 Minter's message on letting go of our worries and focusing on what really matters struck a chord with the audience.
Sisters-in-law Marianne Gebhardt and Melissa Tsai sat toward the back; Tsai with her third child, just six weeks old, in her arms. Gebhardt has an 8-month-old.
"I liked the permission to live a worry-free life," Gebhardt said after the event. "Human nature makes us feel like we have more control than we do. But only God is in control."
She appreciated Minter's point about the zinnias. "I want to be very carefree, very in the moment," she said, but that can be hard in the midst of everyday worries over work and parenting.
"As a mom and a wife, it's trying to be everything to everybody," Tsai said. Minter's message was a much-needed reminder to "stop, slow down, and observe the beauty God has given us."
Worry seems to "melt away" when we recall how God provides, she said.